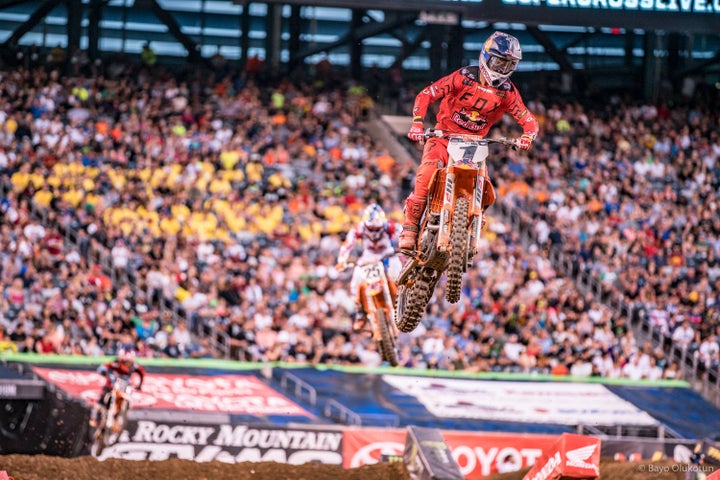 If you are a sports fan, then you are likely also a fan of good story telling. In any engrossing story, let's say a classic hero's journey like Star Wars, the resolution is meaningless without a little or a lot of strife met along the way. The same goes for sports. A dominant season by a team, or in the case of Supercross racing an individual rider, might be impressive, but can also be a tad boring (and demoralizing for the competition). Take the 1996 AMA Supercross series for example.
Jeremy McGrath was riding with a technicality that was simply beyond his competitors' skill level and a confidence that was through the roof. That season 21 years ago, McGrath would win 14 of 15 races in what was the longest yawn the motocross industry had witnessed to that point. I would venture to guess I am not alone in only being able to recall the one race McGrath lost fair and square to Jeff Emig in St. Louis. Why? Because people enjoy a good story. Sure they want to see their hero succeed in the end (and there were not too many McGrath haters back then), but they also want to see that hero earn it along the way. That is to say, to not be perfect. Afterall, to err is human and erring has pretty much summed up the 2017 season and the events of the penultimate round of Monster Energy AMA Supercross that took place this past Saturday at MetLife Stadium in New Jersey. Far from perfect, 2017 is setting up to be one heck of a hero's journey.
Eli Tomac entered Round 16 with a three-point lead over defending champ Ryan Dungey. With one round remaining all Tomac needed to do was make sure Dungey finished behind him to maintain his championship lead heading into the final round in Las Vegas next weekend. Considering that Tomac had just put in one of the most dominant rides ever witnessed in Supercross the previous weekend in Salt Lake City, this did not seem like a tall order. Alas, perhaps such momentum has a barrier when a championship is on the line.
After a start in the main event that was well within the top ten, Tomac made quick work of the other riders including his championship rival, Dungey, and found himself leading the race by lap four. However, that lead was short-lived when the Monster Energy Kawasaki star got cross-rutted in a left hand turn and fell over, stalling his motor in the process. By the time Tomac was remounted, he had dropped back to 15th place and Dungey and Marvin Musquin were running away with the lead.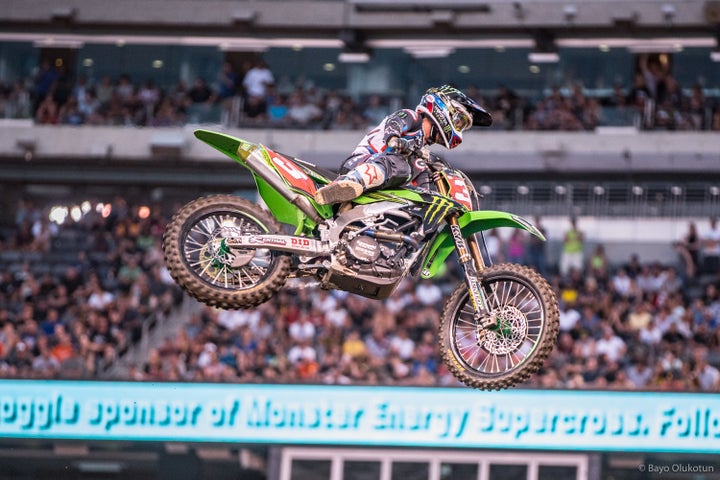 Then, of course, that Red Bull KTM duo of Dungey and Musquin would go on to have their own battle. To the surprise of the crowd, me, and likely team manager Roger DeCoster and Dungey himself, Musquin continued to apply pressure until making the pass for the lead…over his teammate, training partner and title hopeful. Dungey would remain in second for nearly the entire race until the very last lap when Musquin "cross-rutted" one of the easiest turns on the track, allowing Dungey to sneak by for his third win of the year, with Musquin coming home in second. The move was undoubtedly a result of team tactics, but rather than going into it here, I think former Supercross racer, Freestyle Motocross pioneer, and multi-time X-Games gold medalist Brian Deegan summed it up best:
Where was Tomac? While he was able to mount a small charge, it was nothing like his come-from-behind run in Salt Lake City. In truth, the Colorado-native never looked comfortable in MetLife Stadium, and seemed to be riding tentatively all night on the soft NJ soil. The best he could muster by the finish was an eighth place after casing a triple and stalling his bike a second time.
Now Ryan Dungey enters the series finale with a nine-point advantage over Eli Tomac; a scenario that seemed highly unlikely only a few short days ago.
So why does this particular Supercross title fight have me feeling nostalgic? Because 25 years ago, I was a 12 year-old kid in a small New Jersey town watching a nearly identical Supercross title fight unfold on the other side of the country in Los Angeles.
The 1992 AMA Supercross championship is one that is often referenced in enthusiast circles for numerous reasons. Whether referring to Damon Bradshaw's then-unprecedented number of wins, Jeff Stanton's perseverance, or simply the impeccably '90s racing gear, that season was something special…and eerily similar to what just culminated in East Rutherford.
The 1992 Los Angeles Supercross can be thought of as one of the greatest title victories and defeats in SX history. All Bradshaw, Yamaha's hot-shot rider, had to do was place fourth or better in the LA Coliseum to take his first championship. Since he had been so dominant throughout the year, that did not seem like a tall order. Conversely, Stanton needed a win and a whole lot of help/luck to capture his third title. This also seemed like a tall order considering he had only won two races that season and had a teammate, Jean-Michel Bayle, who was retiring at the end of the year and did not like Stanton to begin with but, just like with Musquin, was the only other rider with a mathematical shot at the championship. What unfolded during the main event all those years ago was something I have watched countless times on a continually degrading VHS tape.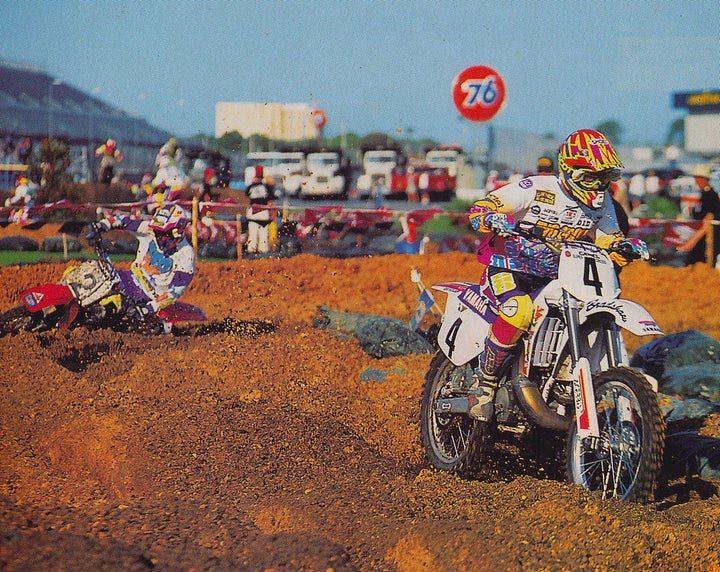 Stanton did what he needed to do, taking an early lead and notching his third win of the season. More importantly, however, was what Bradshaw did not do. He did not ride like the incredible talent fans had seen all year. Instead he rode conservatively around the once-Olympic facility, struggling with bike, body and mind as the championship was slipping through his gloved fingers. He needed a fourth place if Stanton won, and barely had even that position when Bayle, who was not in any rush to pass the faltering Yamaha rider, finally tired of riding too slow and made an effortless pass through a rhythm section. If there were any team tactics, they were that Bayle did not want his teammate to win the title, but Bradshaw was riding too slow even for someone with a vendetta against his own teammate. In the end, Bayle's pass cemented the championship for Stanton.
Just like the Red Bull KTM teammates of Ryan Dungey and Marvin Musquin, Team Honda's Stanton and Bayle were title contenders from the Mid-West and France. Dungey and Stanton hail from Minnesota and Michigan, respectively, while Bayle and Musquin are both from France.
Dungey and Stanton are often regarded as the less talented but extremely hard working-types, while Bayle and Musquin are undoubtedly some of the most naturally talented riders to ever throw a leg over a motorcycle.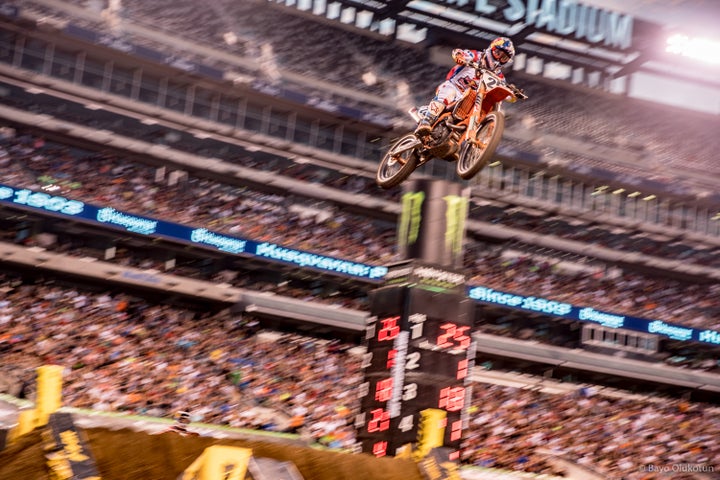 Heading into NJ (Round 16) last weekend, the KTM duo of Dungey and Musquin still had mathematical chances at the title with Dungey as the clear favorite. The same went for the Honda duo in 1992 heading into that 16th and final round in Los Angeles, with Stanton taking the nod as the favorite.
On the other side of the title fight is and was Kawasaki's Eli Tomac and Yamaha's Damon Bradshaw. While their riding styles are a bit different (although both have their own unique flare), when they are on, both riders are unstoppable. When they are off, they are way off. The checkers or wreckers approach to racing applied almost identically to Bradshaw in '92 just as it has this year to Tomac and in both cases they each took nine wins in 16 rounds, relinquishing the points lead in that 16th main event.
Los Angeles, in fact, was Stanton's third win of the season in 16 rounds. New Jersey, in fact, was Dungey's third win of the season in 16 rounds.
Oh, and the Frenchmen? Well, Bayle had three wins and Musquin only has two...so far. He'll have one more chance next weekend to complete the 2017 to 1992 handshake.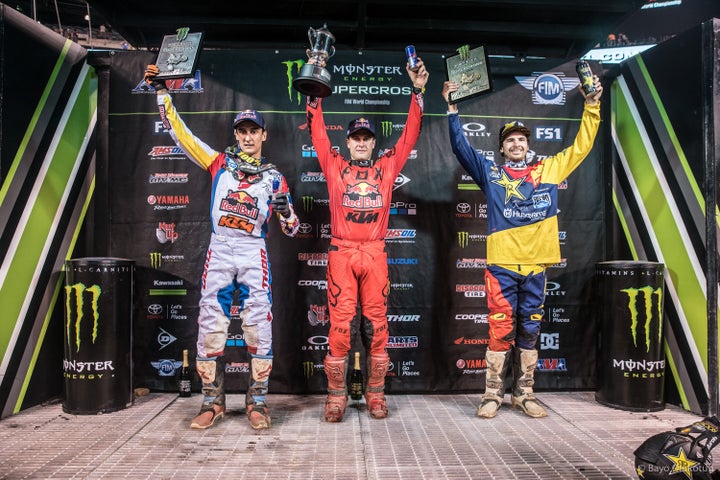 Barring disaster next Saturday in Las Vegas, New Jersey will have proven to be the deciding race in the this historic battle for the Supercross supremacy. Does Tomac still have a shot at taking the number one plate? Sure, but there was certainly some major damage incurred in the Garden State. Considering that Ryan Dungey has not finished outside of the top five for more than three years, I do not foresee any major mistakes on the defending champ's part. Will team tactics come into play? They very well could, but they probably will not be necessary.
Even if Eli Tomac wins in Las Vegas, Dungey would need to finish fourth place or worse to lose the title. The championship fight is not over, but my guess is that Dungey's many sponsors (Red Bull, KTM, Fox Racing, Oakley and Target among others) are making a whole bunch of victory shirts this week…just in case. Considering the many rumors of Dungey's retirement at the end of 2017, his hero's journey this season has contained just the right amount of hardship to make any sports fan excited about a triumphant conclusion.
Related
Popular in the Community