Cyrus Cassells is the author of The Mud Actor, Soul Make a Path through Shouting, Beautiful Signor, More Than Peace and Cypresses, and The Crossed-Out Swastika, which was a finalist for the Balcones Prize for Best Poetry Book of 2012. His sixth book, The Gospel according to Wild Indigo, is due from Southern Illinois University in the spring of 2018 as part of The Crab Orchard Poetry Series.
Among his honors are a Lannan Literary Award, a William Carlos Williams Award, and a Lambda Literary Award.  He is a professor of English at Texas State University and lives in Austin.
I've heard you might have a new book coming out soon. Could you tell us a little about it?
The Gospel according to Wild Indigo, my sixth book, is forthcoming from Southern Illinois University Press in the spring of 2018; it contains two song cycles and is my most intensely lyrical and ecstatic work to date. The book's title sequence is an extended paean to the integrity and enduring strength of the Gullah culture of Charleston and the Sea Islands; these poems celebrate the legacy of resilient rice and indigo working slaves and their irrepressible descendants ("Who better to define freedom / than a slave?"). They also praise the true-life triumph of Gullah people over the systematic repression of their once banned, imperiled language. The second sequence, "Lovers Borrowing the Language of Cicadas," has a vivid Mediterranean backdrop and explores themes of pilgrimage, erotic and romantic love, classical history, the solace and majesty of the sea, reunion, regret, and loss; this European cycle concludes with elegies to my mother and to the countless men lost in the juggernaut of the AIDS crisis. I actually began the project back in 2003, but interrupted it to write my fifth book, The Crossed-Out Swastika. I visited Charleston and the Sea Islands several times to do acting research for my role as Eugene in Dael Orlandersmith's Yellowman, which was a 2002 Pulitzer Prize finalist for Drama. Sadly, the production was canceled but not long after that big-time theatrical disappointment, the poems of the Gullah-inspired sequence "The Gospel according to Wild Indigo," started coming at a rapid rate.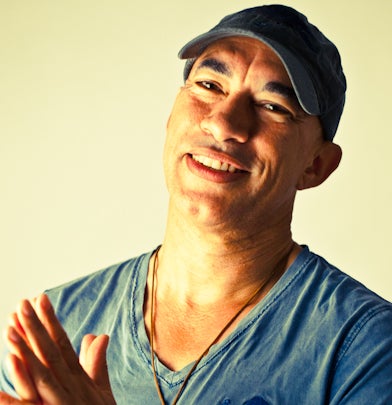 Was it difficult going back to a project after an extended time away from it, or was the extended break in the creation of The Gospel according to Wild Indigo give you an advantage that you might not have had if you had finished it earlier?
I think the break and long delays helped me to further hone my skills as a lyric poet. Over the years, I tried to make the Gullah sequence into a book-length one, but the poems stubbornly refused to be anything but being a succinct "song cycle." I remember hearing someone say that the "gospel" form as written testimony is inherently compact and concise. After several attempts, I realized I would have to create a second movement in to in order to have a full book. I tried two other sequences until I began writing the Mediterranean poems that seemed an ideal match for the Carolina poems.
Europe, especially Spain and Italy, seem to really influence your poems in both subject and language. What draws you to these two countries?
Back in the 90's I went to school in Florence to learn Italian then moved to Rome and eventually worked in the film industry there as an actor and dubber. I find each time I return to Italy, a new set of poems emerges, so I've begun to revere it as my reliable muse. I'd have to say that Italy's my favorite country, as it offers a continual historical, visual, and culinary feast; of my acquired languages, Italian is definitely the most vibrant and fun for me to speak. I first visited Barcelona in 1983 and became interested in Catalan culture. I eventually became the translator of two major Catalan writers, Salvador Espriu and Francesc Parcerisas. As a Spanish student in high school, I became enamored of the poetry and plays of Federico Garcia Lorca, who remains my literary hero; in fact, I'm at work on a memoir, rooted in three recent trips to Granada, focusing on Lorca's influence on my life and writing.
I remember reading some of your Catalan translation. Out of all the amazing Iberian poets, what brought you to Catalan-language poets?
I decided as a young person that Barcelona was the city for me to explore. In New York, before heading to Spain, I met David H. Rosenthal, the main translator of Catalan literature into English. David provided me with the keys to the kingdom, so to speak, by giving me the names and addresses of major Catalan poets; I visited several of them, read their work in English and Spanish translations, then decided to learn to read Catalan in order to translate the work of Catalonia's most venerated man of letters--poet, playwright, and fiction writer, Salvador Espriu, whom I met, just before he died in 1985. Learning to read Catalan appealed to my sense of justice, since the language was banned from public use by Franco. In the days of the Spanish Republic, Espriu had been a teen literary prodigy, a lauded new fiction writer, and was only 23 when the civil war broke out. As a literary prodigy myself (I won the National Poetry Series at age 23), it was a daunting stretch for me to imagine my language and publication possibilities stripped away. Studying Espiru's life and indomitable work, translating Catalan poetry and plays became an integral part of my moral and political education abroad. Like most Americans, I had no idea there were four languages in Spain, and had no clue to the savage, complex dynamics of the Spanish Civil War and the long-lasting crucible of Franco's repressive reign.
Are you considering translating any more poets in the future?
I've been tinkering with the idea of translating Pasolini; as much as I loved his films, Mama Roma and The Gospel according to Saint Matthew, I think I admire his poetry even more than his sometimes raw and transgressive movies. I saw an amazing and quite comprehensive exhibition in Rome, centered on his rebellious life and work that reinvigorated my interest in him. A poem in my fourth book, More Than Peace and Cypresses, "The Two Deaths of Pier Paolo Pasolini," is a vision of the director's brutal, actual death compared to some lines in one of his early Friulian poems, in which he imagined a peaceful end. As an actor in Rome, I had a good friend and colleague who was close to Pasolini, so I have some sense of the living man. You see, I was trained as a film-maker and actor, so I'm fascinated by the link between film and poetry and theater and poetry.
Quickly, before we close: do you still have time for much film-making and acting?
No, but on the other hand, I've created my first full-length play, Riders on the Back of Silence, based on several of the World War II and Holocaust poems in The Crossed-Out Swastika and Soul Make a Path though Shouting. I'm at the workshop/staged reading phase of developing the piece. In the lead mother and son roles, I'm blessed to have two extraordinary actors, Barbara Chisholm, who appeared in the much-acclaimed film Boyhood, and Jorge Franco, who is an up-and-coming actor and playwright. I've been acting since my early teens but have never written a play, so it's a whole new odyssey. Regrettably, the recent wave of anti-Semitic slurs and vandalism has made my play more pressing and relevant than I could have ever imagined. I'm hoping to get a production mounted in the Austin area and then in New York some time next year.
Calling all HuffPost superfans!
Sign up for membership to become a founding member and help shape HuffPost's next chapter
This post was published on the now-closed HuffPost Contributor platform. Contributors control their own work and posted freely to our site. If you need to flag this entry as abusive,
send us an email
.