Customer experience continues to reshape the marketer's mindset
Shifting priorities are sparking organizational change
Technology, particularly AI, is raising the bar for efficiency and personalization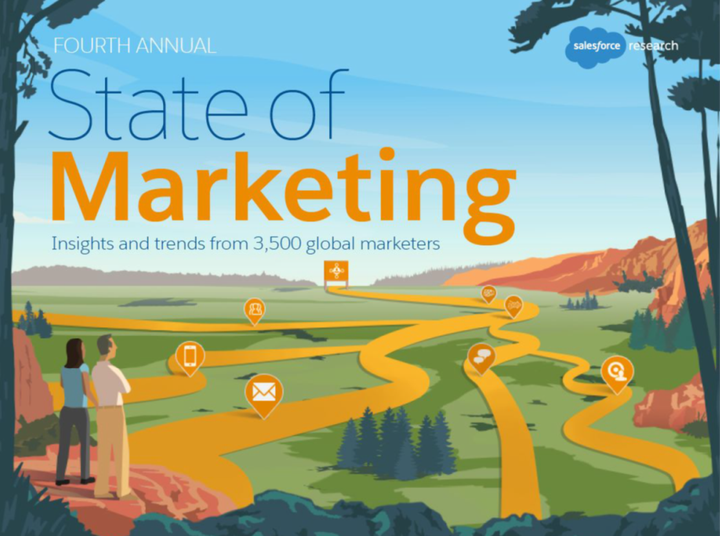 The 2017 STATE of MARKETING report includes a comprehensive set of insights and business trends from B2C, B2B and B2B2C markets. The report also includes by country profiles that further segment the technology, budget and use case trends. Upon review of this 50 page report, I extracted the 20 most powerful statistics that should be a key takeaway for CMOs and all digital marketing leaders.
1. High performing marketing teams represent only 12% of the overall survey population.
High performance is defined as being 'extremely satisfied' with current outcomes realized as direct result of their company's marketing investments. In 2016, a Harvard Business Review study noted that only 15% of marketing and sales organizations were high performers.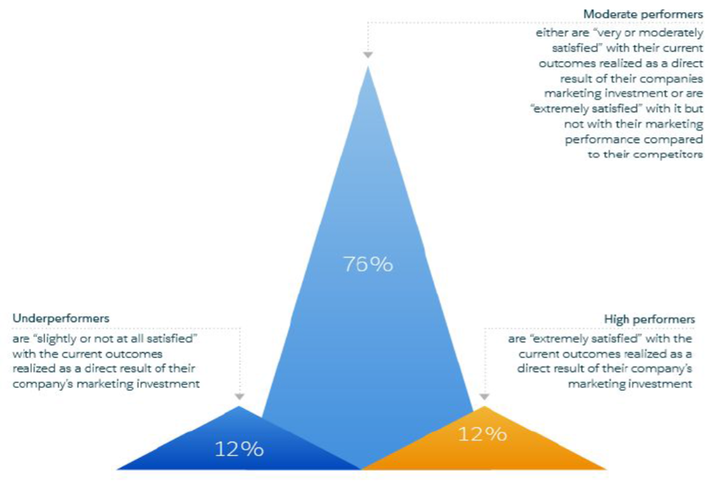 Here are the four key takeaways from the 2017 State of Marketing Report:
Markers move to evolve journeys but data woes linger - gaining a single view of the customer and leveraging data from different sources continue to be a challenge for marketing.
Shifting priorities spark organizational change - in the age of the connected customer, marketing is rethinking everything from job roles to new functions. Account Based Marketing (ABM) is growing in adoption.
Marketing tech makes waves - From Internet of Things (IoT) and connected devices, to leads scoring tools, high performing marketing teams are leaning into technology to create and cultivate a data-driven culture that is agile, forward looking and highly optimized for efficiency and driver of business outcomes. AI and IoT will continue to be the technologies needed to educate, inspire and ignite customers actions.
Marketing embraces the artificial intelligence (AI) revolution - AI is the leading technology where marketers expect the most growth in the next two years. Marketers know that AI is path to the new currencies in the digital economy - personalization, speed and intelligence. Every business is an AI powered business, and marketing can help lead the way.
Customer experience is the brand battlefield - Today, marketing is beyond just focusing on customer experience, instead, marketing is not battling for it.
2. 68% of marketing leaders say their company is increasingly competing on the basis of customer experience.
3. 69% of marketing teams are leading the customer experience initiatives across the business. Among top teams, this number is 89%!
4. 64% of marketing leaders say their company has become more focused on providing a consistent experience across all channels.
5. 52% of consumers are likely to switch brands if a company doesn't personalize communications to them.
6. 65% of business buyers are likely to switch brands if a vendor does not personalize communications to their company.
7. 89% of business buyers expect vendors to understand and anticipate their business needs.
In the B2B space, the average buying decision team is approximately 8 buyer stakeholders. Each buyer within the team has a different persona and likely a different buying process map. Digital marketers must leverage technology - CRM platform with integrated and shared view of the customer journey across sales, marketing, services, and communities, marketing automation, ABM journey builders, and artificial intelligence (machine learning and deep learning) in order to improve their ability to deliver the right content, to the right audience, at the right time and channel of preference (customer preference).
Marketers continue to battle disparate data - the top challenges in marketing vary by for high performing marketers, the top 3 challenges are:
Creating a shared, single view of the customer
Difficulty leveraging data from different sources
Budgetary constraints
A deeper dive into the four key takeaways result in these stunning state of marketing statistics and findings:
Marketers Move to Evolve Journeys But Data Woes Linger - A single view of the customer, across all of the touchpoints and growing number of channels, continue to be a significant challenge for marketing. Email is still a dominant and important channel of choice for customers, but the landscape is rapidly changing and marketers must be able to adapt in order to add value.
8. Marketing leaders today say 34% of their budget is spend on channels they didn't know existed five years ago - expected to reach 40% by 2019. Emerging channels and email show high growth; here are the actual channel growth rates in B2B and B2C from 2015-2017: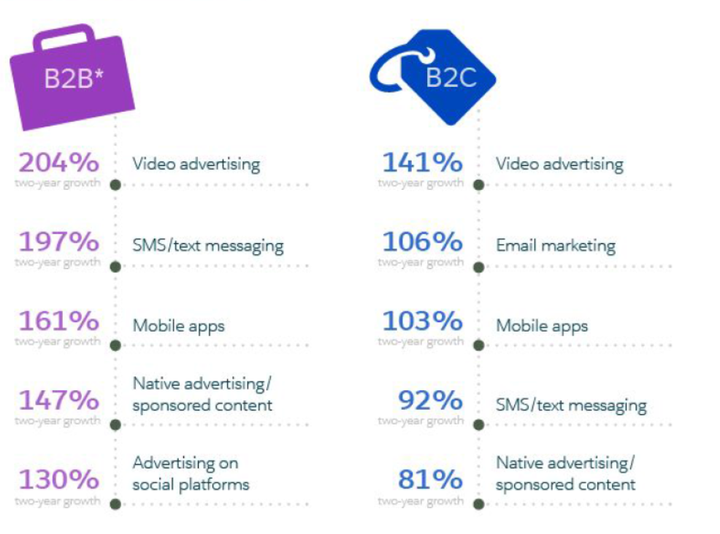 9. High performing marketers are 12.8X more likely to heavily coordinate their marketing efforts across multiple channels.
10. Only 25% of marketing content evolve from channel to channel in a personalized way.
11. 51% of marketers have the identical message broadcasted from one channel to the next. In a hyper connected, knowledge sharing economy, where each engagement must deliver unique value, the 'spray and pray' approach of content sharing and message will no longer be tolerated by consumers or business buyers.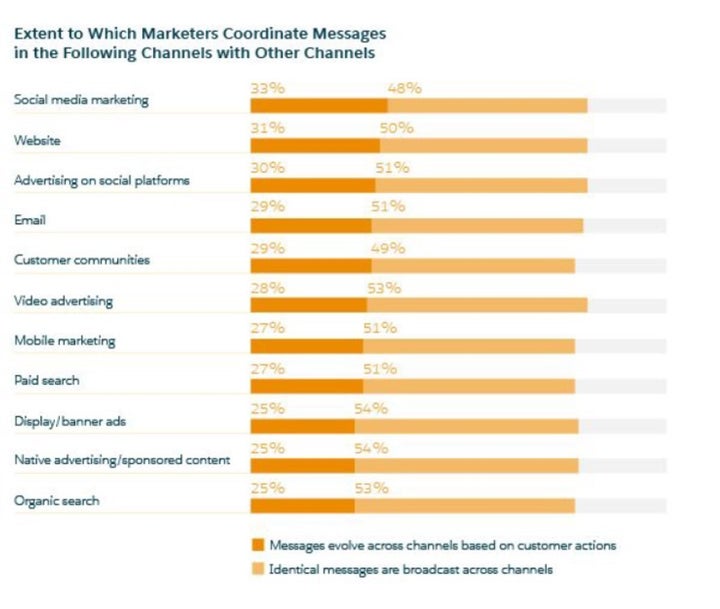 12. 67% of marketing leaders say creating a connected customer journey across all touchpoints and channels is critical to the success of their overall marketing strategy.
13. A staggering 91% of high performing marketing teams say that a connected customer journey across all touchpoints and channels positively impacts customer loyalty.
14. Only 23% of marketers are extremely satisfied with their ability to leverage customer data to create a relevant experience.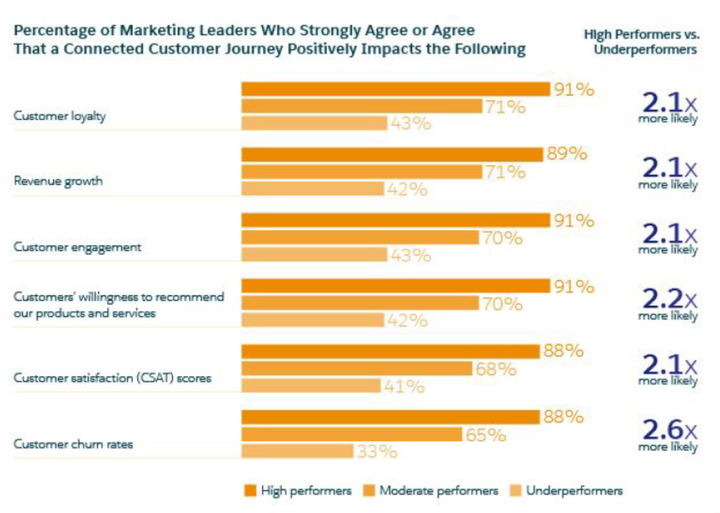 Shifting Priorities Spark Organizational Change - Marketer's focus on the customer journey is having a major impact on roles within marketing.
15. 89% of top teams are aligning marketing roles to a customer journey strategy
16. 59% of marketing leaders say that traditional marketing roles limit their ability to engage customers.
17. While 73% of marketers with a CRM system use it for shared customer view between services and sales teams, more than a quarter don't.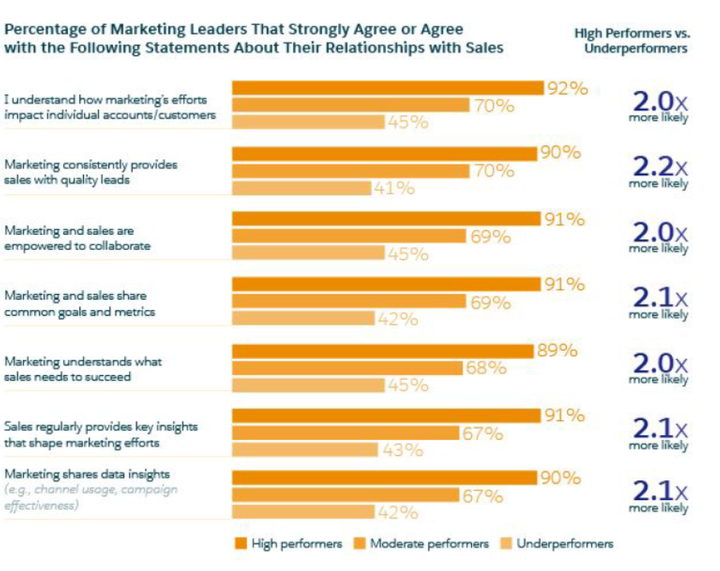 Marketing Tech Makes Waves - Top marketing teams are 4.3X more likely to use data management platforms (DMP) and 4X more likely to use customer identify and access management (CIAM) platform. The biggest growth however in terms of technology investments and use in the next two years will be AI.
18. 92% of marketers will use marketing analytics and 91% will use a CRM system by 2019.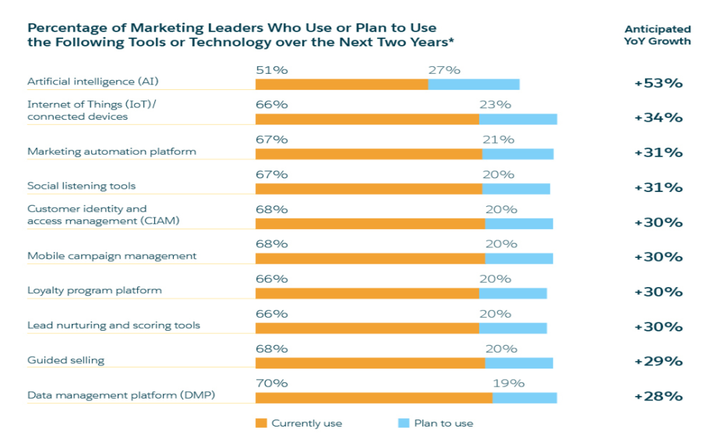 Marketing Embraces the AI Revolution - Marketers today are paying more attention to AI than ever before.
19. 51% of marketing leaders are already using AI. 72% of high performing marketing teams are using AI for product recommendations and predictive lead scoring.
20. 57% of marketers using AI say it's absolutely or very essential in helping their company create 1-to-1 marketing across every customer touchpoint.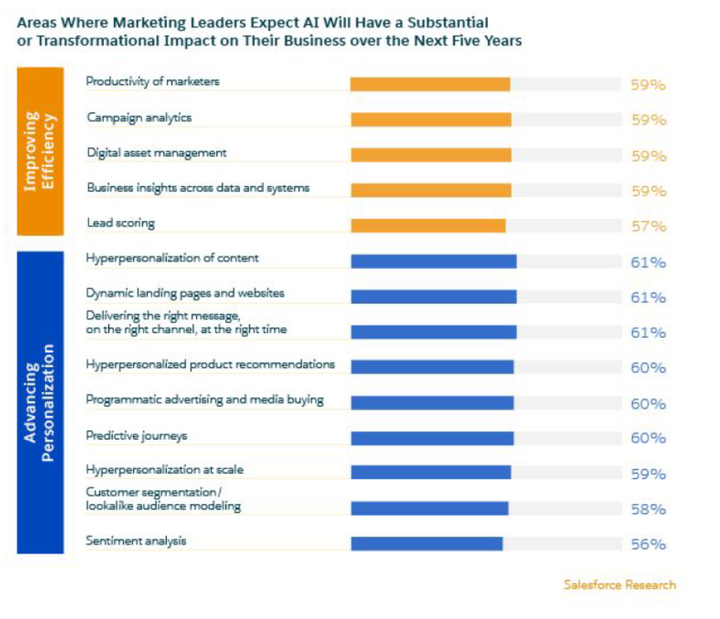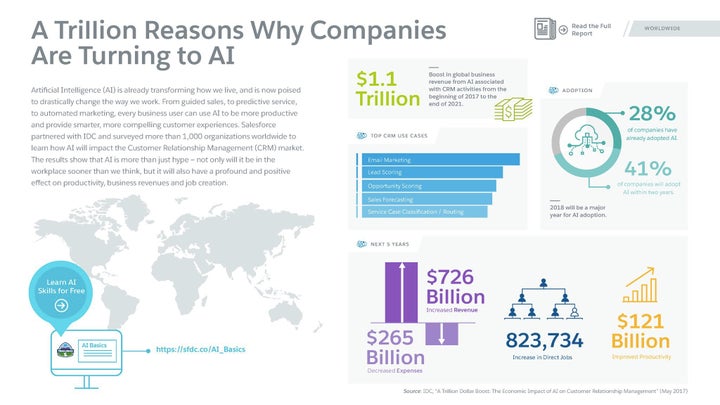 AI associated with CRM activities will boost global business revenue from the beginning of 2017 to the end of 2021 by $1.1 trillion.
Net-new jobs associated with this revenue could, if respondent opinions bear out, reach more than 800,000 by 2021 in direct jobs, and 2 million if you add in indirect and induced jobs. This is a net-positive figure in that it includes an estimate of jobs lost to automation from AI.
In conclusion, the 2017 STATE of MARKETING REPORT shows that what makes top marketers tick is the following: 1. Customer Journey Alignment, 2. Marketing Technology, 3. Artificial Intelligence, and 4. Channel Coordination.

Related
Popular in the Community