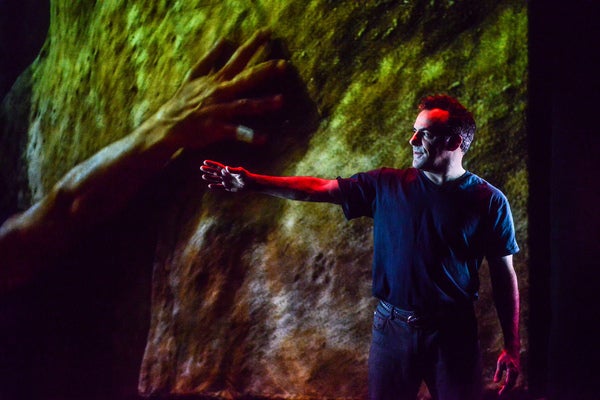 Plasticity, Hudson Theatres, Hollywood
Playwrights Alex Lyras and Robert McCaskill have created a one-of-a-kind, one person show for Lyras, playing David Rosely, a man in a coma telling a mind-boggling tale. It includes a twin brother, battling doctors and questions about consciousness, legal rights and ethics. Add to that an absolutely stunning video design by Corwin Evans and you have a theatrical experience, directed perfectly by McCaskill, that has its own special neuroscientific grip on the audience.
Building the Wall, Fountain Theatre, Hollywood
Playwright Robert Schenkkan (The Kentucky Cycle) created a dystopian nightmare two-hander that's all the more frightening because it is possible. In a near future, under Trump, prisons are so filled with immigrants that an epidemic results. Bo Foxworth is engrossing as the prison administrator himself in jail for an act that is both despicable and coldly logical. This rolling world premiere is the ideal condemnation of what has happened to American democracy.
Please Excuse My Dear Aunt Sally, Odyssey Theatre Ensemble, West Los Angeles
Kevin Armento has written a one-man show that is poetic confession and technical marvel. Thomas Piper plays all the characters in a tale of an inappropriate relationship between male student and female instructor, getting inside the heads of those involved in a novelistic manner, aided by the video and sound design of Adam Smith and sensitive direction of Peter Richards.
Something Rotten!, Ahmanson Theatre, Los Angeles
Something wonderful, as the Bard gets sent up in dazzling fashion. This Broadway hit, directed and choreographed by Casey Nicholaw, hilariously accuses Shakespeare of being a self-aggrandizing egotist who "borrows" ideas from a struggling playwright. The cast is uniformly marvelous and Nicholaw (The Book of Mormon, Aladdin) once more keeps us enthralled.
Tolstoy in Suffolk, Studio C, Hollywood
Robert Allan Ackerman, after so many successes as film and theatre director, has added playwright to his resume, and this two-hander is filled with coruscating wit. A desperate Hollywood producer (J.D. Cullum) tries to convince a furious, slovenly, drunkard writer (Stephen Caffrey) to give up the rights to a failed stage production, so a studio can make it a major movie. Both actors are at the top of their games and never have personal insults been so deliciously delirious.
Constellations, Geffen Playhouse, Westwood
Nick Payne's brilliantly conceived two-hander shows the many possible permutations of a chance meeting between a man and woman (Ginnifer Goodwin and Allen Leech). Director Giovanna Sardelli has a deft hand, utilizing split second lighting and changes in blocking to span time and space in a lucid and thrilling manner.
Time Alone, Los Angeles Theatre Center, Los Angeles
Tony Award winner Tonya Pinkins plays the bereft mother whose son has been killed by jailed gang member Alex Hernandez in this emotionally devastating, two character work. It is a testament to the powerful words of Alessandro Camon and carefully crafted direction of Evidence Room founder Bart DeLorenzo that the simple premise can create such a satisfying and moving catharsis.
Into the Woods, Ahmanson Theatre, Los Angeles
Stephen Sondheim and James Lapine turned the fairy tale on its head when they created Into the Woods and the Fiasco Theater production ups the ante, with this large and very talented company playing live music as well. Noah Brody and Ben Steinfeld co-direct this classic with constant motion and verve.
Transition, Lounge Theatre, Hollywood
Using the headline "Democracy is a terrible thing to waste," Ray Richmond's hilarious reimagining of Obama turning over the White House to Trump in a private meeting is uproarious. Harry Murphy has an easy target in an orange-haired despot but it is Joshua Wolf Coleman who completely nails Obama's speech patterns, authority and his patience.The audience delightedly finally gets to see the latter blown out of the water.
Matthew Bourne's The Red Shoes, Ahmanson Theatre, Hollywood
Leave it to maverick director-choreographer Matthew Bourne to take the classic musical film The Red Shoes and make it a thrilling, eye-popping musical extravaganza. The stage is so filled with movement, wondrous facial expressions, projected images and Bernard Herrmann's marvelous score, orchestrated by Terry Davies, that one leaves the theatre smiling, with spent senses, as the theatre can do to us at its best.
Popular in the Community