Mass consumption by consumers to the tune of 20+ billion video views per day across Facebook, Snapchat, and YouTube alone is driving adoption within business to address shifting expectations. - 2017 Video in Business Benchmark Report, Vidyard
According to a 2017 benchmark report by Vidyard, businesses are embracing online video as a more personal and engaging way to connect with audiences in an increasingly digital word. "It's important to have relatable benchmarks to evaluate success and identify opportunities," said Michael Litt, co-founder and CEO of Vidyard.
Here are some of the key benchmark takeaways:
Businesses in the High Tech and Manufacturing industries are publishing the most new videos on a monthly basis
Explainers, product demos, how-to videos, and testimonials are the most common videos produced; websites and social channels are the most common distribution channels.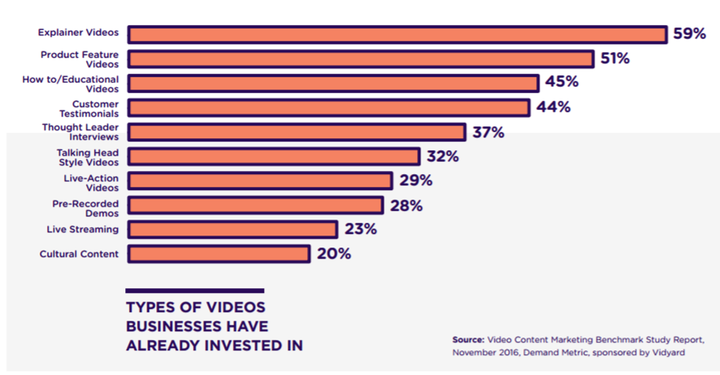 The average length of a video is 8 minutes, but nearly 56% of all videos published in the last year are less than 2 minutes long.
The average portion of viewers remaining by the end of a video is 37%, with video length playing a big role in retention.
Businesses producing 50 videos or more per year are 2.5x more likely to use advanced video analytics; those using advanced analytics are far more likely to be increasing their video budgets this year.
Here are 15 powerful statistics regarding video in business:
Video Viewing
1. 86% of views are consumed on desktops and only 14% on mobile.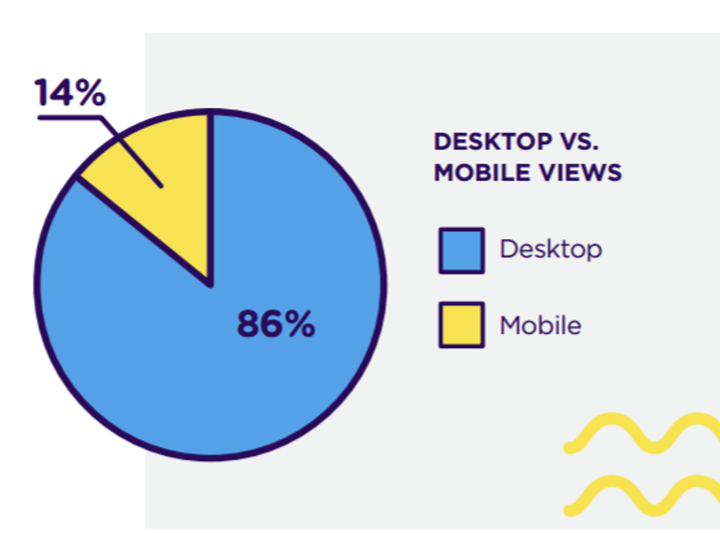 53% of video views are on a Chrome browser.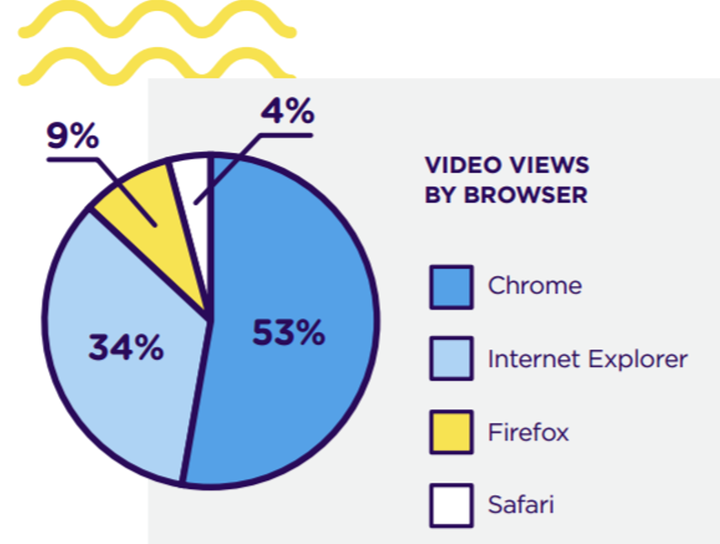 3. Wednesday morning between 7AM-11AM PST is the highest traffic time for views of any time throughout the week.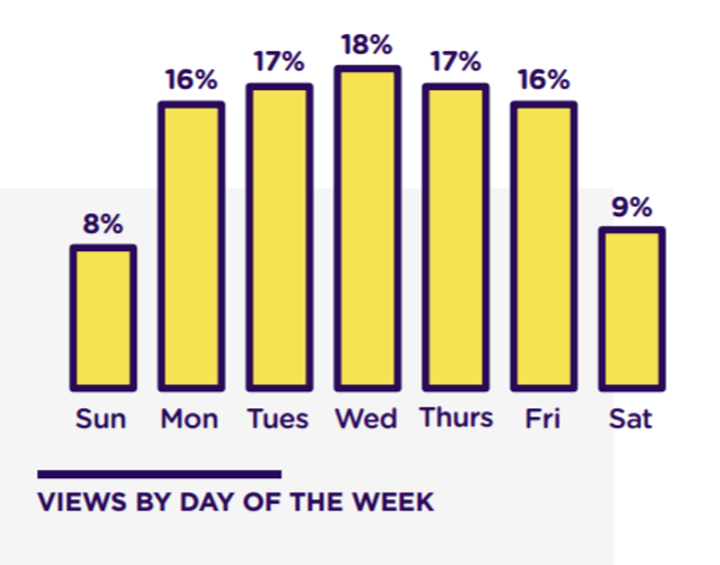 Video publishing
4. The average number of videos published by any organization in the data set was 293.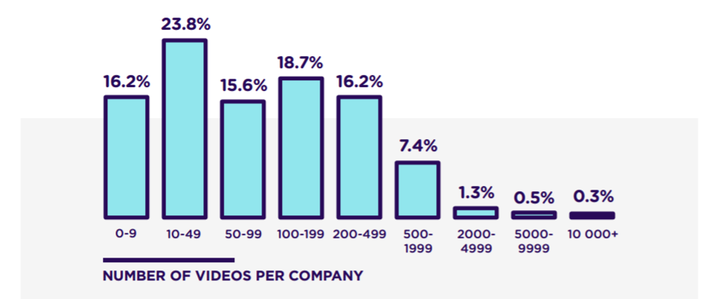 5. Businesses have published 293 videos on average and are publishing 18 new videos every month; their video libraries will double within 16 months.
The top industries producing video content for marketing, sales, and communications are Media and Entertainment, Manufacturing, Communications, and High Tech. The industries with the smallest video libraries are Food and Leisure, Retail, Healthcare, and Professional Services.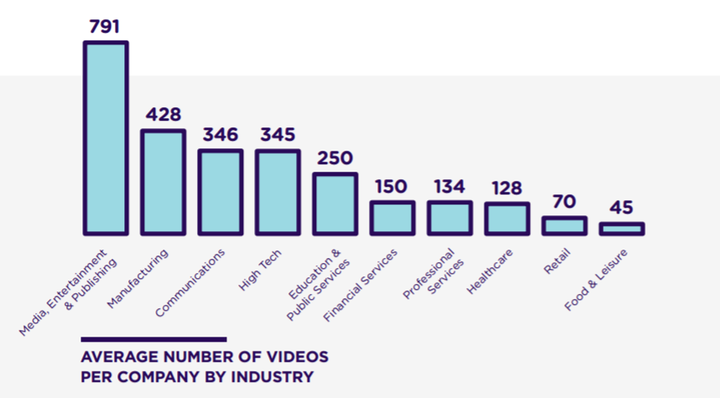 While the largest companies do tend to produce the highest number of videos, there is no direct correlation between company size and the number of videos published.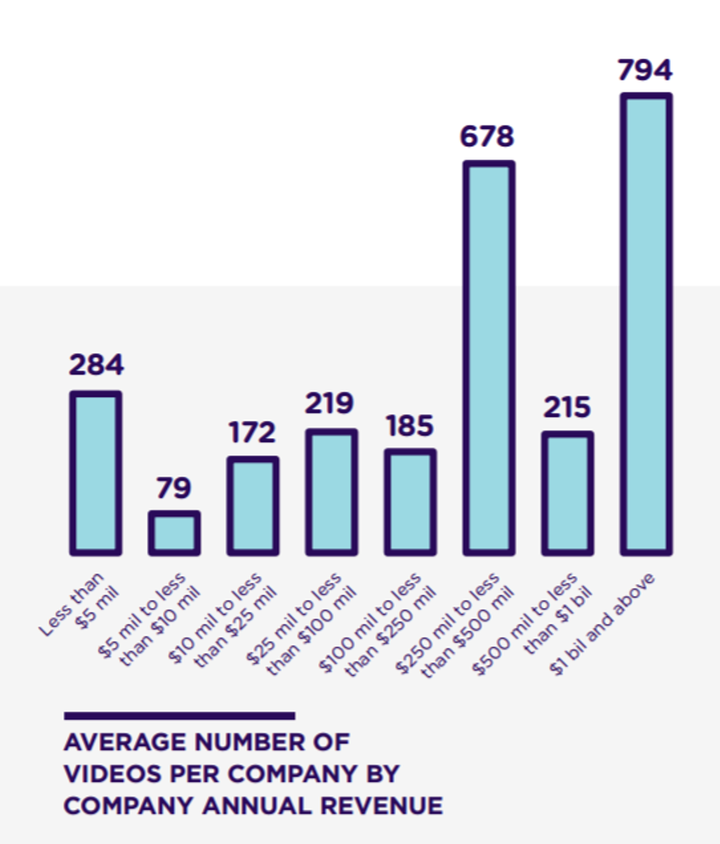 6. The average number of videos published by each business as of the end of 2016 is 18 per month.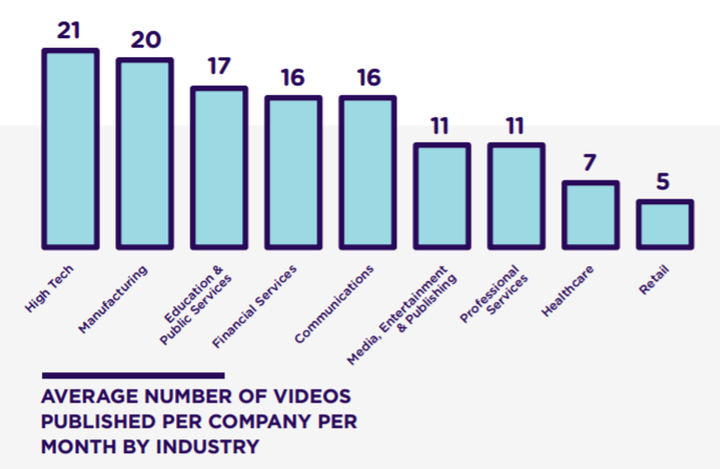 There is a noticeable pick-up in monthly videos in companies with $250 million in revenue and above. The largest number of monthly videos comes from the largest-sized companies, and they publish almost double that of the next closest category.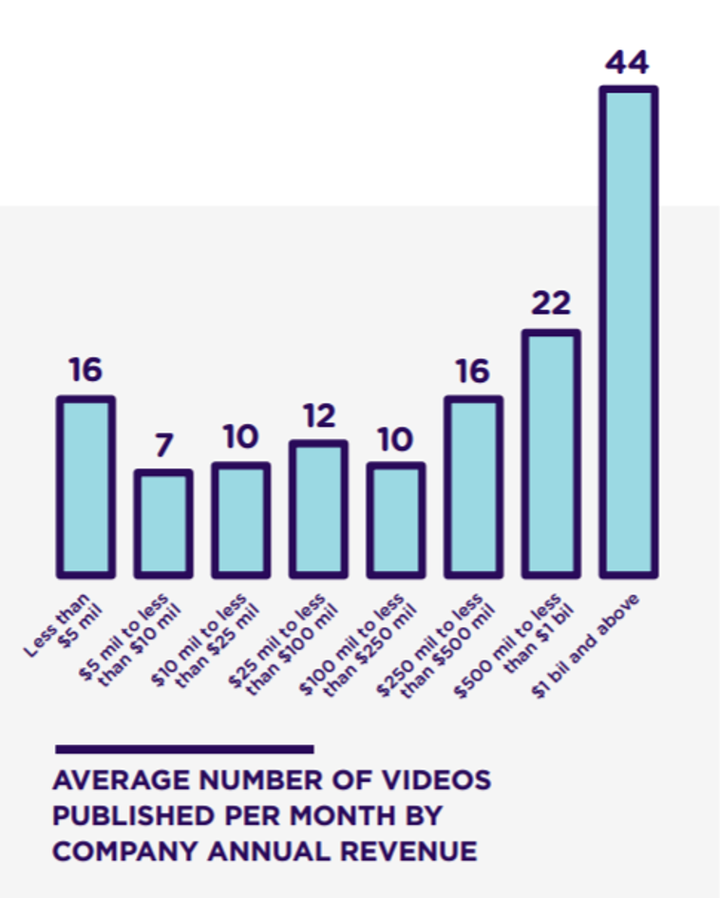 7. 85% of businesses now report using internal staff and resources to produce video content while only 15% are relying solely on agencies.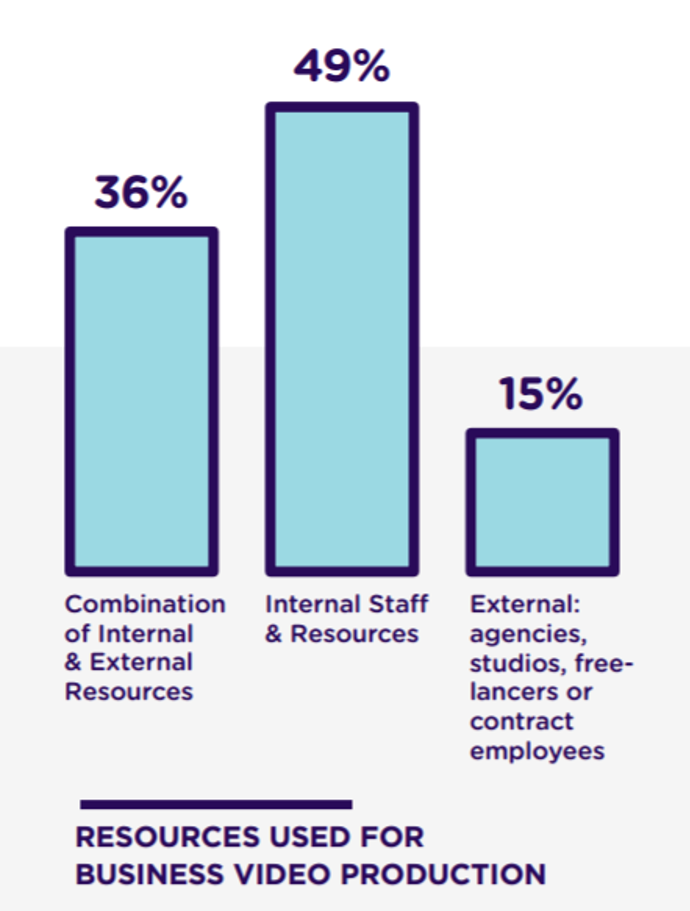 Video Content
8. 78% of businesses using video use it on their website or product site, and 72% use it on social.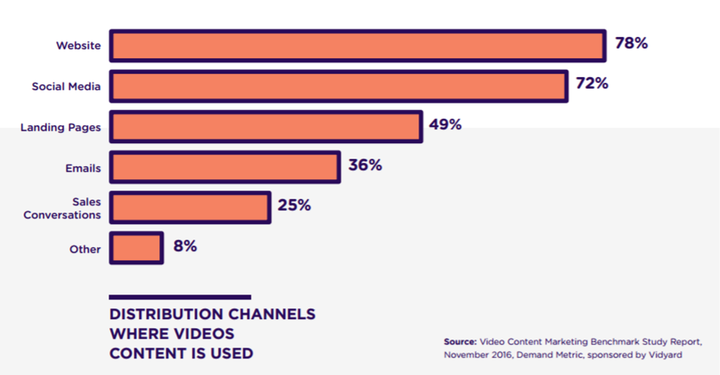 The top three types of videos based on distribution location are:

9. The average length of a video by businesses is 8 minutes (or 482 seconds, to be exact). The majority of videos (56%) are less than 2 minutes long.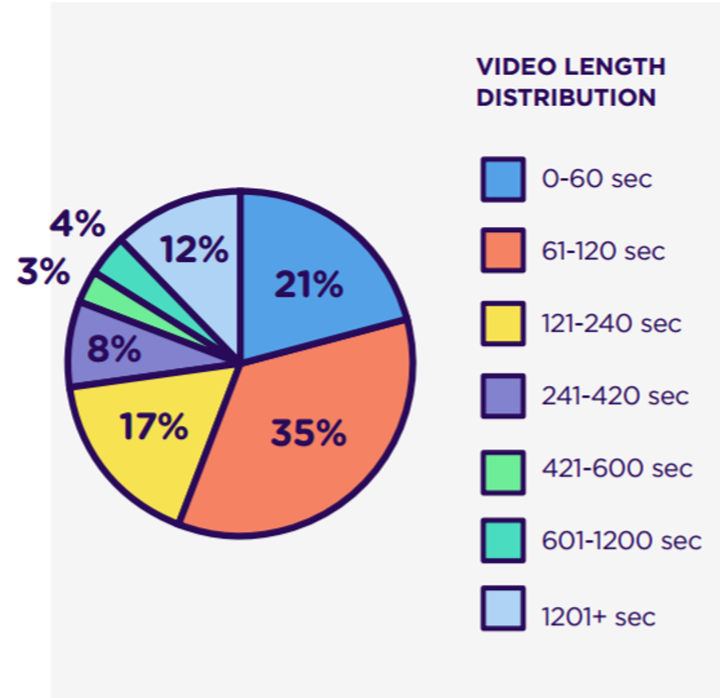 Video Engagement
10. A video less than 90 seconds in length sees an average retention at the end of 53% compared to a video over 30 minutes that retains only 10% of its audience.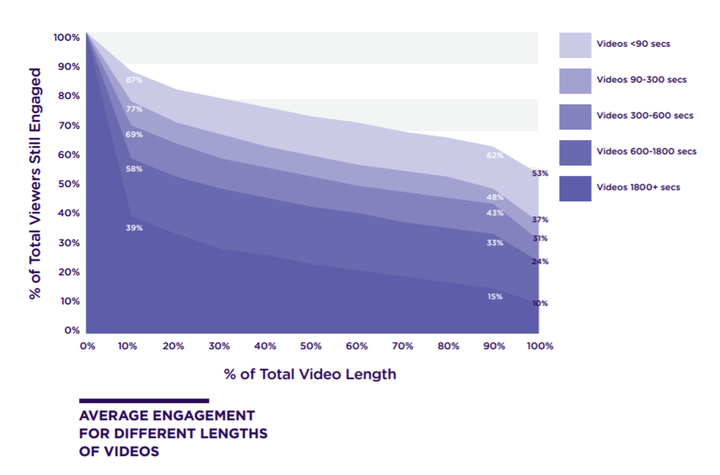 11. The average retention rate of personalized videos is 35% higher than non-personalized videos.
12. The top 5% of videos see an average retention rate of 77% of viewers.
13. Videos less than 90 seconds see an average retention rate of 53% compared to videos over 30 minutes that retain only 10% of viewers.
Video Analytics
14. In 2016, 35% of businesses reported using intermediate or advanced video analytics to track the performance of their video efforts.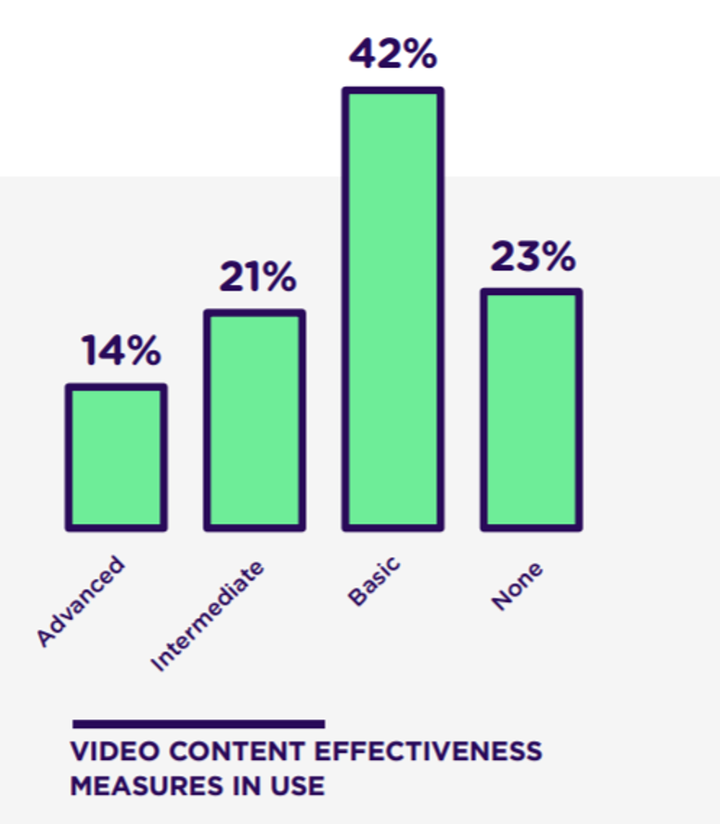 15. The use of video analytics is on the rise with 35% of businesses now using intermediate or advanced analytics to measure performance.
To learn more about the '2017 Video in Business' benchmark study by Vidyard, you can visit here.
Popular in the Community