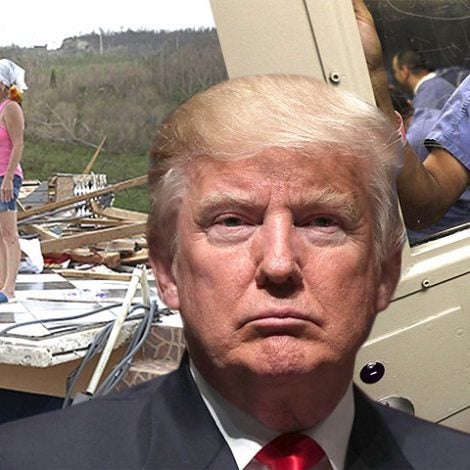 What a year this has been, thank God it's almost over. Here's a list of the top 5 lowest moments of 2017, authored in partnership with mitú's editorial staff.
1. Our President ... The Worst Disaster of 2017
While natural disasters left a trail of devastation in their wake, there was one unnatural disaster that came roaring through America and beyond, leaving destruction and disarray in its path. Its name is Donald Trump. He has been the biggest threat not only to our Latino community, but to many marginalized communities. From the moment he launched his presidential campaign, hate found a firmer foothold in America. Trump, who has a tweet ready for anyone who dares to criticize him, has been relatively quiet when it comes to decrying hate groups. In turn, hate groups have taken Trump's silence as implicit support of their ideals. 
Every low on the following list can be directly tied to Trump in some way or another. From the rescission of DACA, shameful silence on white supremacy, his plan for a border wall to keep Mexican "bad hombres" out of the country, insensitivity toward the citizens of Puerto Rico during their time of crisis, and let's not forget, Trump's enormous ego, boorish arrogant behavior, and incessant display of petulance toward any foreign entity that might challenge him -- placing Americans at a greater level of danger of nuclear destruction than ever before.
2. Sexual Harassment Shook up Hollywood and Politics --Calladitas (quiet) No More!
For decades, women have been afraid to speak up, and many were forced into silence when it came to their stories of sexual harassment and assault. In the past, women have tried to tell their stories, but none have had quite the impact as the powerful social media movement #MeToo, thanks to millions of women around the world who came forward in the wake of sexual assault allegations against their oppressors. Mexican powerhouse actor, producer and director Salma Hayek was one of the brave women who spoke out against disgraced Hollywood movie mogul Harvey Weinstein, and even Time Magazine recognized the importance of this movement by featuring a diverse sampling of these women on their annual "Person of the Year" cover, including strawberry field worker, Isabel Pascual.
Hundreds of Hollywood male execs (both straight and gay), along with a few high profile politicians, experienced (for the first time) the feeling of having their white male privilege stripped through the loss of their C-level jobs and in some cases, their highly valued companies. This unacceptable immunity and behavior that has been normalized for decades as something "men do," is just plain wrong. Even our Commander-in-Chief got away with it during his Presidential campaign being as offensive as he possibly could to any woman that would get in his way.
3. Natural Disasters Pummeled Puerto Rico, the Caribbean and Southern California — Environmental Threats Are Not Fake News!
Climate change is real. Oceans are warming, warm weather trends are on the rise and the wind and oceans are responding accordingly. This year alone, California was hit with the worst fires it has seen in its history.
Three of the largest and most violent hurricanes ever recorded made landfall in areas with some of the largest concentrations of Latinos in the world. Hurricane Harvey hit hard in Houston, Hurricane Irma scraped along the Caribbean islands before slamming into Florida, and Hurricane Maria laid waste to Puerto Rico, while also wreaking havoc on the U.S. Virgin Islands, the Dominican Republic, and Cuba.
In the face of irrefutable scientific evidence, Trump has labeled climate change a "hoax," making the U.S. the only country who is at odds with the rest of the world when it comes to combating climate change. We the only country to not be a part of the Paris Agreement. Mother nature, please have mercy on us!
4. Panic in our Communities: DACA's Uncertain Future and ICE's Deportations
As the year progressed, the number of ICE raids increased, as did the agents targeting sensitive sites like schools, courthouses, and hospitals. In Texas, at least two families had to make the decision on whether or not to cross a border checkpoint to take their children to the hospital for emergency procedures.
Following President Trump's inauguration, things got markedly worse for Deferred Action for Childhood Arrivals (DACA) recipients. Just a months after Trump was sworn into office, ICE arrested and deported a DACA recipient. The arrest signaled an immediate and terrifying change for all DACA recipients who had come out of the shadows to work, go to school, and contribute to our U.S. society without fear of deportation. Seven months later, the Trump administration made the decision to roll back DACA protections. As the year comes to an end, approximately 21,000 DACA recipients will now be left hoping that Congress will pass legislation to save them from deportation.
5. The U.S. Soccer Team Not Qualifying for the World Cup-- WTF Happened?
The biggest sports disappointment of the year was that the U.S. soccer team did not qualify for the World Cup. What went wrong? And how could we lose to Trinidad & Tobago, even with our 19-year-old superstar in the making, Christian Pulisic? After an up-and-down World Cup qualifying campaign, coach Jurgen Klinsmann was fired and replaced by Bruce Arena last year, who also resigned from his post after not qualifying. Players apologized to fans and will now watch the games from the comfort of their living rooms. Pundits criticized the arrogance of players and coaches and demanded that U.S. Soccer reevaluate its system for developing players, who for the most part are non-diverse kids from families with high incomes that can afford the cost of playing in a club and the travel involved. Lack of diversity is hurting the national team for not including kids from our underserved communities -- many of who happen to be naturally talented and passionate about the game. Diversity as good ROI is real, and I hope that this is a big wake-up call that the U.S. National team will now take seriously.
REAL LIFE. REAL NEWS. REAL VOICES.
Help us tell more of the stories that matter from voices that too often remain unheard.
This post was published on the now-closed HuffPost Contributor platform. Contributors control their own work and posted freely to our site. If you need to flag this entry as abusive,
send us an email
.