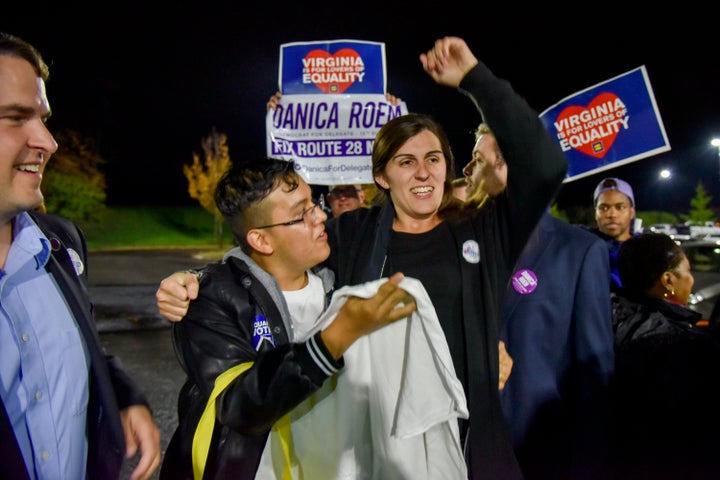 While we knew women were running for office in record numbers, we didn't anticipate that 2017 would be a headline-making year for women winning office. Conventional wisdom pointed us toward a healthy skepticism about the chances for success of women who plunged into tough, seemingly unwinnable, races.
The Center for American Women and Politics has watched women's progress in elections for almost 50 years. We've always offered careful, data-based analysis. Our reports of slow, incremental progress echoed from election to election until 1992, the so-called "Year of the Woman." Then an unusually large number of open seats, coupled with a spotlight on sexual harassment and women's underrepresentation in Congress cast by Anita Hill's testimony in the Clarence Thomas confirmation hearings, created opportunities that women grabbed. History was made. But it was an anomaly, and soon our "new normal" was stagnation in the number of women running for and serving in state legislatures.
We welcomed record numbers of women to our own non-partisan campaign trainings and watched others around the country report similar surges. But we expected that newbies motivated by the events of 2016 might land in office some time down the road.
As excitement built around the growing number of women lining up to run in 2017, our most optimistic comment was, "Wait and see." Observing that many of the newcomers were challenging entrenched incumbents, we noted that incumbents win 90 percent of the time or more. We waited to see.
What we saw on Election Day was a stunning departure from the norm, particularly among Virginia Democrats. A record number of women ran for that legislature, including twenty-seven Democratic women who challenged incumbent members of the House of Delegates, and fully one third of them triumphed against formidable odds. Twelve new women (11 Democrats and one Republican) will join the Virginia House in January, among the largest single-year increases we've recorded for any state and certainly a record for the Old Dominion. Around the nation, women candidates dismissed as unlikely to succeed, usually because they were challengers from the wrong party for the seat, scored landmark victories.
At the same time, we're tracking major growth in the number of women saying they plan to run for Congress and statewide offices in 2018. So far, our "Buzz" list includes 392 who are considered candidates for US Senate and House, almost twice as many as we counted at the same time in the 2016 cycle. And with races for governor in 36 states, we count 68 potential candidates, more than double the number of women who ran in 2013, the last comparable cycle. Many of them are running in those coveted open seat races. While we know those numbers will shake down considerably over time, they still point toward a banner year for women candidates in 2018. The numbers would be even better if more GOP women joined the fray; right now, most of the action is on the Democratic side, as has been typical in recent years.
With sexist gaffes and homophobic attitudes bringing down powerful men in politics, the media and entertainment, who knows how the conversation around sexual harassment might empower women? We last heard that conversation in 1992. Will headlines in 2018 paint the "old boys" as hopelessly out-of-date and vulnerable to fresh new faces?
We're pretty sure that the politics of 2018 will look different from the 2017 picture, and one state that was already trending from red to blue isn't a perfect template for the nation. But we do know that women this year went for it, and their gambles paid off. The more women elbow their way into previously macho institutions, the more space they create for other women to speak up and speak out, to demand to be heard and counted.
So, for now, we're stepping away from our faith in conventional wisdom. While it's still a long shot to unseat an incumbent, we're telling women it can be worth a try to run as a challenger. Far be it from us to discourage candidates like Virginia's Danica Roem, the transgender woman who defeated the self-styled "chief homophobe" in the legislature, or Haya Ayala, Elizabeth Guzman, and Kathy Tran, the first two Latinas and first Asian American woman elected to the Virginia House of Delegates. Nor would we tell Ashley Bennett not to run; she unseated a New Jersey county official who made a sexist joke about the Women's March. Yes, open seats are still the most accessible, but in the right moment, incumbents can be toppled.
And when our legislatures and Congress climb even a little closer to gender parity, we'll be glad to have learned our lesson from so many brave women.
Debbie Walsh is director of the Center for American Women and Politics, a unit of the Eagleton Institute of Politics at Rutgers University-New Brunswick.
Popular in the Community