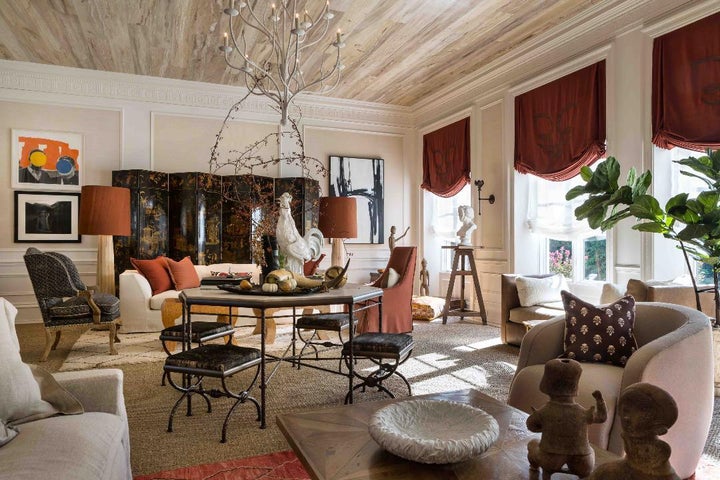 The beautiful become even more beautiful when lit by a sense of humor. That's true for people, and it's true for homes.
This year's Design House, which raises money for Children's National Health System, one of America's leading pediatric hospitals, has employed designers who not only know how to give room a personality, but a zingy personality at that. This event is one of the country's most popular with 78,000 people attending over the past decade.
The canvas for this year's event is a well-proportioned 27,256-square-foot French-inspired home, which was built in 2009 but has the bones of an old soul. Tucked away on a cul-de-sac in the posh D.C. suburb of Potomac, Maryland, it's the epitome of grandeur, sure, but also spirit, a fitting choice for the 10th anniversary event.
Washington area designers have lent their visions to this home, infusing it with style and energy. The playfulness is embodied in rooms like a girl's bedroom, which has been swathed in turquoise and tangerine paint by DC-based designer Caryn Cramer. Bold Southwestern flair is grounded by what may be a first for me: a throw "rug" made from dozens of Western-style leather belts woven together, an artsy but practical treatment. In another boudoir, Romain Baty, a Paris-based designer (who has an outpost in DC) has created a love letter to film noir with black and white furnishings, paint and treatments, accented with a singular sunset hued kimono. Further fun is found in what would otherwise be a typical hallway niche. Here, Perceptions Interiors, a small group of DC designers, has given the space a nightclub air with dim lighting, lush curtains and chalk paint walls. Upholstery-free gilded chairs and the most expensive piece in the house, a glass table worth nearly $90,000 ground it.
What makes this house so inspiring is that, as with many designer showcases, rooms here have not been delivered to interior designers as blank slates. Instead, these are rooms that have been lived in and loved. Within these existing parameters, these confines, the greatest creativity must spark.
How does one work around a master bedroom with a heavy grey-coffered ceiling? Hint: Denise Guadeloupe of Silver Spring, Maryland plays it up with a glam crystal chandelier. How do you make a doublewide living room (formerly known as the Grand Salon) with stark marble floors feel warm and friendly? Well, if you're Josh Hildreth of Reston, Virginia, you soften it by layering throw rugs over sisal carpet and rebrand it as The Collectors Cabinet.
The designers' ability to enhance what exists gives us, the visitors, hope that perhaps we can poach some of these great ideas for our own homes. Or if our inspiration flags, we at least we have the names and numbers of the designers who can spin some magic into our own rooms at home.
The 2017 Design House benefiting Children's National Healthy System at 9004 Congressional Court in Potomac, Maryland is open through October 29, 2017.
Support HuffPost
The Stakes Have Never Been Higher
Related
Popular in the Community