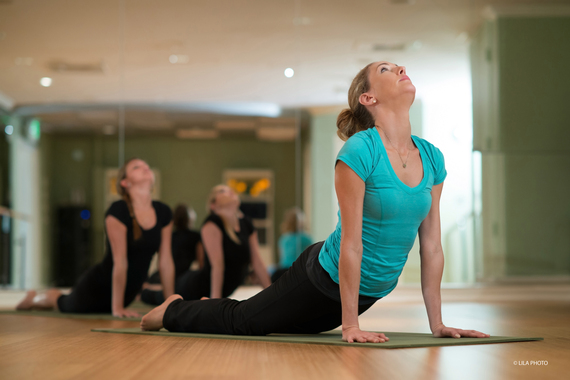 After New Year's, our attention turns towards our goals. It may be a cliché, but it's also all too real. Here are tips from top wellness experts on how to successfully achieve health, healing and happiness in 2017.
Rainbeau Mars, one of Hollywood's A-list health and beauty coaches, and author of the 21 Day Superstar Cleanse, is the daughter of an herbalist and yoga practitioner, so wellness has been a core component of her life since childhood. Today, she has 20 fitness DVDs, a yoga series on BeFitChannel and works with clients at the Four Seasons Los Angeles at Beverly Hills.
With indulgence over the holidays, it's natural to let yourself to chill a bit more, but that can lead to self-sabotage. Holiday indulgences tend to make way for more of the same until one is totally off their path and barely being able to wake up without extra double shots of the espresso. In fact, people knowing that the "New Year" is around the corner often makes them want to grab that extra slice and or eat more pie. Eventually, too much time in the party scene, just like a crazy house where you can barely think in, leads to the need to create some clarity, freshen up and give yourself a new start.
Like any effective plan, one must approach success with a map to win. Start brainstorming. After you have a broad set of dreams, begin to communicate or write down what's most important and chart your course. How and when will you be achieving these goals, why and what will it feel like when you do?
Consider joining a supportive group that will continue motivate and push you along with reminders. Make sure that you know that the only way to fail is stopping or not doing anything at all but every attempt can be a success in some way.
Kim-Elizabeth Hanson, the founder of Pure Living Wellness in Montego Bay, Jamaica, taps her skills in yoga, Pilates, Barre, along with Reiki, to bring holistic wellness to clients. She is a sought-after instructor at Half Moon Bay, the legendary resort tucked into a private cove on the Caribbean, and her expertise is in taking people beyond physical exercise into the realms of mind and spirit. For instance, her class "Sweat Your Meds" combines yoga and strength training with guided meditation. She also works with patients rehabbing after injury and surgery.

The beginning of a new year usually coincides with embarking on well-intentioned resolutions that often dissipate as the weeks pass. I suggest setting only one or two wellness goals. Make them small, realistic and achievable. You can always up the ante as your endurance, strength, weight, flexibility increase. Choose wellness activities YOU like.
Invest in any of the new health-tracker apps like Fitbit, where you can track progress and boost motivation. Also, having a work-out/training partner/ group also helps with motivation, as do a few personal coaching sessions.
Choose an activity that really interests and resonates with you, not the latest and/or most popular wellness fad.
Ultimately, your attitude will be your biggest ally. Keep all self-talk positive: "I can do this" or "This is good for me." Raise the altitude of your thoughts, and your attitude will follow.
Los Angeles-based Lauren Roxburgh, whose motto is "be aligned for life," has been dubbed by Shape magazine as one of the "hottest trainers in America." Most importantly, she is a fitness expert, who focuses on flexibility and movement, tapping foam rollers as a key component of wellness. Her book Taller, Slimmer, Younger -- 21 Days to a Foam Roller Physique-- has set the standard in the industry.

My first recommendation is to take some time out so that you can really connect with your goals for the upcoming year, not just your wellness goals, but also your goals for every aspect of your life. We are all so busy that we rarely take time out to connect with ourselves and our true desires. By the end of the year we are so frazzled and exhausted after a long year of work topped off by a frantic (and often over-indulgent!) holiday season. See if you can find a day or even just a few hours to take some time to reflect on the year to come. Go for a walk, listen to your body, meditate, take a journal and jot down what you want to achieve. Also, celebrate what you have achieved in the last year.
Write down your goals for 2017 so you can come back to them often during the next year - or create a Vision Board to put beside your bed so you see them each day. Whether it is losing 10 pounds, incorporating more self care, learning how to do a handstand, finding a soul-mate, meditating every day or running a marathon, defining and writing down those goals is the first step in making them your reality.
Ashley Pearson, a certified health and wellness coach, taps everything from guided imagery to yoga to Pilates to herbs for healing and balance. In addition to her private practice, she has a home base within The Breakers, the singularly swank historic resort in Palm Beach, Florida, which has recently debuted a fresh oceanfront fitness center and spa.
Relocate your compass, and be prepared with a plan.
What goals have been calling your attention the most? Make an effort not to have too many, as keeping the list less daunting can be one of the keys to success. Divide the goals into categories to represent different aspects of your life, this way you can see clearly before your eyes that you have placed conscious intention on caring for yourself as a whole. Ask yourself: "In what ways do I not care for myself? What parts of life lack my attention?" This will widen the spectrum of how you think of yourself, placing a spotlight on the unlit areas of daily life.
Be ready to go through a break up...with your old patterns.
Every step we take to move forward is essential. With the welcome of 'the new' comes the ability to let go of the many threads of the past woven into the fabric of who we are. As we create space in our lives for the present by freeing ourselves from "it's just what I've always done," our life goals become more than a piece of paper with unattainable words. We start replacing the spaces of what could be by filling them with the dreams that can become reality.
Related