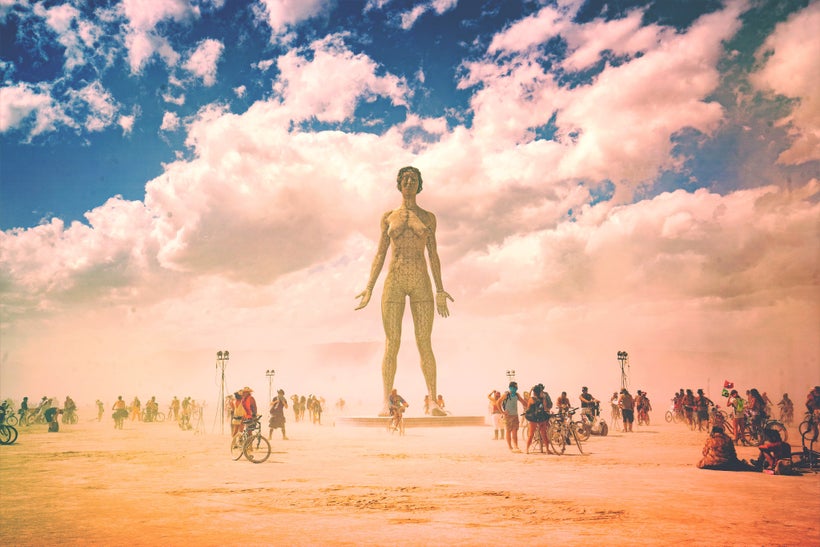 Every year, I hear from people who are trying to force quit the same bad habits they've resolved to abandon for decades, and every year, I write an article around New Year's that encourages them to tune into their bodies and make changes intuitively, one step at a time. This annual dance is a cyclical and maddening balancing act on a Tilt-a-Whirl of body image and purpose.
This year I am stepping off and setting up shop on solid ground.
I got home yesterday from a brief trip to Memphis, TN. I went on a whim to see the National Civil Rights Museum. Most of us know the history of the civil rights movement, or we think we do. I learned about it in school, and, thanks to my parents, I've been attending protests and memorials since I was a kid. I considered myself relatively aware of the struggles that took place in the 60s and beyond for civil rights in this country. I considered myself aware until yesterday—when the struggles the African American community has endured and risen above were placed in context for me by the extraordinary experience offered by this museum in the heart of Memphis.
Until yesterday, I didn't understand how much I took sovereignty over my own body for granted—the choices I make about it and the judgments others make about it. I know what it means to be sidelined as a woman, but I absolutely did not understand what it would mean to live life evaluated and disparaged based on the color of my skin.
After being immersed in the images and descriptions of the first slave ships arriving on American shores in 1619, the Civil War, Jim Crow, and the Freedom Riders, I was not prepared for the rush of heartache that overtook me as I looked out at the balcony where Martin Luther King Jr. was shot, where his body crumbled and was silenced.
2018 is the 50th anniversary of King's assassination. He and the millions of people before and after him who have fought for basic equality marched, and sat in, and put their bodies on the line for respect, dignity, and equal protection under the law for all people. We owe them everything. We owe them our relationships with people of all races. We owe them our ability to speak out. And we owe them our bodies, nourished and unashamed.
So this year, when I think about New Year's Resolutions, the ball dropping, and my own essential ignorance in years gone by of just how dark this country's history of oppression and bigotry runs, I am encouraged by what those tireless activists taught us and how far we have come. I'm encouraged by the familiar ring of chanting voices that call out from 8mm news reels of the 1960s, echoing into the present day… to the Women's March, Black Lives Matter, ADAPT protestors sitting in wheelchairs for the basic right to health care, and Dreamers putting their names and faces in the public eye, come what may.
And when I think about my body and the vices I have tried so long to leave behind, the motives that used to drive me have gone mute.
The only reason I can find anymore for resolutions is peace… peace in our communities, in our homes, and in our bodies. The resolutions we make this coming year will shape us, but the purpose is no longer about pounds lost. It never should have been. We were woefully distracted by making pretty—or I was anyway.
The steps we take from here are headed in a new direction. No need to count them. There will be lots. There will be plenty of steps to keep us healthy if we show up. Find a march. Register to vote, and hound your friends to do the same. Take time away from the news as needed, and take a million walks to clear your head.
Last year was a hell of a ride. This year we take the reins. We take up the mantle of a fight that is far older than any of us. It's our turn to move justice forward, and it's an honor, not a burden. It's a celebration in the footsteps of the relentless rabble-rousers who tilled the ground for us.
The path has been cleared. Our bodies are fine. Let's make some noise.
Calling all HuffPost superfans!
Sign up for membership to become a founding member and help shape HuffPost's next chapter
This post was published on the now-closed HuffPost Contributor platform. Contributors control their own work and posted freely to our site. If you need to flag this entry as abusive,
send us an email
.