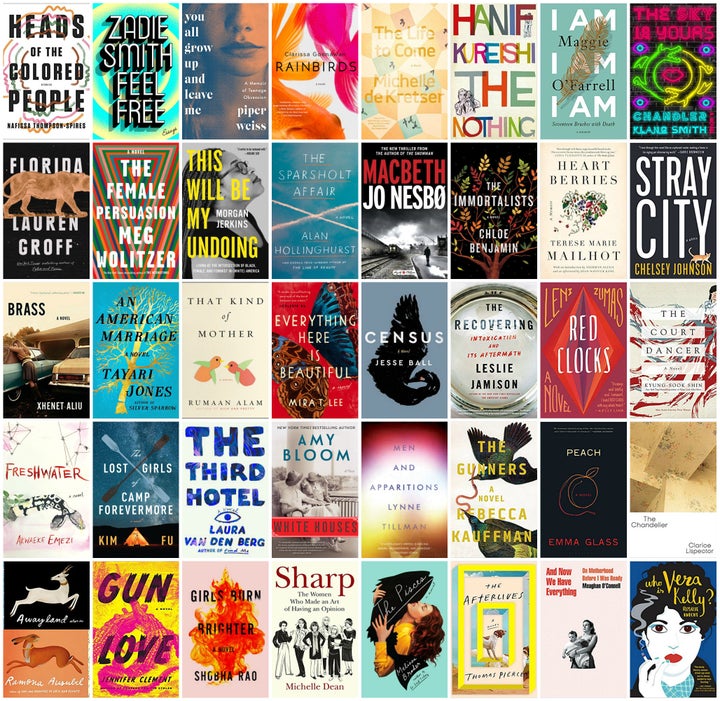 As 2018 approaches, there's a lot to look forward to: the end of a hellish 2017, the Winter Olympics, "The Bachelor: Winter Games," 2017 being over, midterm elections, and 2017 finally drawing to a close.
More than anything, though, we're eagerly anticipating the flood of new 2018 books ― and the coming year's literary crop looks bountiful.
We can't wait to lose ourselves in new fiction from Meg Wolitzer, Laura van den Berg and Leni Zumas, and to absorb thoughtful essays about culture, gender, race and identity from Zadie Smith, Morgan Jerkins and Marilynne Robinson. We're also excited for the books that don't appear on this list ― books we don't even know about yet, but which will end up surprising us with their power and beauty.
Here are the 60 books we can't wait to read in 2018:
JANUARY

Jan. 2
"The Nothing," Hanif Kureishi (Faber & Faber)
An elderly filmmaker becomes obsessed with the fear that his younger wife is having an affair with a friend, and plots to expose them. Kureishi's latest novel is a slim and focused tale of sex, vengeance and mortality.
Jan. 9
"The Immortalists," Chloe Benjamin (Putnam)
If you're a sucker for fantasy-tinged family sagas, "The Immortalists" should have you excited. In the summer of 1968, four young siblings visit a fortune-teller who tells them the day they'll die ― a prediction that shapes the rest of their lives.
"The Afterlives," Thomas Pierce (Riverhead)
There's a cottage industry of Christian memoirs about heaven written by people who were revived after technically dying. Pierce's novel explores the emotional fallout of the reverse scenario: A young man suffers a sudden heart attack, is resuscitated, and realizes, to his dismay, that he didn't glimpse an afterlife.
Jan. 16
"Everything Here Is Beautiful," Mira T. Lee (Pamela Dorman)
Lee's debut novel tells the story of two sisters ― the older one responsible and practical, the younger one impulsive and plagued by mental illness ― navigating a lonely adulthood after their mother dies. The narrative carries echoes of "Sense and Sensibility," but offers a wholly original exploration of sisterly bonds.
"Red Clocks," Leni Zumas (Little, Brown)
Set in an America where embryos have been granted personhood rights and abortion has been outlawed, this chilling dystopia follows a handful of women whose lives are tightly circumscribed by these laws. Zumas's incandescent prose promises to make "Red Clocks" a particular treat.

Jan. 23
"Brass," Xhenet Aliu (Random House)
Aliu's first novel arrives on a wave of glowing blurbs from some of our favorite writers of the past few years ― Celeste Ng, Cristina Henriquez, Kaitlyn Greenidge, and Laura van den Berg. In mordant, biting prose, she interweaves the stories of a mother and a daughter living in a fading Connecticut town they both hopelessly long to escape from.
"The Sky Is Yours," Chandler Klang Smith (Hogarth)
Readers who love ambitious literary genre fiction should be on the lookout for Smith's first novel, a vibrantly uncanny dystopia set on an island metropolis, in the shadow of dragons that swoop overhead, where income inequality and mass incarceration have spun out of control.
"Peach," Emma Glass (Bloomsbury USA)
Even as the world confronts report after report of famous men who are sexual predators, we rarely confront the horrific pain that can result from sexual violence. In "Peach," a stream-of-consciousness narrative about a girl reeling in the aftermath of a brutal rape, Glass confronts us with the bodily and psychological trauma left behind.
Jan. 30
"This Will Be My Undoing: Living at the Intersection of Black, Female, and Feminist in (White) America," Morgan Jerkins (Harper Perennial)
Jerkins's buzzy essay collection revolves around identity, and what it has meant for her to live as a black woman in America. In essays about white cheerleaders, children's books, traveling in Russia, going to therapy and much more, she unpacks her discovery of her own identity, and her struggle with the white, patriarchal American culture that surrounds her.
FEBRUARY

Feb. 6
"Heart Berries," Terese Marie Mailhot (Counterpoint)
"Heart Berries" is praised in press copy as a "poetic memoir." But poetic is an oft-used descriptor of lovely writing, and this book seems to be something more striking than the word signifies: a memoir and a poem, a haunting and dazzlingly written narrative of Mailhot's growing up on a reservation in the Pacific Northwest.
"Asymmetry," Lisa Halliday (Simon & Schuster)
A Whiting Award winner, "Asymmetry" tells two unexpectedly overlapping stories ― first, that of a love affair between a young woman and an aging, famous author; then the story of an Iraqi-American man who is targeted by immigration enforcement as he travels out of the country.
"The Friend," Sigrid Nunez (Riverhead)
In the acclaimed novelist's latest book, two writers share a close, unconventional friendship; when one them dies suddenly, his widow asks the other to take in his Great Dane. As the narrator makes space in her apartment for the huge dog, she also sinks into her own overwhelming grief.
"Feel Free," Zadie Smith (Penguin Press)
If you aren't already looking forward to this new book of essays from the irreplaceable Smith, now's the time to get jazzed. If there's anything more absorbing to read than her novels, it might just be her essays, which are reflective, erudite yet inviting, and which always cut to the quick of her chosen subject.
"An American Marriage," Tayari Jones (Algonquin)
In Jones's heart-wrenching new novel, a young and ambitious black couple find their lives derailed when the husband is arrested, convicted and sentenced to 12 years for a crime he didn't commit. "An American Marriage" poses profound questions about what we owe each other, and what injustices we allow to persist.
"I Am, I Am, I Am: Seventeen Brushes With Death," Maggie O'Farrell (Knopf)
A story of life, told in moments when death was nearest, is the award-winning novelist's latest. O'Farrell's memoir is told in highly charged vignettes ― distinct memories of near-death experiences.

Feb. 13
"The Lost Girls of Camp Forevermore," Kim Fu (Houghton Mifflin Harcourt)
Five girls on the precipice of adolescence go on a kayaking trip, but find themselves left alone in the wilderness of the Pacific Northwest. Fu's novel starts here, at Camp Forevermore, but follows the lives of these girls well into adulthood ― and shows how deeply marked they are by that fateful time at camp.
"Sadness Is a White Bird," Moriel Rothman-Zecher (Atria)
In his novel, Rothman-Zecher, once a conscientious objector who refused to serve in the Israeli Defense Forces, explores the fraught politics of the region through the eyes of a young Israeli man and two Palestinian siblings he befriends.
"Freshwater," Akwaeke Emezi (Grove)
This debut novel follows Ada as she is born, grows up and leaves Nigeria for America to go to college. Always a troubled girl, it becomes clear that she has multiple personalities struggling for dominance within her, and she must grapple with external trauma as well as her own self-destructive urges.
"White Houses," Amy Bloom (Random House)
In this historical novel, Bloom dramatizes the love affair between Eleanor Roosevelt and journalist Lorena Hickok. Though Roosevelt is the more familiar woman, Hickok is the narrator and central figure in Bloom's fictionalization of their complicated romance.
Feb. 20
"What Are We Doing Here?," Marilynne Robinson (Farrar, Straus & Giroux)
The title of Robinson's latest book of essays ― many of which were given as lectures over the past few years ― should be read with a rueful sigh. In her measured but strongly argued pieces, she takes on American self-mythologizing, the role of faith and values in our history and the roots of our divided politics.
MARCH

March 6
"Census," Jesse Ball (Ecco)
Inspired by his own late brother, Ball's atmospheric novel follows a widower who learns he's dying and will soon leave his beloved son, who has Down syndrome, alone in the world. Desperate to make the most of their final days together, he takes a job traveling the country as a census taker.
"Girls Burn Brighter," Shobha Rao (Flatiron)
The first novel from an award-winning short fiction writer, "Girls Burn Brighter" tells the story of two young girls growing up in a small Indian village. They form a fast friendship, only to be torn apart. Rao's novel should be a treat for Ferrante fans, exploring the bonds of friendship and how female ambition beats against the strictures of poverty and patriarchal societies.
"Awayland," Ramona Ausubel (Riverhead)
Ausubel, known for her darkly whimsical fiction, is publishing her second short story collection. It will feature 11 stories, divided into four subsections: "Bay of Hungers," "The Cape of Persistent Hope," "The Lonesome Flats," and "The Dream Isles."
"Rainbirds," Clarissa Goenawan (Soho Press)
Goenawan's debut novel, a genre-bending tale of a young man who moves to a small town to put his sister's affairs in order after she's brutally murdered, has already garnered international praise for elegantly combining a suspenseful mystery with an eloquent meditation on love and loss.
"Gun Love," Jennifer Clement (Hogarth)
Clement turns her hypnotic pen to the story of America's love affair with guns ― specifically, a nine-year-old girl and her mother, who live in a trailer park in central Florida. Their impoverished but happy life is disrupted by the mother's romance with a gun-loving rascal.

March 13
"The Sparsholt Affair," Alan Hollinghurst (Knopf)
The latest novel from Hollinghurst, whom New Yorker critic James Wood once described as "one of the few contemporary writers who deserve" to be praised for "writing beautifully," is a multigenerational saga that revolves around a man named David Sparsholt who arrives at Oxford in the midst of World War II.
"The Life to Come," Michelle de Kretser (Catapult)
The acclaimed Australian writer's fifth novel spans continents ― set in Australia, France and her native Sri Lanka ― and weaves together disparate narratives that raise uncomfortable questions about Australian society, self-satisfied liberalism and modern life.
"The Merry Spinster: Tales of Everyday Horror," Mallory Ortberg (Holt)
Toasties, assemble! The cofounder of the beloved, if short-lived, website The Toast has transformed one of the site's literary humor columns, "Children's Stories Made Horrific," into a book of twisted tales inspired by classic fairy tales. We could not be more excited.
"Men and Apparitions," Lynne Tillman (Soft Skull)
Tillman's sixth novel ― her first in over a decade ― centers on an eccentric man with academic obsessions. She traces his mental perambulations as he immerses himself in family photographs and stories, studies modern masculinity and loses himself in his own circling thoughts and emotions.

March 20
"The Gunners," Rebecca Kauffman (Counterpoint)
The Gunners are a tightknit group of neighborhood playmates ― until they come of age, and one friend stops associating with them. Years later, that long-estranged friend dies by suicide, and the remaining five gather again to untangle what went wrong, what secrets she was holding onto and what secrets are in their own pasts.
"Stray City," Chelsea Johnson (Custom House)
Set in Portland in the late 1990s and the late 2000s, "Stray City" follows a young woman who finds acceptance in the city's lesbian community, far from her religious upbringing, only to end up having a baby after a fling with a man. Johnson's debut promises to be an engaging, immersive saga of family, chosen and otherwise.
"The Italian Teacher," Tom Rachman (Viking)
The author of "The Imperfectionists" and "The Rise and Fall of Great Powers" returns with a timely novel about a great artist whose failings as a father and a husband shape his family's lives ― especially that of his son, also an artist, who lives in his father's shadow.
March 27
"The Chandelier," Clarice Lispector, translated by Benjamin Moser and Magdalena Edwards (New Directions)
Lispector, a Brazilian writer, died in 1977, but she's enraptured a burgeoning American audience in recent years. A brilliantly artful novel of the interior life of a female sculptor, "The Chandelier" will be released in English for the first time in March.
APRIL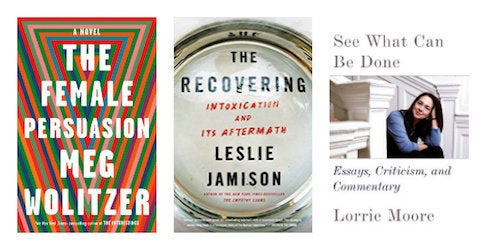 April 3
"The Female Persuasion," Meg Wolitzer (Riverhead)
The author of "The Interestings" once again takes on the optimistic pangs of new adulthood and female ambition in a novel about a college freshman who is shocked and thrilled to be taken under the wing of a feminist leader.
"The Recovering: Intoxication and Its Aftermath," Leslie Jamison (Little, Brown)
Jamison rocketed to fame with, of all things, the publication of an essay collection, "The Empathy Exams." Her much-anticipated new book is a hefty full-length nonfiction work, a memoir and cultural history of addiction and recovery.
"See What Can Be Done," Lorrie Moore (Knopf)
Best loved for her funny, sharp short stories, Moore will release a nonfiction collection of her criticism and essays this spring.

April 10
"Macbeth," Jo Nesbø (Hogarth)
"Macbeth" might have been Shakespeare's shortest tragedy, but there's nothing short about Norwegian musician and crime novelist Joe Nesbø's hefty modern adaptation. The latest in Hogarth's Shakespeare series situates Macbeth as a beleaguered police inspector caught amid a violent drug war.
"Sharp: The Women Who Made an Art of Having an Opinion," Michelle Dean (Grove)
Dean offers a new, women-centric perspective on 20th century American public thought in this history of 10 women whose writing influenced the culture profoundly, including Pauline Kael, Nora Ephron, Joan Didion, and Janet Malcolm.
"And Now We Have Everything: On Motherhood Before I Was Ready" by Meaghan O'Connell (Little, Brown)
Mothers and non-mothers alike have been raving about O'Connell's book, which grew from her experience keeping an accidental pregnancy in her early 20s and navigating the rigid expectations and bewildering challenges of motherhood.
"Heads of the Colored People," Nafissa Thompson-Spires (Atria)
A debut collection of interrelated stories, "Heads of the Colored People" explores the lives of black ― especially middle-class ― people, with biting, vivid prose. Thompson-Spires plumbs the depths of black trauma, but also works in a comic mode, satirizing the way Americans think and talk about race, gender, class and more.
"You All Grow Up and Leave Me," Piper Weiss (William Morrow)
The true-crime memoir genre is thriving, and Weiss' offering looks particularly intriguing: She was 14 years old when her tennis coach, Gary Wilensky, tried to kidnap a young student, failed and then took his own life. In this book, Weiss looks back on her own youthful time with Wilensky, and reexamines the case itself.
April 24
"You Think It, I'll Say It," Curtis Sittenfeld (Random House)
Sittenfeld, best known for her novels, which include "Prep" and "Eligible," will publish her debut short fiction collection ― ten stories that promise to make good use of her wit and ability to draw deeply relatable characters interacting in deeply human ways.
MAY

May 1
"A Lucky Man," Jamel Brinkley (Graywolf)
Brinkley's debut collection, which explores young black men and boys coming of age and finding their places in the world, arrives loaded up with glowing blurbs from literary stars like Daniel Alarcón, Charles Baxter, Garth Greenwell, Paul Yoon and Laila Lalami.
"The Pisces," Melissa Broder (Hogarth)
Broder is best known for her Twitter account and the essay collection that sprang from it, "So Sad Today." "The Pisces," her first novel, blends the fantastical with the all-too-relatable in the story of Lucy, a heartbroken, anxiety-ridden Ph.D. student who falls in love with a merman.
"Not That Bad: Dispatches from Rape Culture," edited by Roxane Gay (Harper Perennial)
The only unfortunate thing about this new collection on rape culture, edited by Roxane Gay and featuring work from Gabrielle Union, Ally Sheedy, Lyz Lenz, and more, is that it's not out until May. We've never needed a book like this more than we do at this cultural moment.
"Motherhood," Sheila Heti (Henry Holt)
The author of the acclaimed novel-from-life "How Should a Person Be?," Heti turns her attention away from the 20-something indulgences of friendship, casual sex, and single-minded artistry to the 30-something anxiety of whether, and when, to have kids.
May 8
"That Kind of Mother," Rumaan Alam (Ecco)
A white woman adopts a black infant after his mother, her own son's beloved nanny, dies in childbirth. From this heartbreaking premise, Alam plumbs still more heartbreaking questions about the power and limitations of maternal love, and the implacable persistence of racial divides.
May 15
"The Ensemble," Aja Gabel (Riverhead)
A string quartet, and the four young friends that form it, pursue musical success and personal happiness in a coming-of-age novel about four people coming to grips with themselves, the lives they want and their relationships with each other.
JUNE

June 5
"Florida," Lauren Groff (Riverhead)
Florida is a state a lot of people have strong feelings about ― including, as it turns out, the author of "Fates and Furies." Her next book, a short story collection, centers on the state she calls home.
"Sick: A Life of Lyme, Love, Illness, and Addiction," Porochista Khakpour (Harper Perennial)
Khakpour, a novelist and writer, suffered from a mysterious chronic illness for years before she got a diagnosis. Her memoir explores the exhausting, hope-sapping experience of navigating the health care system and searching for answers in the face of unremitting suffering.
June 12
"Who Is Vera Kelly?," Rosalie Knecht (Tin House)
A classic spy novel with a modern, fully realized heroine, "Who Is Vera Kelly?" follows the titular heroine from her turbulent youth to her time as a spy in Argentina during the Cold War.
JULY
July 10
"What We Were Promised," Lucy Tan (Little, Brown)
A wealthy Chinese couple, both American-educated professionals, and their housekeeper struggle with their veiled dissatisfactions and existential crises in Tan's debut novel.
AUGUST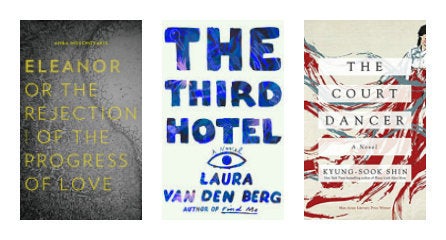 Aug. 7
"The Third Hotel," Laura van den Berg (Farrar, Strauss and Giroux)
In this dream-like novel, a woman travels to Havana for a film festival. The trip was planned by her recently deceased husband, but when she arrives, she finds him there ― not looking very dead. The reality-defying narrative explores inescapably real questions about the human condition.
"The Court Dancer," Kyung-Sook Shin (Pegasus)
The acclaimed South Korean writer's next novel takes place in the Joseon Court and in Paris in the late 19th century, as a beautiful court dancer navigates palace intrigue, the Parisian intellectual milieu and personal heartbreak.
Aug. 14
"Eleanor, or, The Rejection of the Progress of Love," Anna Moschovakis (Coffee House Books)
A woman loses her laptop, with all of her work inside. Her quest to recover her data shapes this complicated meta-novel, which untangles the creative process itself, in all of its contradictions, anxieties and hopes.
SEPTEMBER
"My Struggle: Book 6," Karl Ove Knausgaard, translated by Don Bartlett (Archipelago)
If you're a Knausgaard fan, mark your calendar: His next installment of the autobiographical series that vaulted him to international fame will be arrive on American shores in September.
"Transcription," Kate Atkinson (Transworld)
A young woman joins the Secret Service during the war, then heads to the BBC ― but her past continues to follow her, in the latest from Atkinson, the author of "Life After Life."
OCTOBER
"Mr. Occam's Razor," Barbara Kingsolver (Harper)
Kingsolver, the author of "The Poisonwood Bible," will publish a new novel this fall ― a cross-century saga about two families living in same New Jersey home, a one-time Utopian community, in very different eras.
"Drifts," Kate Zambreno (Harper Perennial)
In an early 2017 interview, Zambreno, the author of "Green Girl," said that her upcoming novel "deals a lot with friendships I have with other women writers, and about our conversations."
"All You Can Ever Know," Nicole Chung (Catapult)
The Catapult web editor and Toast alum has written, hauntingly, about her adoption and growing up in a white family before. Her long-awaited memoir promises to explore the subject more fully: her relationship with her adoptive family, her reconnection with her birth family, beginning her own family and how she's worked to find a sense of belonging.
Popular in the Community