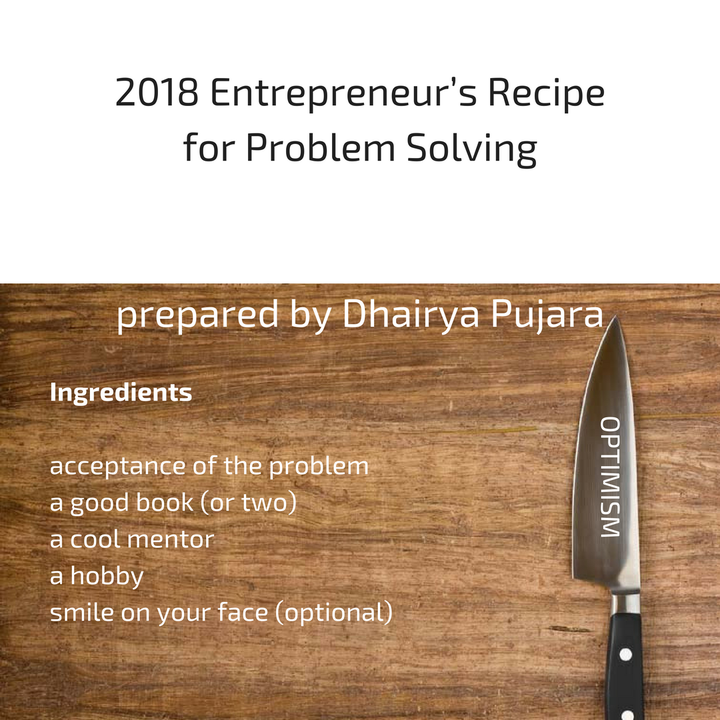 As we recap 2017 and reflect upon our experiences, I could not help but think about the time few months ago when my company (a part of it) was in a very tricky situation. The first reaction was - I am done, there is no way out of it. The second reaction - I can turn a blind eye and move on and things will get better by itself. The third reaction and the fourth and fifth weren't great either. Finally, I did something that not only solved the problem at hand but gave a much-needed impetus to the company. As a proponent of Experiential Learning, I use it in my life as well. I started reflecting on how did I do it. I saw a pattern for all the problems I have solved in last 3 years. It's holiday season and I am sure we are all looking for new dishes to try at home. This article is a recipe for problem solving for Entrepreneurs. Just like any other dish, there are many ways to make this, mine is just one of the many that worked for my taste and appetite and I am happy to share it here.
Ingredients you need for this dish – Courage to confront the problem, acceptance of the situation, looking at the cause and not symptom, a good book, a hobby and a garnish of smile to uplift your own spirits (optional)
Preparation time – Varies from 1 day to 1 month to sometime longer than that. Slow cooking helps for complex problems.
Step 1: Please bring yourself to accepting that there is a problem and it needs your attention, sometimes undivided. This is a very important step in problem solving. In 2014, when I was trying to setup my company in USA, raise some money, find customers, build a team, sell the product, setup my website, social media, create my branding and marketing assets, I was also facing the risk of my VISA expiration in USA. My advisor told me to drop everything else and just focus on one problem that can potentially impact everything else. It can get overwhelming if you do not do this step correctly and on time. Things just pile on and possibly make you crumble under your own pressure.
As an entrepreneur, you will run out of money and patience, but never out of problems. So, prioritize them in the order they need to be solved.
Step 2: After acceptance and prioritizing, you can start looking at the cause of the problem. And try to find solutions for the cause, so the probability of it happening again tends to zero (it can never be zero. Thank god for Calculus). Now you can start asking for help from a mentor, friend, critic, family member who you trust to be a good listener. You don't necessarily need a Richard Branson-like mentor to help you solve business issues (though I am totally up for having a cool mentor like him).
Step 3: Taking your mind off the problem – Divergent Thinking – is a very popular tool for enhancing creativity specially in context of problem solving. Much like Einstein's combinatorial play where he took violin breaks (cough..cough..Sherlock) amidst unlocking mysteries of time and laws of the universe. If you are a crazy workaholic like me, you can get more stressed by going away and doing nothing. (Check out this cool book – The Art of Doing Nothing https://www.amazon.com/Art-Doing-Nothing-Simple-Yourself/dp/0609600745). This step seems very counter intuitive but it works anyway. You can pursue a hobby, do some traveling, pick up that guitar for the nth time, workout, go skiing, surfing, gardening, wine tasting (the list goes one).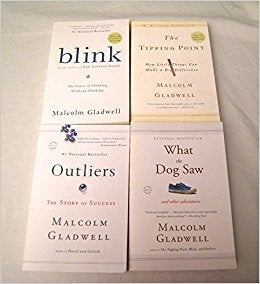 Step 4: The oldest trick in the book about gaining wisdom, is to read a book. Preferably non-fiction (Malcolm Gladwell). It will give you more ideas and a feeling of companionship as you go through tough times and feel very lonely sailing in the sea of your Entrepreneurial problems. Check out my old article – 'Don't be an Entrepreneur' here. https://www.huffingtonpost.com/dhairya-pujara/dont-be-an-entrepreneur_b_6841096.html
If you are really lucky, one of the books might just give you the answer to your problem. And while non-fiction does seem like a preferred choice, I have been lucky to find solace in fiction as well. Siddhartha by Herman Hesse helped me a lot in the initial part of my journey.
Finally, putting all this together will help you prepare your solution for the problem at hand. If none of this helps, try going back to the basics and see if you are missing some skills or knowledge. You can enroll in boot-camps, participate in business plan competitions or take an online course.
Please share your best recipes below or other comments. Thanks for reading. Wish you all an exciting 2018 filled with many successful problem solving opportunities!
Popular in the Community