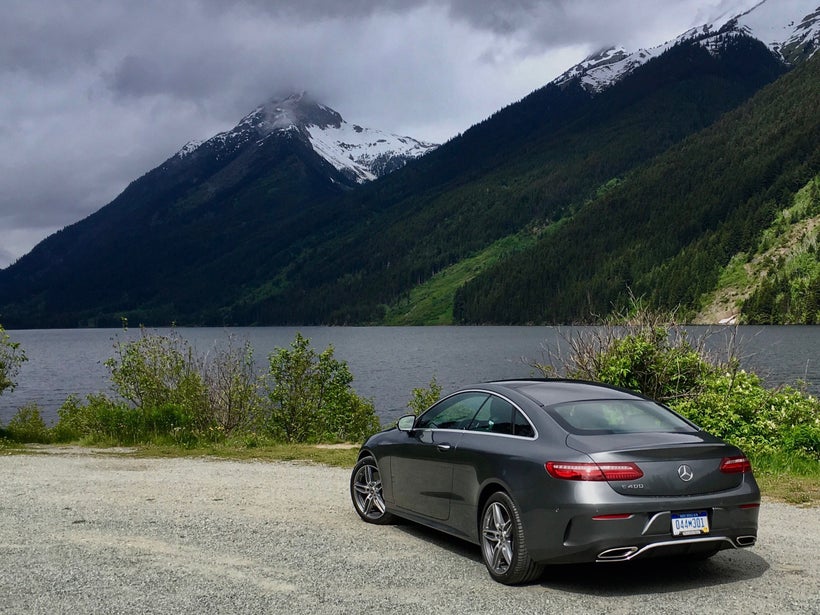 Whenever I visit a European city (usually for an auto show), I'm struck by how many Mercedes-Benz cars and trucks there are. I swear, it's similar to the number of Chevrolet trucks you see in Tulsa or Toyota Tacomas in Los Angeles. There's even a Mercedes-Benz pickup concept as well as two cars slotted below the popular C-Class. Both the A and B-Class vehicles are popular among young successful types. There's even a Mercedes-AMG A 45 4-Matic which is a Benz-ish way of saying compact, 381hp, all-wheel drive hatchback.
Chances are, if you're an American, you most closely associate the German automaker with the compact GLE sport utility, the big and boxy G-Class or the E-Class sedan, coupe and convertible. I don't think the average American shopper realizes the depth of MB's bench and that they have more variety than Ford or Chevy or Toyota and that not every car is triple the price of the average Malibu. The new E-Class Coupe is the perfect example.
I recently visited Vancouver, BC and got behind the wheel of the new 2018 Mercedes-Benz E-Class Coupe. What really struck me was how the Mercedes reps began extolling the virtues of the new coupe. They seemed to be saying that it has a ton of luxury, safety and semi-self-driving features. Only, they weren't yelling about it or using a lot of flowery language -- just simply stating "It has XYZ as standard equipment." Wait, what? Leather, sunroof, crushed-glass-looking LED taillights, Apple CarPlay, navigation, 64-color ambient lighting, active brake assist and pre-safe sound are all standard? Yes. Why aren't I writing this down? I started writing it all down.
In case you didn't know, Pre-Safe Sound is a safety feature that protects your hearing in the event of an accident. It sends a white noise signal to help your ear prepare for the loud noises of airbag or impact sound. Yes, really.
Still, the cars are all over the place in Germany and France, but is Mercedes-Benz that important to American shoppers? Yes. Another one of those little facts dropped without fanfare: MB is the number-one luxury brand in the U.S. One in every four cars over $100,000 sold is a Benz.
American and European Luxury
Now I'm definitely paying attention.
Thankfully, the car I drove was the perfect combination of subtle and ... well, whatever the opposite is of subtle. It was an E400 coupe. Good-looking, striking the way you'd expect a luxury coupe to look. Mercedes is employing a new exterior look for their cars, and the E-Class Coupe is the first to get it -- it has an intentional lack of creases in the sheet metal.
You could say it looks plain or boring; everyone has their opinion. However, what I noticed is that the use of creases seems to be a bit of a crutch for many designers. Take them away and the body of the car truly has to be spectacular -- and this one is. Think of it like this: It's similar to the difference between a man looking good in an all-black suit or looking good in just swim trunks. Big difference.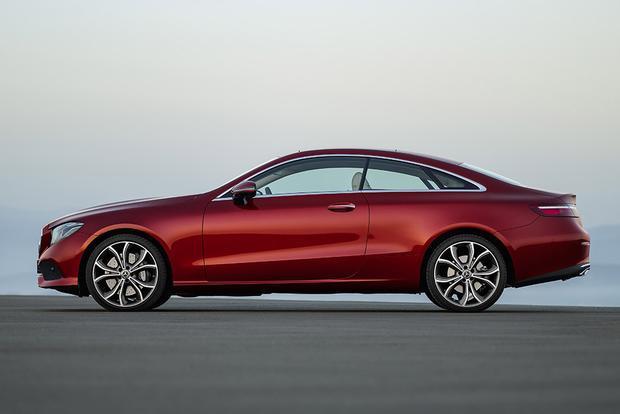 Take away the creases on a car and the curves suddenly take center stage -- it's a more subtle kind of elegance. That's the third time I've used the word subtle -- maybe there's a theme. Maybe Mercedes-Benz is saying not every luxury car has to yell about how it's the ultimate this or the best that. Kind of like a Kardashian version of attractive versus an Amy Adams kind of attractive.
Inside, the 2018 Mercedes-Benz E400 Coupe is beautiful in a way that would make even a stoic proud to own the car. The dash on the E400 Coupe I drove was dominated by a huge 12.3-inch screen with another equally large screen serving up all the gauges and needles. The instrument panel is reconfigurable to a degree, so you can pick the look you like best.
Same thing on the road -- the car does exactly what you'd expect. In fairness, this isn't an all-out performance coupe, but on the lazy highways outside Lillooet, the E400 Coupe reveals what is at the heart of this car - a really good touring coupe. With all the assist features, the car makes you feel like a better driver than you really are. While the 2018 Mercedes-Benz E400 Coupe might convince you to take PCH back from a San Francisco business trip, it won't tempt you into driving that route in record time. It's a more comfortable, more enjoyable car than that.
Various safety features keep you on the road and in your lane. Active brake assist, evasive steering assist, active blind spot monitoring and active lane-change assist are all there. Lane-change assist means means you can hold the turn signal up or down and the car will change lanes for you. It doesn't take a genius to figure out that Mercedes-Benz is fairly far along the path toward self-driving cars.
Under the hood of the E400 is a biturbo V6 making 329 horsepower, connected to a 9-speed transmission. Acceleration is swift and quiet but with the authority of a small V8. An air-suspension system called air body control is optional.
If you've been leaving Mercedes-Benz off your list, the E400 Coupe should be enough to convince you you're wrong. All this beauty, tech and non-sculpted bodywork will set you back about $60,000 (more if you add a bunch of options). Unlike a certain Japanese luxury brand with an x in the name, however, you don't need to load up on options and packages to get a real luxury car. The E400 Coupe is fine just the way it is, and the base trim is anything but base -- it's a remarkable value, and most people will assume you spent closer to $90,000.
REAL LIFE. REAL NEWS. REAL VOICES.
Help us tell more of the stories that matter from voices that too often remain unheard.
This post was published on the now-closed HuffPost Contributor platform. Contributors control their own work and posted freely to our site. If you need to flag this entry as abusive,
send us an email
.