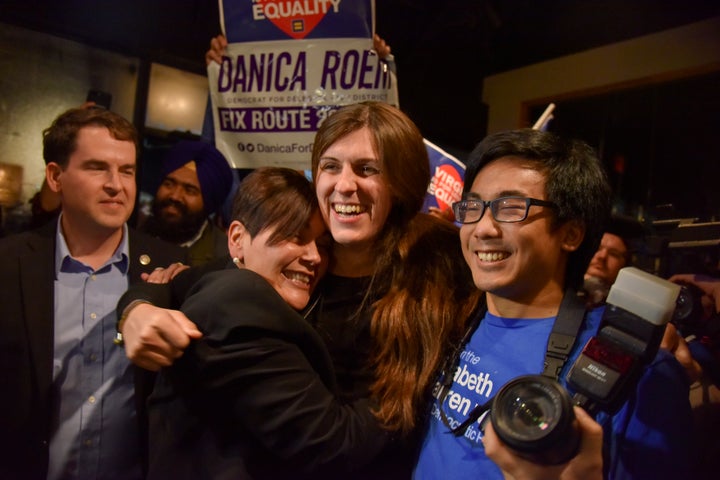 As the 2018 midterms come into focus on the political terrain, it's safe to expect that media coverage will focus overwhelmingly on the possibility of Democrats gaining majorities in the House and Senate. But a revolution is taking place in states across the country where, frustrated not just by President Donald Trump but by entrenched politicians who are serving themselves instead of the community, tens of thousands of Americans are running for local office.
Democrats Really Are Running Everywhere
Much of this momentum has come from a simple source: Democrats are running in more places. In Virginia, everyone knows that Democrats won big, but many people overlooked how many of those victories simply could not have occurred in past elections, because the districts were uncontested. In 2013, 34 Republicans ran without major-party opposition. In 2015, that number rose to 44. But in 2017, it dropped to only 12. Six Republicans who lost their seats in 2017 held seats that were not contested in 2015.
Amanda Litman, co-founder of Run For Something, tells me she's been closely following Oklahoma where she's seen an "influx" of candidates angry about Mary Fallin's staunchly right-wing governorship.
And Nicole Hobbs, co-founder of EveryDistrict, says her group's plan nationally is to win by "effectively mobilizing the base and by competing in a broad swath of purple-to-red districts," even those that have previously gone uncontested.
An Explosion Of Diversity
These races will not just determine partisan control of these local bodies, they will fundamentally reshape the face of American politics. The candidates running now will be the talent pool of the Democratic Party in future races for higher office across the country. These candidates are far more likely to be women, people of color, LGBTQ, low-income and young than current representatives are.
The wave in Virginia had a huge effect on the diversity of the legislature, where the first openly trans woman, first two Latinas and first two Asian-American women all entered the House of Delegates. The percentage of white men in the House of Delegates fell from 71 percent before the November election to 59 percent after.
Litman says the candidates for local office are more representative of the Democratic base. "We're seeing more women, more people of color, more nurses, teachers and artists running for office," she notes.
In 2018, women make up only 25 percent of state legislators in the country, according to the Center for American Women and Politics. A Pew study from 2015 found that African Americans made up only 9 percent of state legislators (but 13 percent of the population), Latinos made up 5 percent (17 percent of population) and Asian-Americans made up 1 percent (5 percent of the population). That's about to change. According to Run For Something, about 60 percent of their approximately 15,000 candidates for local office are women and about 40 percent are people of color.
The Future Is Progressive
Elizabeth Guzman immigrated here as a single mom from Peru and was elected to be president of the "freshman class" of new delegates in Virginia. She says she ran on "Medicaid for All," early childhood education and a minimum wage increase, issues that helped her with both working-class and college-educated voters in her district. She tells me a story about a voter who showed her some of the racist mailers her opponents sent out. "I don't understand why [they waste] money on them, they just end up in the trash," she says.
"Voters are tired of politicians like [Corey] Stewart and Trump who divide the community," Guzman tells me, referring to a Republican running for U.S. Senate in Virginia. She continued by highlighting how her policies would benefit voters: "Medicaid for All will bring 30,000 jobs to Virginia."
Guzman's victory is instructive ― three women of color and a former TV personality showed the highest turnout relative to the gubernatorial race on the Democratic side in competitive House of Delegates races, even appearing to have "up-ballot drop-off" based on preliminary numbers provided by Future Now Fund, an organization that seeks to promote candidates who sign onto a progressive pledge and was active in Virginia.
Arielle Swernoff, the executive director of LaunchProgress PAC, an organization that works to foster the next generation of talent in Michigan, Ohio and North Carolina, tells me that local elections are where "future national leaders are getting their start. We've found that what's winning locally is not milquetoast centrism, but full-throated support of progressive values and policies that improve the lives of everyone, not just a narrow few."
The group has endorsed 33 candidates, of whom only 20 percent are straight white men. And, defying the mythology that women can't win, 65 percent of the women or people of color they endorsed have won so far (compared with an overall win rate of 58 percent for their endorsees). These candidates have been unabashedly progressive.
Take the city council of Durham, North Carolina, where LaunchProgress has been active. In 2015, Jillian Johnson, a queer Black Lives Matter activist was elected to the city council and later as mayor pro tem and successfully pushed for a $15 minimum wage for city employees. In 2017, Vernetta Alston, a queer black death penalty lawyer who exonerated the state's longest-serving death row inmate also won a seat on the council.
And in Virginia, 13 of the newly elected legislators took a pledge to reject donations from Dominion Energy, the largest corporate political donor in the state.
"When people vote for a Democrat, they know their community is going to be run better," Litman says. "The streets will get paved and their local services will work." The rise of these grassroots progressives will influence the ideology of the Democratic Party for decades.
The 2018 midterms may bring Democratic majorities to the U.S. House and Senate, and the media is already presenting this as an all-or-nothing moment. But below the surface there will be a quieter revolution.
Come next year, newly elected public servants across the country will be getting to work building a more progressive future for their local communities and a more progressive Democratic party.
Sean McElwee is a writer and researcher based in New York City. He tweets at @SeanMcElwee.
This piece is part of HuffPost's brand new Opinion section. For more information on how to pitch us an idea, go here.
Support HuffPost
The Stakes Have Never Been Higher
Popular in the Community