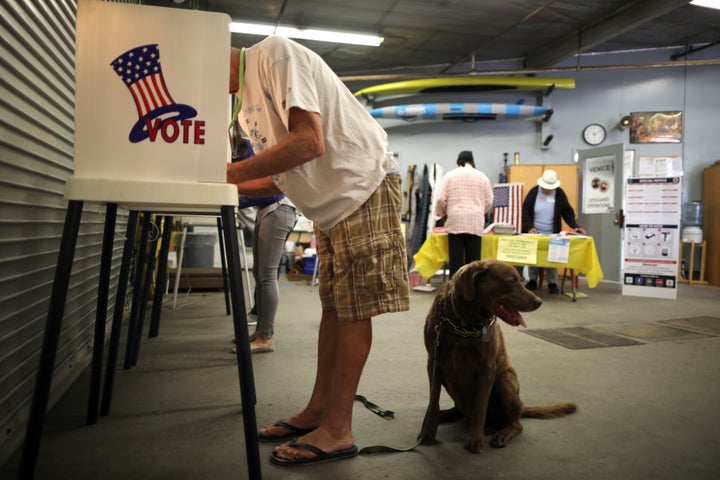 California Democrats can feel safe to exhale now.
For months, party strategists worried Democrats would be locked out of the general election in one of the seven GOP-held seats they're targeting in November because of the state's top-two primary system. Eight million dollars from the Democratic Congressional Campaign Committee and other groups later, they've avoided that fate.
"Democrats had an extraordinary amount of heartburn and anxiety over the possibility of getting locked out," said Dave Jacobson, a political consultant in the Golden State who worked on two races where Democrats feared a lockout. "This is a watershed moment." 
But those exhalations shouldn't turn into celebratory cheers just yet. 
The expensive primary clashes in California drained the campaign accounts of Democratic challengers, and Republicans think they can capitalize on weak candidates in some districts. Some of the contests also turned personally nasty, potentially turning off voters. And while votes are still being counted, enthusiasm in California – which has a younger electorate with more minority voters – didn't match Iowa or New Jersey, both of which also voted last night. 
"Without a competitive governor's race, I think there will be a challenge for Democrats to get the turnout they need to flip these seats," said Rob Stutzman, a GOP strategist in California, noting repeated failed attempts by Democrats to turn out young voters in midterm elections. "If the blue wave relies on voter enthusiasm, then the wave still needs to build."
On Wednesday, some Republican operatives said they were happy Katie Porter, a protege of Democratic Massachusetts Sen. Elizabeth Warren, won the right to challenge GOP Rep. Mimi Walters in a district in Orange County, thinking her brand of progressive populism might fall flat in a congressional district with the nation's 13th-highest median income. 
Another problem for Democrats could be the nasty California primaries in both the 39th and 48th Districts, where battles between big-spending candidates turned mean. In the 39th, Andy Thorburn accused DCCC-backed businessman and veteran Gil Cisernos of threatening him in a voicemail message. In the 48th, Democrats Harley Rouda and Hans Keirstead sniped over allegations Keirstead got into a drunken bar fight and slept with graduate students. 
Cisernos is now going on to challenge Republican Assemblywoman Young Kim in the 39th, while The Associated Press hasn't yet called whether Rouda or Keirstead will advance to challenge GOP Rep. Dana Rohrabacher. 
"These were contested races, some of which went negative," said Jacobson. "It's going to be crucial for Democrats to unite around the winner."
Jesse Ferguson, an operative who ran the DCCC's independent expenditure wing in 2014, noted Republicans also might have difficulty reuniting after the primary. Rohrabacher, often dubbed Russian President Vladimir Putin's favorite congressman, received just 30 percent of the vote, with 16 percent of the electorate instead backing former Orange County GOP Chair Scott Baugh, a more traditional Republican.
In the 10th District, which covers most of California's Central Valley and is roughly two-fifths Latino, incumbent Republican Jeff Denham, who often breaks with President Donald Trump on immigration issues, received just 38 percent of the vote. Republican Jeff Howze, a veterinarian, took 14 percent of the vote.
"These primaries exposed splinters inside the Republican Party that aren't likely to go away by November," Ferguson said.
National Republicans are sticking with their California strategy of painting Democrats as out-of-touch and tying them to unpopular House Minority Leader Nancy Pelosi. Congressional Leadership Fund Executive Director Corry Bliss said Democrats' agenda consisted of "yelling about impeaching the president, raising middle-class taxes, and talking non-stop about Russia."
Bliss, whose organization is closely tied to House Speaker Paul Ryan, also said the GOP was in a position to take advantage of Democrats who spent down their campaign accounts to win their primaries.
"We're not going to get outspent in any of the important races," Bliss said.
If California still presents worries, Iowa and New Jersey looked better for Democrats, with the Des Moines Register reporting Iowa voters smashed turnout records. In both states, DCCC-backed candidates flourished. Abby Finkenauer won 77 percent of the vote in her primary to challenge Rod Blum in Iowa's First District, while four party-endorsed candidates triumphed in New Jersey: former prosecutor and naval aviator Mikie Sherrill, former Obama administration aide Andy Kim, state Sen. Jeff Van Drew and former assistant Secretary of State Tom Malinowski.
The one thread that ran through Democratic primary victories was the success of women candidates, with Finkenauer, Sherrill, Porter and Katie Hill in California all advancing to challenge Republicans in November. EMILY's List President Stephanie Schriock said the success of female candidates has grown out of the Women's March and resulting activism.
"All that energy, which is still building, is going to lift Democrats up and down the ballot," she said. "Women will be the reason Democrats win the House in November."  
REAL LIFE. REAL NEWS. REAL VOICES.
Help us tell more of the stories that matter from voices that too often remain unheard.