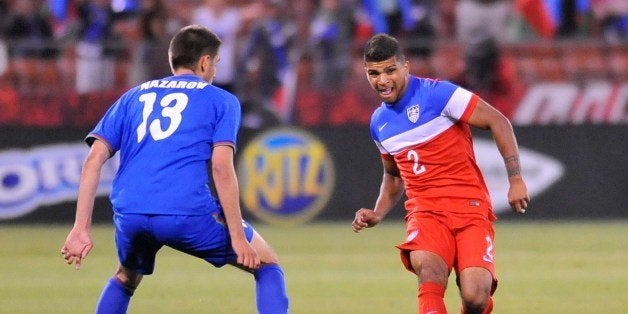 In the world of international soccer, four years is an eternity.
If you were to rewind the clock back to 2010, no U.S. supporter in his or her right mind would have been able to foresee the emergence of young talents like Julian Green, DeAndre Yedlin or John Anthony Brooks. While Kyle Beckerman appeared a second team player at best, Aron Johannsson was still earning his stripes in the obscurities of Icelandic soccer and DeMarcus Beasley, despite his many years of service, looked as though he may never wear the badge again. Yet all six played important roles in Brazil.
Although the ever-shifting landscape of the international game makes roster prognostications an exercise in futility, attempting to decipher the tea leaves is not without value. Looking ahead to the 2018 World Cup in Russia provides both an intriguing window in to the future of the U.S. Men's National Team as well as a much needed catharsis for those still reeling from the team's dismissal in Salvador a week ago.
With eyes now fixed to the horizon, it appears that heartfelt farewells to longtime stalwarts Clint Dempsey and Tim Howard (who will be 35 and 39, respectively by the time Russia 2018 rolls around) are imminent. However, optimism is in the air as there are signs that the development initiatives undertaken by the U.S. Soccer Federation, CONCACAF and Major League Soccer are beginning to bear fruit. While a full-fledged superstar has not yet materialized -- to the chagrin of many fans new to the game -- the breadth of talent in the U.S. player pool is unprecedented and serves as another high-quality indicator that the future of soccer in America is bright.

It is then with tempered expectations that we take a look into Jürgen Klinsmann's crystal ball in order to find out who will be suiting up for the stars and stripes in Russia four years from now.
Goalkeepers: Brad Guzan (Age in 2018: 33), Cody Cropper (25), Bill Hamid (27)
At the 2014 World Cup in Brazil, Tim Howard became a national hero. The Everton man's displays earned him household name recognition, legendary social media status and prompted White House petitions urging the President to name him Secretary of Defense and/or rename Regan National Airport to "Tim Howard National Airport."
However, while Tim Howard is the face of U.S. Soccer at the moment, he will be 39 years old at the 2018 iteration and will have likely handed over the reins to longtime understudy Brad Guzan.
The heir apparent to Guzan's back-up role appears to be 21-year-old Cody Cropper. Cropper is already on Klinsmann's radar having been called in to the squad for an August friendly with Bosnia and has recently signed a contract extension with English Premier League side Southampton.
D.C United's Bill Hamid just barely gets the nod over Chicago Fire keeper Sean Johnson for the FIFA mandated third goalkeeping spot.
Defenders: DeAndre Yedlin (24), Fabian Johnson (30), John Anthony Brooks (25), Omar Gonzalez (29), Matt Besler (31), Will Packwood (25), Timothy Chandler (28), Greg Garza (26)
This is the area in which the USMNT appears best prepared for 2018. Seattle Sounders speed demon DeAndre Yedlin was a revelation in Brazil, while Fabian Johnson proved his worth as one the squad's most valuable assets. John Anthony Brooks played the hero against Ghana in the States' tournament opener and should be nearing his prime in Russia, while Eintracht Frankfurt right back Timothy Chandler looks poised to step in to DeMarcus Beasley's spot at left back. Playing alongside Brooks in the center of the back four should be a seasoned Omar Gonzalez, but they will both be pushed by Sporting K.C.'s Matt Besler (who played well in Brazil) as well as Will Packwood, a promising young talent who currently plies his trade with Birmingham City of the English Championship. Packwood, like Cropper, is already on Klinsmann's radar and received his first call-up to the senior team in a friendly against Ukraine this past March.
Tijuana left-back Greg Garza also gets the nod, while just missing the cut are Stoke City stand-out and 2014 World Cup squad member Geoff Cameron (who will be 32 at the 2018 tournament) and Colorado Rapids youngster Chris Klute.
Midfielders: Michael Bradley (30), Joe Corona (27), Mikkel "Mix" Diskerud (27), Gedion Zelalem (21), Luis Gil (24), Perry Kitchen (26), Brek Shea (28), Sebastian Lletget (25)
By far the most difficult position to project, all that can be said with complete certainty about the U.S. midfield at the 2018 World Cup in Russia is that it will look much different than the one that took to the field in Brazil.
While Michael Bradley remains -- possibly wearing the captain's armband -- the only other holdover from the 2014 squad is Mikkel "Mix" Diskerud who, despite not seeing the field in Brazil, looks poised to take over the team's creative mid-field responsibilities. D.C. United's Perry Kitchen makes the squad for his ability to play in a holding role just above the back-four, ala Kyle Beckerman.
Real Salt Lake's Luis Gil and West Ham United's Sebastian Lletget should be given opportunities to make their mark, while Tijuana star Joe Corona has the talent to merit a place as well. It is with the utmost reservations that Brek Shea is handed a squad number, but he'll have to get his club situation under control pronto in order to avoid being shown the door by the U.S. technical staff.
While a bit of a wildcard, Arsenal's Gedion Zelalem is too talented to leave off the 23-man roster. Just 17, Zelalem is another duel-national (born in Berlin) whose development Klinsmann will be monitoring closely. Last season, Zelalem made his first team debut with Arsenal in a FA Cup win over Coventry and recently turned down an offer to suit up for the German U17's in order to keep his international options open. Not yet eligible, Zelalem is currently in the process of acquiring a U.S. passport.
Looking for another dark horse to keep your eye on? Portland Timbers' Darlington Nagbe could also be eligible to play for the U.S. by the time 2018 rolls around. If this happens, the Liberian born midfielder will likely be given serious consideration by Klinsmann and company. Columbus Crew's Will Trapp just misses the cut.
Forwards: Julian Green (23), Jozy Altidore (28), Juan Agudelo (25), Aron Johannsson (27)
After tearing a hamstring in the team's 2014 World Cup opener against Ghana, Jozy Altidore, who will be 29 in Russia, will be determined to see the bright lights of a World Cup once more. Joining Altidore is fellow 2014 squad members Julian Green, whose superb volley against Belgium gave credence to his controversial inclusion, and Icelandic duel-national Aron Johannsson, who replaced Altidore against Ghana.
Juan Agudelo rounds out the list on sheer potential (despite having an uncertain club future), while Dortmund speedster Joe Gyau, Leipzig's Terrence Boyd and Montreal Impact goal-getter Jack McInerney all just barely miss the cut. Norwegian based striker Joshua Gatt also merits a mention, but at the age of 22 years old, Gatt has already torn his ACL twice, the second of which he is still recovering.

Projected 2018 World Cup Roster
Goalkeepers: Brad Guzan, Cody Cropper, Bill Hamid
Defenders: DeAndre Yedlin, Fabian Johnson, John Anthony Brooks, Omar Gonzalez, Matt Besler, Will Packwood, Timothy Chandler, Greg Garza
Midfielders: Michael Bradley, Joe Corona, Mikkel "Mix" Diskerud, Gedion Zelalem, Luis Gil, Perry Kitchen, Brek Shea, Sebastian Lletget
Forwards: Julian Green, Jozy Altidore, Juan Agudelo, Aron Johannsson