WASHINGTON ― Having won office just seven months ago, Sen. Kamala Harris (D-Calif.) won't face re-election for another 2,000 days or so. But already, she is spending massive amounts of money on digital advertising from her campaign account.
The nearly $300,000 she's spent on those digital ads in the first three months of 2017 has sparked private speculation about whether the freshman senator is in fact prepping for a different sort of race. A fast-rising star within the party, Harris is often included on shortlists for possible presidential candidates in 2020. That she's essentially investing in email acquisition and brand-building only further suggests interest in a White House bid.
A Harris strategist, speaking on condition of anonymity, insisted that the presidency is "not the motivation" for her digital expenditures. Rather, the strategist said, Harris is simply looking to shore up her finances. The atmosphere of activist energy permeating Democratic politics during the turbulent early days of the Trump administration has given Harris' team an opportunity to dramatically upend their traditional fundraising structure.
"I had never seen anything like it," said the strategist. "This may be a once-in-a-lifetime moment from the standpoint of not just the short-term opportunity to raise money, but how we increase our reach... The opportunity is there to get out of the traditional fundraising rat race and to make a direct appeal to donors on a widely distributed small-dollar basis. And obviously we are building our online fundraising capacity because now, for the first time in Harris' career, we have an opportunity to scale it up."
Harris' team is not wrong. This is a golden age of Democratic online organizing. According to experts, the wave of anti-Donald Trump sentiment may represent a rare opportunity for lawmakers to shift away from a reliance on big-money donors and toward a system popularized by Sen. Bernie Sanders (I-Vt.) during his presidential run: small-dollar giving that begets sustained forms of activism.
"When you stack it up against other ways to raise money, it has the advantage that when you're fundraising, you're also mobilizing a base that you can use for other actions," Michael Malbin, the head of the Campaign Finance Institute, told HuffPost. "The important thing is that these are people who might not only vote for them, but might recommend them to other people."
Campaign fundraisers say the deluge of money currently coming in online is unlike anything the party has ever seen in the first quarter following a presidential election. More than one operative described investments in digital advertising as "free money," and as a chance for someone with an eye on the White House to build a foundation for that campaign.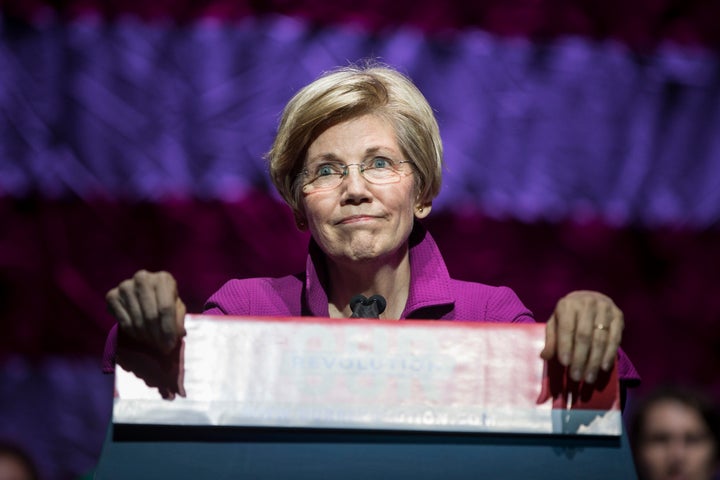 The Harris strategist said the senator received nearly 48,000 individual contributions in the first three months of 2017, with an average donation of just under $18.50 ― Sanders-like numbers. They also calculated that they were getting a 700 percent return on investment for every dollar spent on digital (though a industry source said that, after retainers, that figure was likely closer to 300-400 percent). Partly as a result of her online ad spending, Harris raised $738,459 from small donors giving less than $200 from January through March.
Other Democratic stalwarts are making similar digital expenditures at a very early stage this cycle ― and finding similar levels of success.
Sens. Kirsten Gillibrand (D-N.Y.), Chris Murphy (D-Conn.) and Elizabeth Warren (D-Mass.) are all up for re-election in 2018, and all are on 2020 presidential candidate shortlists. Each of them spent huge sums on digital ads and consultants in the first three months of 2017.
Gillibrand has spent the most, with nearly $500,000 flowing to Anne Lewis Strategies for online consulting. This has helped her rake in close $1.5 million in the first three months of the year. Both of those figures are radically higher than the last time she ran for election in 2012. Back in the first three months of 2011, Gillibrand spent less than $50,000 on her online consultants and raised just $101,288 from small donors.
"She is up in '18," said a Gillibrand aide. "We don't know what kind of race we are going to have yet. You could always get a self-funder who decides they want to spend $15-40 million to go buy a Senate seat. So we are going to actively raise all the resources we need to be competitive regardless of the situation we are in."
Murphy, who like Gillibrand is running for his second term, spent $391,000 on digital advertising in the first three months of 2017 and raised over $1 million from small donors. In 2011, he spent less than $10,000 on online consultants and raised $55,995 from small donors over the same period of time.
"Senator Murphy is working hard to lay the groundwork for his re-election campaign next year," said Murphy's aide, Chris Harris.
Warren, also up for her second term, spent $262,787 on digital ads and consultants in the first quarter of 2017. A star in the party, Warren came into 2017 with a built-in small-donor constituency. That helped her raise a stunning $3.2 million from small donors in the first three months of the year ― a 1200 percent return on investment. Her $3.2 million small-donor haul in the first three months of a non-election year is close to the amount she raised from small donors during the summer and fall months leading up to her 2012 election.
"In 2012, we built what at the time was the largest grassroots fundraising campaign, and we are making similar investments in digital ahead of the re-election, especially because engagement online is so ridiculous right now," said a Warren aide. "It would be foolish for us not to tap into that outlet."
Unlike Warren, Gillibrand and Murphy, Sen. Cory Booker (D-N.J.) ― another name often heard in discussions about Democratic White House hopefuls ― is not up for re-election in 2018. His term expires in 2020. Booker's digital ad expenditures are modest compared to those of his colleagues. But the $83,500 he has spent in the first three months of 2017 has still helped him raise $289,757 from small donors ― and invites questions about why someone who won't face voters for another three years is spending that money at all.
Popular in the Community