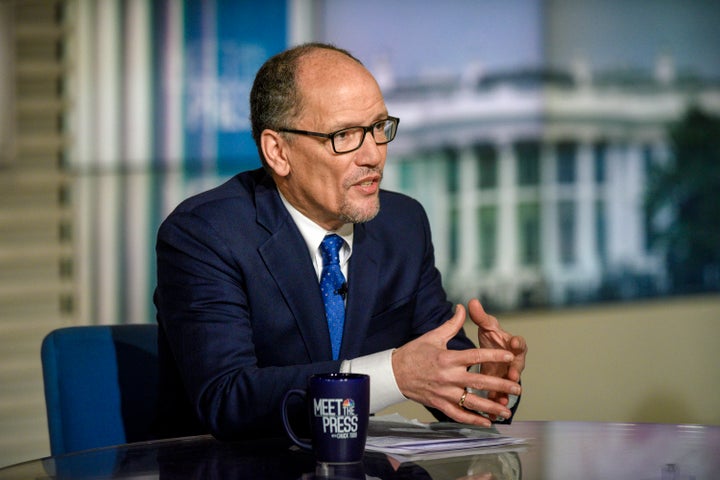 Milwaukee won out over the other two finalist cities, Houston and Miami. The DNC ruled out Houston due to a labor dispute between the city and its firefighters, according to a source familiar with the party body's considerations. Voters approved a referendum in November giving firefighters "pay parity" with city police officers, but Mayor Sylvester Turner, a Democrat, has contested implementing the measure.
The DNC rejected Miami because of logistical concerns, according to the source.
In a statement hailing the decision, Perez, who previously served as U.S. secretary of labor, alluded to Milwaukee's history as a bastion of labor unions and workers' rights.
"If we're going to take back the White House, restore the guard rails of our democracy, and make government work for American families, we need to earn it," Perez said. "We need to fight alongside our brothers and sisters in labor to build a brighter future together, and empower the diversity of our party and country."
"This choice is a statement of our values, and I'm thrilled Milwaukee will host the 2020 Democratic National Convention," he continued. "The Democratic Party is the party of working people, and Milwaukee is a city of working people."
Wisconsin has been the site of pitched political battles over the past decade, but there is a feeling among Democrats that they've started to turn a corner in the state. Former Gov. Scott Walker (R) eviscerated labor rights in Wisconsin and fended off Democratic efforts to recall him from office in 2012.
But in the 2018 elections, Democrat Tony Evers defeated Walker, and Tammy Baldwin easily kept her seat in the Senate. Democrats also won some key special elections in the state. 
Monday's decision reflects an effort to revive Democratic fortunes in the entire Midwest, said Wisconsin Democratic Party Chairwoman Martha Laning.
"We saw in 2016 that our message wasn't resonating here and I think 2018 proved that when we do things right, and when we listen to the people in our state and what their needs are and we speak about what we can do to make their lives better, things can change," Laning said.
David Bowen, a state party vice chair who represents Milwaukee in the state House, likened the choice to the Democratic Party putting "the flag in the sand and say[ing] that we are reclaiming territory where the people in our base are."
Milwaukee is a city with deep Democratic and union roots, as well as significant economic challenges and racial fault lines. The Milwaukee metropolitan area is the most racially segregated in the country, and the city suffers from a 27 percent poverty rate.
Bowen expressed hope that the national Democratic Party plans to shine a light on solutions to those problems as it prepares for the convention.
"If you can improve decades-long, generation-long issues like that and not turn a blind eye to it, you are really holistically supporting a community and a state like Wisconsin where our disparities, for quite some time, have been growing," he said.
Calling all HuffPost superfans!
Sign up for membership to become a founding member and help shape HuffPost's next chapter
BEFORE YOU GO
PHOTO GALLERY
Scenes From Capitol Hill