Friends of ours lead the guests in singing one of our favorite songs, "Sons & Daughters," by the Decemberists.
So many of the wedding stories I hear these days are about the ridiculous price tags or about couples fighting over who sits where. Newly-minted Husband and I wanted to go nowhere near either of those black holes and, with that in mind, began our nine-month, low-stress, heartwarming journey that resulted in a fairytale $24,000 wedding for which we paid $205.
I'm a big believer in using your superpowers to attain goals [one of the twelve steps in creating a great life for yourself that I discuss in my TEDx talk]. Superpowers are traits or resources already in your possession. When someone asks for a referral for [fill in the blank], you're the first name to the lips. These traits come naturally to you, so much so that you often don't even realize your awesomeness.
Husband and I discussed how our superpowers could manifest themselves into a fairytale budget wedding.
I'm skilled at creating summer-camp'esque environments, where you're thrown together with strangers from all walks of life, often in challenging situations, yet you experience immediate comfort and bonding. I have an expansive network of people who respect my recommendation and years of evidence of the goodness that my thumbs-up can bring someone. I curate successful events with ease.
Valuing creating connections through non-traditional methods and spreadsheets, we're creative-types who have our shit together. We saw the value in what we had to offer and we thought others would as well. Instead of the usual asking for freeness, we asked for barters. Free is nice. But a win-win situation, all the better.
Armed with our superpowers and a barter-proposal, we reached out to vendors who fit following:
· An already established relationship -- we didn't want to have to 'sell' ourselves; people who know us know we're worth their time
· A top-notch product/service
· A lil' guy -- we'd rather help and partner with a small business than a corporation
· Female [as a lady small-business owner aware of the many hurdles we face beyond just the challenge of running one's own company, I wanted to see if our arsenal could be female-heavy; we ended up with one male and sixteen female vendors]
· Green or at least green'ish
· Professional, yet laid back and fun
A restaurant and a wedding coordinator said no, both of whom we cold-called simply because the restaurant was two blocks away from us and served comfort food and the coordinator's name fell into my inbox the day I was looking for a coordinator. After wasting a couple of hours feeling like a used-car salesman, I realized I created an uphill battle for no reason -- stick with those who're already in your corner.
According to a 2012 study by The Knot and The Wedding Channel, Chicago is the second most expensive city in which to get hitched [average price of $49,810]. Thus we were ecstatic when seventeen vendors not only immediately said yes, they thanked us for thinking of them and wanting them to be a part of our day.
Our almost 100 percent bartered wedding allowed us to throw $24,171.35 nuptials (including rehearsal dinner) for $10,732.77. That's still too much money for one day in our minds, but on the scale of what weddings could cost, swallowable.
Which we never had to do.
Because of the unanticipated crazy-generosity of friends and family -- we had fully expected to pay for the entire weekend ourselves -- our out-of-pocket expenses for the rehearsal dinner and wedding came to $205.
We also had an additional $2350 in gift-funds to use on our honeymoon.
Here's how the numbers break down:
Our rehearsal dinner had 54 guests and was held at our home. Besides a bartender, server, and chef, we also had a photographer.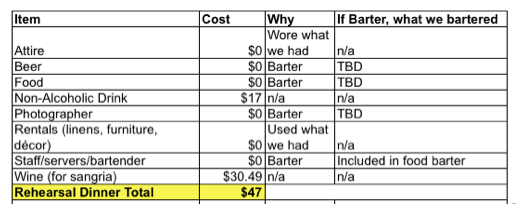 Our wedding had 134 guests, plus eight non-venue vendors whom we figured into our final headcount since we wanted to feed them. Both the ceremony and reception were held at Honky Tonk BBQ's The Secret Garden in Pilsen, an abandoned convent with a gorgeous side yard. Besides the venue's three bartenders and three staff, we had two photographers, two videographers, a day of wedding coordinator, three babysitters, a hair/makeup stylist, a textual storyteller, an invitation creator, two beer brewers, and a graphic designer/printer.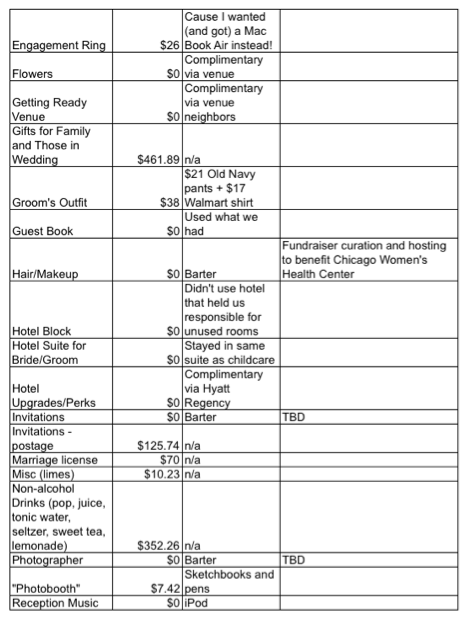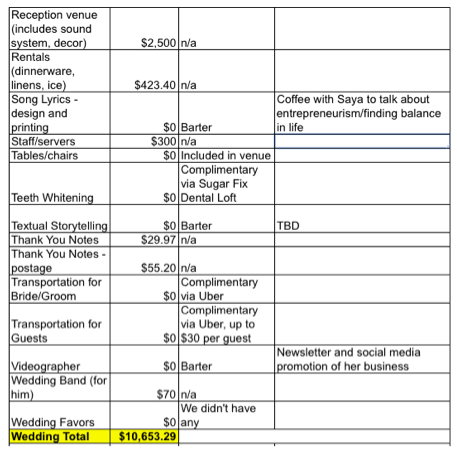 We didn't attempt to barter for wedding venue or food. By the time we found Honky Tonk, we were so done with the venue-search. Initially I kicked myself for signing on the dotted line before exploring bartering possibilities. But I got over it. All the other barterships were coming along nicely and Honky Tonk's prices were manageable; if venue and food ended up being our only large expenditure, we were ok with that. And thus it played out.
Our day was everything we wanted. Organized and thought-out yet low-key and comfortable. No fluff, nothing done because 'that's how it's done.' Classy yet DIY, simple yet memorable. Rustic, white-light strands theme, a la my Pinterest board.
We were able to use random items we've hoarded for years -- just knowing we'd put them to good use at some point in our lives -- such as extra-long toothpicks (part of our centerpieces) and our old license plates (décor on Bride & Groom table), and items I rummaged from alleys and pilfered from friends/family -- just knowing they'd somehow fit perfectly into the wedding -- such as a bed frame (welcome sign) and wooden thread-spools (part of our centerpieces).
We found our dream venue:
· most people hearing about and visiting it for the first time
· outdoor space that has a 'backyard BBQ' feel
· accessible via public transportation and easy parking
· all-inclusive [food, furniture, service, and décor] but that allowed for us to bring in what we want to bring in [e.g. alcohol, additional décor]
· comfort-food that tastes good
We did things the way we wanted to do them:
· Friend as Officiant - We've been to too many weddings where it's obvious the Officiant barely knew the couple. We wanted someone who could genuinely speak about our relationship so we asked a friend if he would get ordained so that he could marry us.
· Honeypreneur Fund - We had a twist on a Honeyfund, where people gift you honeymoon money, e.g. "$90 to swim with the dolphins." We loved the idea, especially at age thirty-four, when we have most of the normal toaster and bath towel type items. But besides wanting to have a honeymoon that was a bit more extravagant than our normal trips, we also wanted to grow our entrepreneur'ness. Thus our honeypreneur fund, where guests could pay for a night of lodging or help us build out our websites.
· #Petaya - While we're all for being in the moment and unplugging, we also realize the advantages of the digital-age. We made our wedding social-media friendly. With vendors' Twitter handles on centerpieces, our #Petaya hashtag (Pete + Saya = Petaya), and signs encouraging live-tweeting and instagramming, it was awesome pre-, during, and post-celebration to have an easy way to share in the weekend, even those who weren't able to join us.
· Bride's Attire - "They" say you're supposed to start shopping for your dress twelve-months out. I wanted nothing to do with any of the traditional dress'ness -- the actual dress, the cost, the shopping -- and thus didn't start looking until three weeks before wedding. Fifteen days before wedding, I made my happy purchase.
· Groom's Attire - "They" say you're supposed to get your tux six months out. Husband wanted nothing to do with a tux. Two weeks before wedding, we got his pants at Old Navy and his shirt at Walmart.
· No Wedding Cake - We asked seventeen loved ones to bring a baked good in lieu of a gift. Red velvet cupcakes, Texas sheet cake, deep fried apple pie, cheesecake, sriracha molasses cookies, fudge balls, rum cake, bride and groom brownies...
· No Wedding Party - So many horror stories of making people buy clothes they hate and will never wear again, of hurt feelings because you chose Susy over Sherry, of people feeling obligated to do this and do that.
· Sweetheart Table - I've always hated sitting at the head table. Who wants to be watched as you eat? And it's impossible to have a conversation with anyone except the person right next to you. We had a Sweetheart Table, tucked away to the side, for the two of us. Not on display. Allowing us to have a little bit of alone time, loved ones to come say hi, and those in the wedding to sit wherever they wanted.
· Open Non-Row Seating - People sat where they desired for the ceremony, which were also their dinner seats. This way there was no "flipping of the room," where you make everyone wait around while the staff moves furniture to make way for dinner seating. If there was ever a more time-consuming, stress-inducing task than seat-assignments?
· No Printed Materials - Save for the bartered song lyrics on plantable seed paper, we were paperless. Our program, menus, and other text, we painted on wood scraps from my mom's carpentry days and on old windows given to us by architect friends.
· No First Dance | Mother Son Dance | Father Daughter Dance - Not our thing.
· No Pre-Selected Readings - We asked five people to be a part of our ceremony in whatever way they wanted, which resulted in stories, poems, essays, and a Somewhere Over the Rainbow ukulele-duet.
· No Favors - So many stories about spending tons of time and money on items people throw away as soon as they get home or that are left on tables. We said that if we thought of an item that people would actually like AND use, we'd do favors; if not, nada. Nada it was. I don't think one person left our wedding saying, "What a gyp! I didn't get a _____ with 'P & S, September 1st, 2013' monogrammed on it."
· All-In-One - We had the ceremony and reception at one venue. Cheaper. Easier. Less time in transit, more time hanging with loved ones.
· Transportation - We discouraged out-of-towners from renting cars, as parking in Chicago is crazy expensive and we have a wonderful public transit system. We didn't want to rent shuttles, due to the expense and the coordination-headaches. Hearing that one of the few 'negatives' to our venue was the lack of late-night cabs, we asked Uber if they'd be willing to give our guests a deal on rides. They not only said yes, they threw in free rides for Husband and I. First-time Uber guests each got thirty-dollar credits to use any time the week of our wedding.
· Children - We had a child-free wedding. We knew that finding a babysitter for out-of-towners would be difficult. These were folks who were spending a bunch of time and money to celebrate with us, and we were about to complicate their life a bit more with our no-kid ceremony.
Cue bright idea music! Petaya Childcare. We rented a suite in the hotel where all the parents were staying, bartered three sitters whom we armed with tubs of books, games, and arts & crafts, provided dinner and a spreadsheet of bed-times, allergies, and emergency phone numbers, and thusly, nine children, ages less than one to thirteen, from Seattle, Jersey, Wisconsin, Denver, and New York, celebrated our matrimony.
· Vows - "They" say if you're writing your own vows, you should start penning them three-months out. Husband wrote his a few days before wedding. I wrote mine the morning of. Turns out, waiting 'til the last minute isn't always disastrous. Numerous guests echoed a guest's sentiments: "Best vows ever!" My vows. His vows.
· Opening of Gifts - We didn't know we were balking tradition with this one, but we opened our gifts as soon as we got them. Turns out you're supposed to wait until after the wedding? The idea of the gifts sitting in our house starting from May until September seemed nonsensical and anti-Life of Yes! -- live for today! Don't save the good china for special occasions, every day is a special occasion. We registered for things that'd be extremely useful in our lives. Why stave off the usefulness? Sharp knives would enhance our lives today!
· Photobooth - I was over the photobooth everyone has at weddings but liked the idea of a fun experience and a takeaway for guests. Husband's brother is an amazing artist. Cue bright idea music! A live photobooth. Guests were able to get pictures drawn of themselves.
We just returned from a two-week Hawaii honeymoon where we were self-indulgent, playful, and stress-free. As we reflected on our wedding and everything leading up to day, we agreed. It was the most wonderful experience. We are so incredibly blessed, loved, and lucky. We never want to get married again. #petaya4ever
Related