If 20th Century Fox Home Entertainment had actually followed tradition (i.e., that your 50th anniversary is supposed to be golden, your 60th anniversary is diamond, etc.), they'd have done something platinum to commemorate the 70th anniversary of the release of Miracle on 34th Street.
But instead of platinum, 20th Century Fox opted to go with helium. As in: Pay tribute to this much-beloved holiday classic by recreating one of the giant balloons that can be seen floating in the background during the Macy's Thanksgiving Day Parade portion of this motion picture.
But which of the six period parade balloons that can be spied in this 1947 George Seaton film should be the one to be recreated? That was something that 20th Century Fox Home Entertainment – when they first began working with the talented team at Macy's Parade Studio on the Miracle on 34th Street 70th anniversary project over two years ago – gave very careful consideration to.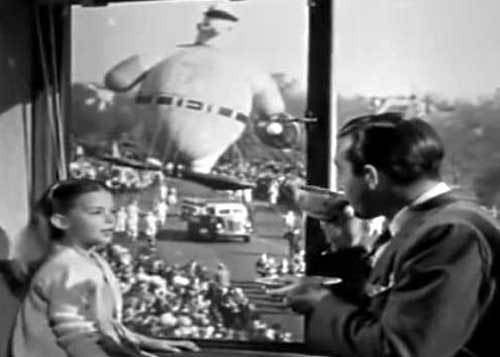 In the end, it was the movie itself that helped them make their choice. Do you remember the scene from "Miracle on 34th Street" where young Suzie (played by Natalie Wood) has gone next door to watch that year's parade as it rolls up 6th Avenue? Her neighbor Fred Gailey (played by John Payne) notices that the Macy's employee who are hauling Harold the Baseball Player down the street are struggling with this novelty balloon. Fred then turns to Suzie and says:
GAILEY: Looks like they're having a little trouble with the baseball player.
SUZIE: He was a clown last year. They just changed the head and painted him different. My mother told me.
GAILEY: He certainly is a giant, isn't he?
SUZIE: Not really. There are no giants, Mr. Gailey.
GAILEY: Maybe not now, Suzie. But in olden days, there were a lot. What about the giant that Jack killed?
GAILEY: Jack ... "Jack and the Beanstalk."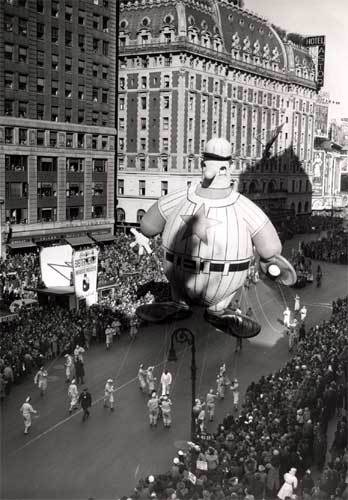 SUZIE: I never heard of that.
GAILEY: You must've heard that. You've just forgotten. It's a fairy tale.
SUZIE: Oh, one of those. I don't know any.
GAILEY: Your mother and father must have told you a fairy tale.
SUZIE: No. My mother thinks they're silly. I don't know whether my father thinks they're silly or not. I never met my father. My father and mother were divorced when I was a baby.
GAILEY: Well, that baseball player looks like a giant to me.
SUZIE: People sometimes grow very big, but that's abnormal.
GAILEY: I'll bet your mother told you that, too.
Given that it's this particular conversation between Suzie & Fred that pretty much sets the stage for what follows in Miracle of 34th Street … Well, that's why 20th Century Fox Home Entertainment and Macy's Parade Studios settled on building a recreation of Harold the Baseball Player.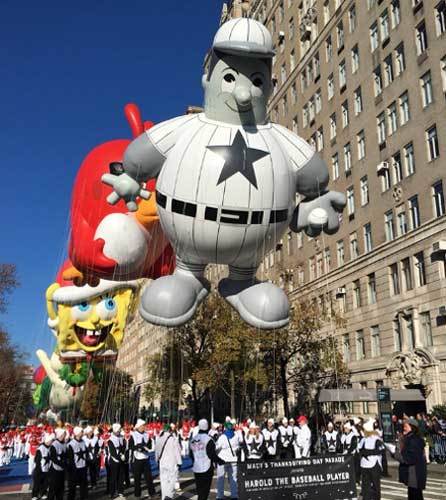 "Mind you, we didn't build an exact replica of Harold," explained John Piper, the Vice President of Macy's Parade Studio. "Though we were able to go back into our files and find out how the baseball player balloon that had been featured in our 1946 parade had been put together, we decided to make a few tweaks to Harold's design. Make the 2017 version of this balloon slightly smaller and cuter." But even so – to honor the black-and-white movie in which this 30.3-feet tall, 25.2-feet baseball player made his cinematic debut – Piper's team opted to paint this heritage balloon in shades of black, white & grey. So that even when Harold's handlers were hauling him through modern-day Manhattan, he'd still like he'd stepped straight out of a black & white motion picture from the 1940s.
What's kind of ironic about this creative decision on 20th Century Fox Home Entertainment and Macy's Parade Studios' part is – were you to tune in tomorrow morning to catch Miracle on 34th Street when it airs at 8 a. m. on AMC – you'll then get to see the version of this film that a team of technicians spent eight weeks colorizing back in 1985.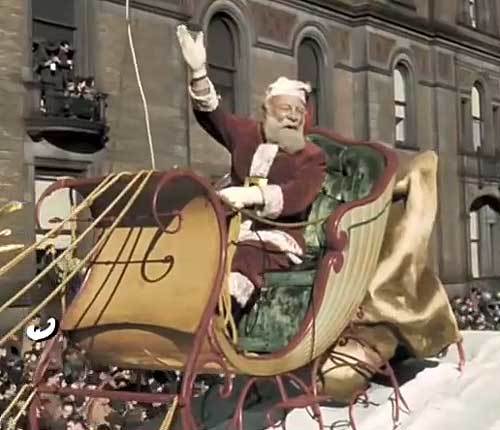 And just so you know: The folks who run the official Macy's Thanksgiving Day Parade webpage did a little colorizing of their own earlier this year. Evidently they didn't get the memo that the Harold the Baseball Player balloon which was to be featured in this year's parade was – as a tribute to this black-and-white motion picture from 1947 – only supposed to be painted in black, white & grey. Which is why the Harold that showed up on the official Macy's parade webpage had a flesh tone face & hand.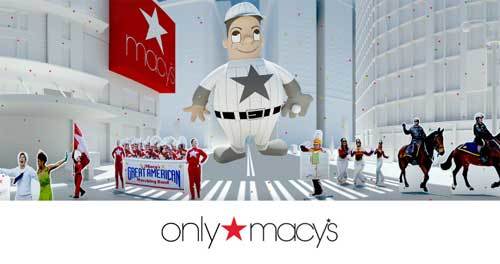 I can assure you that 20th Century Fox Home Entertainment didn't make the same mistake with the "Miracle on 34th Street – 70th Anniversary Edition" that it released on Digital, Blu-ray and DVD back on October 10th of this year. The version of this holiday classic that's on store shelves right now is (as it should be) in glorious black & white.
Getting back to Harold the Baseball Player now … As a special gift to Miracle on 34th Street fans everywhere, 20th Century Fox Home Entertainment & Macy's are giving away 200 ornament-sized versions of this heritage balloon in a sweepstakes.
The way one enters this sweepstakes is to tweet # Miracle70thSweepstakes before Sunday, December 31, 2017 at 11:59:59 p.m. PT. The winning entries will be selected in a random drawing on or about Monday, January 8, 2018 from among all eligible entries that were received during the Entry Period (i.e., November 24th – December 31st, 2017).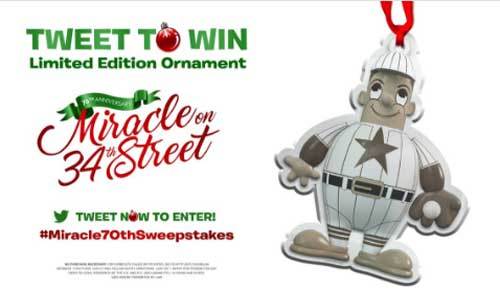 Calling all HuffPost superfans!
Sign up for membership to become a founding member and help shape HuffPost's next chapter
This post was published on the now-closed HuffPost Contributor platform. Contributors control their own work and posted freely to our site. If you need to flag this entry as abusive,
send us an email
.