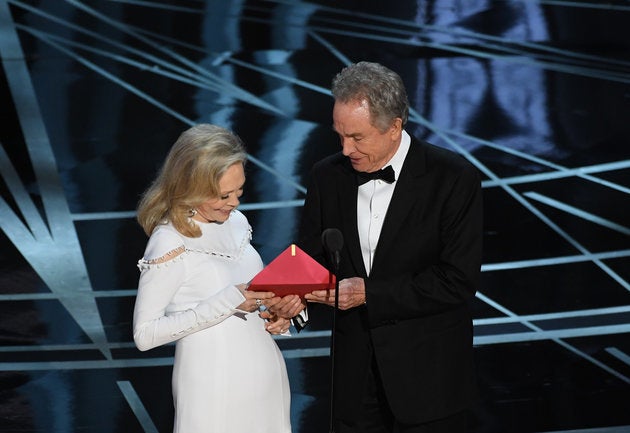 Part of a continuing series where writers John Shea and Dan Rosenberg debate the movies.
The 2017 Academy Awards will always be remembered as amateur night. How do you mess up Best Picture when it is the last award of the night? Most second graders could have managed this task with great success. Incredibly, it tripped up a professional accountant, and it led to the most chaotic moment in Oscar history. Fortunately, after several awkward minutes, the correct film, "Moonlight," was deservedly honored as Best Picture. The fiasco inspired an idea: can we go back and hand out the proper envelopes to correct the 21 biggest Best Picture mistakes in Oscar History? In this space, we put a spotlight on movies we thought the Academy missed – and we place each of them in three tiers by degree of egregiousness – "Historical Travesty," "Grave Injustice" and "Sadly Overlooked."
Historical Travesties: In some years, an inferior movie inexplicably wins Best Picture -- and in doing so, ultimately damages the reputation of the Academy and the winning picture itself.
1) 1981 Best Picture winner: Chariots of Fire
The Oscar should have gone to Reds or Raiders of the Lost Ark
36 years later, we are still waiting for the academy to send someone to the podium with the correct envelope to settle the debate between "Reds" and "Raiders." 1981 was rightfully considered the greatest Best Picture upset in Oscar history. In a "life imitates art" kind of way, the inspirational but slight British drama, "Chariots of Fire," about two male athletes and their journey to the 1924 Olympics, truly came out of nowhere and stunned two heavy favorites. "Reds," Warren Beatty's 3-hour epic about the Russian Revolution accomplished its own rare feat: It found a way to merge history, romance and sexual politics in a deeply moving and engrossing way. With "Raiders of the Lost Ark," Spielberg created an iconic masterpiece that has gone on to define the action-adventure genre. Snakes, the whip, the hat, the giant rolling boulder, the bent Mercedes hood ornament, and of course the ark, have all become indelible Hollywood images. In the decades since these films have been released, many have attempted the sweeping historical epic and the grand action-adventure, but virtually none achieved the heights of either "Reds" or "Raiders of the Lost Ark," whereas "Chariots of Fire" was quickly forgotten.
2) 1980 Best Picture winner: Ordinary People
The Oscar should have gone to: Raging Bull
How shocking was this result? Many critics consider "Raging Bull" to be the best film of the entire decade – but the Academy couldn't bring itself to say it was the best movie of 1980. Without question, Robert Redford's thoughtful drama "Ordinary People" hits deep and sophisticated emotional notes. Donald Sutherland, Mary Tyler Moore and Timothy Hutton have great chemistry together playing an uptight, upper-middle class family – all of whom fall apart in different ways after a traumatic event. Maybe it was easier for Academy voters to identify with Redford's "Ordinary People" than it was to recognize Martin Scorsese's "Raging Bull", a vivid black-and-white boxing biopic of Jake LaMotta. The movie represented another brilliant teaming of Robert DeNiro and Scorsese – and together, they depicted a knockout portrait of a man who was as vicious outside the ring as he was within it. Some of the anger that people still may feel toward this Oscars night is that Scorsese also lost Best Director to Redford. The Academy would not honor Scorsese until 26 years later in 2006 for the good, but decidedly lesser film, "The Departed."
3) 1939 Best Picture winner: Gone With The Wind
The Oscar should have gone to: The Wizard of Oz or Mr. Smith Goes to Washington
Moviegoers have been debating the 1939 Oscars for nearly eight decades. Artistically, "Gone With The Wind" was a groundbreaking historical epic. Its use of cinematography, orchestral musical scoring and sweeping storytelling were revolutionary. Its major flaw, of course, was, to quote NBC's Chuck Todd, "Alternative facts aren't facts." Despite its all-star cast and compelling love story, it is impossible to overlook what is a travesty in terms of depiction of actual Civil War history. Slavery is portrayed more akin to "hired help." It is the defining reason this film, which was a box office juggernaut for decades, has not aged well. On the other hand, two of the other contenders from 1939 remain etched in contemporary culture, and seem poised to for decades to come. Frank Capra's "Mr. Smith Goes To Washington" tells the story of the idealism (what his opponents would call naiveté) of a newly elected Senator who tries to get the government to use its resources to create programs to help children and struggling families. It is eerie to hear the similarities between the fictional Mr. Smith of 1939 and Bernie Sanders of today. There is rarely a filibuster in the actual United States Senate that isn't compared to Mr. Smith. "The Wizard of Oz" is perhaps the most iconic film in Hollywood history, and for good reason. Judy Garland as Dorothy, Harold Arlen's timeless songs, and the images of the ruby slippers, the tin man, the scarecrow and the wicked witch have all shaped popular culture. Few films are quoted more: "Pay no attention to that man behind the curtain" and "There's no place like home". None have had the staying power for generation after generation, both young and old, as "The Wizard of Oz."
4) 1998 Best Picture winner: Shakespeare in Love
The Oscar should have gone to: Saving Private Ryan
When people say that film producer Harvey Weinstein is a promotional genius, they are talking about 1998 and "Shakespeare in Love." The charming period piece features Gwyneth Paltrow in full splendor as a woman who inspires the up-and-coming playwright to greater heights. Paltrow and Judi Dench both won acting Oscars for their work, and the movie won six awards total heading into the final category of the night. On the other hand, Steven Spielberg had just been awarded Best Director, and it was widely assumed that his World War II epic, "Saving Private Ryan" would win the top prize – especially with the harrowing opening scene that depicts the Omaha Beach landing, considered by many to be the greatest war battle scene ever filmed. Shockingly, it lost – and while it's impossible to fully account for the upset, a popular theory is that Weinstein's aggressive Oscar-season marketing of "Shakespeare in Love" may have worked just enough magic with Academy voters.
5) 1941 Best Picture winner: How Green Was My Valley
The Oscar should have gone to: Citizen Kane
There is a lot to like in "How Green Was My Valley," a film that details a family's struggles in a Welsh mining town, and its hopes for their youngest child to achieve more than a dangerous life working underground. The question remains: What could the voters have been thinking to select "How Green Was My Valley" over "Citizen Kane," a film that was soon recognized as the greatest achievement in American cinema history? Perhaps they couldn't wrap their heads around the fact that a 25-year-old cinema rookie managed to create such a masterpiece. In 1940, an ambitious Orson Welles came to Hollywood with a resume in radio drama. He teamed up with screenwriter Herman Mankeiwicz to create a script inspired by media tycoon William Randolph Hearst (whose media empire was so vast, even Rupert Murdoch's pales in comparison). "Citizen Kane" is filled with magnificent cinematography, brilliant storytelling, and an excellent cast, which includes Joseph Cotton and of course, Welles as Kane. However, what Kane leaves its audience is the realization that no measure of wealth or power can replace the innocence and security of childhood.
6) 2005 Best Picture winner: Crash
The Oscar should have gone to: Brokeback Mountain
Race and homosexuality met at a provocative crossroad at the 2005 Oscars, when "Crash" and "Brokeback Mountain" were both up for Best Picture. The question lingered over the ceremony: If voters were going to choose a movie just to feel better about themselves, would they go for "Crash," a safe, soft and anti-septic meditation on race relations in America, made by rich white people? Or would they pick the more audacious and "this feels a little dangerous" Ang Lee western, "Brokeback Mountain," about two cowboys in love? Most Oscar observers felt the artistically superior and more emotionally involving Brokeback would win Best Picture -- and it seemed like it would, after Lee won Best Director. But in a stunning upset, "Crash" took the top prize, and immediately became a one-word punch-line for the Academy's tendency toward navel-gazing and self-congratulation. The heavily criticized result prompted the Academy to start looking at how it could make its voter base younger and more diverse.
7) 1979 Best Picture winner: Kramer vs. Kramer
The Oscar should have gone to: Apocalypse Now
"There are directors who know everything about the human condition and nothing about the camera," Walter Matthau said in introducing the Best Director category with Jack Lemmon at the Oscars in 1982. "And there are directors who know camera angles, camera lenses, camera sprockets, and depth of focus – but are totally ignorant of the human condition." This contrast comes to mind when thinking about the 1979 Best Picture race. Robert Benton's drama about a newly divorced couple engaged in a painful custody battle was heartfelt and moving – and it deservedly won acting Oscars for Dustin Hoffmann and Meryl Streep. But "Kramer vs. Kramer" pales in comparison to Francis Ford Coppola's "Apocalypse Now," a glorious adaptation of Joseph Conrad's Heart of Darkness in a completely new setting, the Vietnam War. As we journey with Martin Sheen to find Marlon Brando, we are taken on a mysterious and wild trip that turns hallucinogenic by the end. "Kramer vs. Kramer" may tug at your heart, but "Apocalypse Now" burrows in the mind.
8) 1952 Best Picture winner: The Greatest Show on Earth
The Oscar should have gone to: High Noon or Singin' in the Rain
How "The Greatest Show on Earth" even managed to get nominated has perplexed audiences for generations. The film is an overly long portrayal of circus life. We aren't the only ones unimpressed by this circus, as just 44% of the critics on Rotten Tomatoes gave it a thumbs up. Meanwhile, the Academy somehow overlooked two films widely regarded among the best of their genres: "High Noon," considered the greatest western, and "Singin' in the Rain," a gem of a musical. Gary Cooper deservedly took home the best actor Oscar for his magnificent performance of a sheriff who is betrayed by the citizens of the town he serves. The story is a metaphor for screenwriter Carl Foreman who, at the time, was called before the House Unamerican Activities Committee his earlier support of communism. Foreman refused to name names, was blacklisted by Hollywood, and moved to Europe in order to continue working. Perhaps "Singin' in the Rain" was ignored as the Academy was reluctant to honor a Gene Kelly musical in two consecutive years. "An American in Paris" took home Best Picture the previous year, and "Singin' in the Rain" takes the Hollywood film musical to new heights as it combines romance with the history of the film industry's greatest transition, the move from the silent era to talkies.
9) 1990 Best Picture winner: Driving Miss Daisy
The Oscar should have gone to: Dead Poets Society, Field of Dreams or Cinema Paradiso
"Driving Miss Daisy" was the "Crash" of its time -- a well-intentioned but dull commentary about race relations that seemed too pleased with itself for its shallow insights. Dramatically, it was a long haul – a dull re-enactment of a stage play set in the 1940s between an old rich white woman and an African-American chauffer. Indeed, Morgan Freeman and Jessica Tandy give charming performances, and perhaps that was enough to push Daisy across the finish line. But the win remains a source of disappointment and contempt, even more than a quarter century later. This is in part because the "Driving Miss Daisy" competed with three spirited movies, all of which were about following your dreams and passions. "Dead Poets Society" moved millions of people to seize the day, and settled any debate as to whether Robin Williams could be a fine dramatic actor. "Field of Dreams" was a mystical fantasy that featured baseball but was really about finding the courage to follow your instincts, and always remembering that all paths lead back to family and home. And perhaps the best movie of the year was one that wasn't even nominated for Best Picture. "Cinema Paradiso" tells the story of a successful Italian filmmaker who looks back on a childhood relationship he had formed with the local movie theatre projectionist, and how he inspired the boy to create magic in his own life. All three would have been worthy Best Picture winners. All three make "Driving Miss Daisy" even duller by comparison.
In some years, a solid movie wins Best Picture -- but many people are left believing that a much stronger alternative lost.
10) 1968 Best Picture winner: Oliver!
The Oscar should have gone to: 2001: A Space Odyssey
Many have wondered if the 1969 Best Picture was a "make-up call" for Carol Reed, whose 1949 masterpiece, "The Third Man," wasn't even nominated. "Oliver!" was a hit adaptation of the Broadway musical based on Charles Dickens' novel of an orphan's journey through the criminal world, Oliver Twist. Indeed, the film was the rare musical that was widely perceived as better than the original play. Still, it pales in comparison to Stanley Kubrick's "2001: A Space Odyssey" (which wasn't nominated for Best Picture). Yes, its ships appeared to move slowly through the vastness of space, but when Apollo astronauts returned to earth in the late '60s, and were asked what the experience was like, they responded, "2001". Nearly half a century later, the film's moral questions on the role of artificial intelligence, evolution, the origin of mankind and our place in the universe are even more poignant as we now must come face to face these issues (just a little later than Kubrick and writer Arthur C. Clarke had predicted). Volumes have been written about the importance of 2001, but perhaps no one has done so as eloquently as the late film critic, Roger Ebert (his entire review is worth reading). Consider composer Richard Strauss' "Thus Spoke Zarathustra," which has become synonymous with the film. Ebert wrote, "Inspired by the words of Nietzsche, its five bold opening notes embody the ascension of man into spheres reserved for the gods. It is cold, frightening, magnificent." Ebert was at the 1968 premiere of 2001 at the Pantages Theatre, and remarked, "Many… [in the theatre that night] knew they had seen one of the greatest films ever made.
11) 1996 Best Picture winner: The English Patient
The Oscar should have gone to: Fargo
Anthony Minghella is an artist of the first order. His World War II-era drama, "The English Patient," about a French-Canadian nurse who cares for a critically burned British solider in Italy is moody, enigmatic and artful. But it was spellbinding only in parts. In others, it felt like a long slog. In contrast, Joel and Ethan Coen's "Fargo" truly connected with people. It starts darkly with murder and kidnapping. It turns funny with biting social commentary on small-town Midwestern life, and then it finally becomes moving as an affirmation of the importance of family in our lives as anchors – and that without them, we are all adrift and aimless, just waiting for bad things to happen. "Fargo" features career performances by Frances McDormand, William H. Macy and Steve Buscemi. Without question, it is the most fondly remembered of the two films.
12) 1990 Best Picture winner: Dances with Wolves
The Oscar should have gone to: Goodfellas
A certain respect is due to Kevin Costner. It is a miracle that "Dances with Wolves" got made. Nobody thought his idea to make a 3-hour Western about a Civil War-era Union soldier who goes to live with the Sioux Indians was a good one. He only got $15 million to make it. And remarkably, it works. It's thoughtful, meditative and moving. It feels genuine, it's artful, and it is easy to see why the Academy would want to reward Costner's accomplishment. But like a feather in a gentle breeze, it only carries in the imagination so far. But "Goodfellas!" What an amazing jolt of energy and what a return to form for Martin Scorsese. He brought together Robert DeNiro, Ray Liotta, Joe Pesci, Lorraine Bracco and Paul Sorvino at the height of their powers, and examines mob life through the glory days of the 1950s to the bitter, drug-induced end in the 1980s, all through the eyes of Henry Hill (Liotta). Depending on your point of view, "Goodfellas" was either a celebration of violence or a refutation of it. Either way, it was a thrill ride -- eminently quotable and still vividly a part of pop culture, even 25 years later.
13) 1985 Best Picture winner: Out of Africa
The Oscar should have gone to: The Color Purple or Ran
Even in 1985, "Out of Africa" was hard to stomach. It centered on Meryl Streep as an entitled rich white woman in Denmark who marries a baron out of convenience – and then travels to Africa with the grand idea to become farmers. The story shapes itself as a "love triangle" between Streep, Klaus Maria Brandauer and Robert Redford – but it is really about a contest of wills between three individuals trying to determine who is the most independent spirit. Brandauer is delightfully bent here -- but when people talk about Streep being too "technically perfect" or Redford being too "diffident," they are talking about "Out of Africa." "The Color Purple" is a brave and often moving. If Whoopi Goldberg was only going to get one Oscar, it should have been for her role here, as an African-American woman in the south in the early part of 20th century, who endures unspeakable abuse from her father and many others around her – and perseveres with great strength and resolve. At the time, people were surprised Steven Spielberg signed on to direct this movie, given its dark subject nature. Many were only slightly astonished when he failed to get a nomination for Best Director after winning the Director's Guild Award. That was a historical first, and it fueled speculation that Spielberg was either underappreciated, a victim of jealous peers, or both.
The other film that should have been considered for best picture was Akira Kurosawa's magnum opus, "Ran" (which was not even nominated). Since the Academy seems to never seriously consider foreign-language films for its best picture honor, perhaps it is fruitless to argue why this Japanese take on the tragedy King Lear deserves Best Picture. One aspect of Shakespeare's brilliance is that his stories are so universal; they can be transplanted to virtually any time and place. It may be sacrilegious, but a case can be made that Kurosawa's King Lear surpasses any English staging. "Ran" was incredibly ambitious, and had, at the time, the largest budget in Japanese film history. The result was a film that was stunning in every aspect, complete with a Mahler-esque musical score by Toru Takemitsu, award-winning costume designs, mesmerizing cinematography and searing imagery throughout.
14) 1999 Best Picture winner: American Beauty
The Oscar should have gone to: The Sixth Sense
If you hated "Ordinary People" winning in 1980 because it honored privileged white people wresting with first-world problems in the suburbs, you should have hit the roof when "American Beauty" won. Sam Mendes' production was highly stagey and Actor-y with a capital A. Annette Bening and Kevin Spacey chewed a lot of scenery – fun at times, exhausting at others, and almost never emotionally moving. There was a much better alternative in 1999. Although M. Night Shyamalan has struggled to repeat his success, "The Sixth Sense" stands as one of the most suspenseful (spoiler alert) ghost stories ever told. Bruce Willis has never been better, and Haley Joel Osment is completely convincing as a young child who seems haunted. The movie stands as one of best examples of how people in all walks of life struggle to communicate with each other.
15) 1982 Best Picture winner: Gandhi
The Oscar should have gone to: E.T. The Extra Terrestrial
A lot of people thought Steven Spielberg's "E.T." should have beaten Richard Attenborough's "Gandhi" for Best Picture in 1983. Intriguingly, Attenborough was one of them. In many media interviews, he recalled the story of going to see "E.T." at a movie theatre in Los Angeles with his business partner Diana Hawkins. "We have no chance" during the awards season, Attenborough recalls telling Hawkins. "E.T. should and will walk away with it." "E.T." wowed both critics and audiences with its captivating story of how a young boy discovers, adopts, and then learns to communicate with a space alien. Oscar voters felt differently. After awarding Attenborough Best Director for his 3-hour biopic of Mahatma Gandhi, they went on to give "Gandhi" Best Picture, too. The win is seen as the Academy once again rewarding a conventional historical drama over something with genuine imagination. Perhaps it is easy to be gracious as a winner, but Attenborough seemed very sincere in saying what many others felt when he affirmed that "E.T." "Was an infinitely more creative and fundamental piece of cinema."
16) 1956 Best Picture winner: Around the World in 80 Days
The Oscar should have gone to: The Ten Commandments
The 1956 Academy Awards seemed like déjà vu for cinema fans who were perplexed by the 1952 ceremony that chose "The Greatest Show on Earth" over "Singin' in the Rain." In 1956, once again, an overly long and mediocre epic with an all-star cast beat a beloved musical ("The King and I") – but that year, the award should have to a superior epic, "The Ten Commandments". Even back in 1956, reviews of Michael Anderson's 3-hour adaptation of Jules Verne's novel Around the World in 80 Days were mixed, as Time Magazine complained it was part of "an epidemic of giantism," and the film has not improved with age. If they wanted to award an epic, "The Ten Commandments" was vastly superior. Despite its often-hokey dialogue, Cecil B. DeMille truly perfected the genre in his final turn in the director's chair. Perhaps the film was passed over because DeMille had recently won for "The Greatest Show on Earth." His version of Exodus, with Charlton Heaton as Moses and Yul Brynner as Pharaoh, truly brought the Old Testament to life for generations of moviegoers.
17) 2012 Best Picture winner: Argo
The Oscar should have gone to: Zero Dark Thirty
2012 featured a showdown of historical political action dramas – both of which featured resourceful CIA agents bucking the system. Ben Affleck's "Argo" was the front-runner heading into the night. Affleck's entertaining movie featured himself as real-life agent Tony Mendez, who creatively built a coalition with Canada and Hollywood to rescue six Americans caught up in the 1979 attack on the U.S. embassy in Iran. "Argo" held on for the win, but it also took a lot of criticism for its historical inaccuracies, including not giving the Canadians enough credit for the rescue. It also completely missed an opportunity to tell the brave stories of the American diplomats held hostage in Iran, and instead focused almost entirely on how Ben Affleck's character designed his rescue plan. Meanwhile, the more compelling of the two CIA dramas that year was overlooked. Kathryn Bigelow's "Zero Dark Thirty" was an intense investigation about how one female CIA agent (Jessica Chastain) led the hunt for Osama Bin Laden for years – all while meeting resistance from her male colleagues at every turn. The dilemma facing both Bigelow and Affleck is that they made thrillers in which the audience already knew the ending. Bigelow did the better job of keeping your heartrate up throughout the entire journey.
In some years, reasonable people can disagree between excellent choices, and here are some arguments for outstanding films that the Academy should not have ignored.
18) 1950 Best Picture winner: All About Eve
The Oscar should have gone to Sunset Boulevard or The Third Man
This was a magical year with no less than three films that are widely considered among the greatest in cinema history. Best Picture winner "All About Eve" is indeed superior to many other films that captured this award in subsequent years. However in 1950, it deserved the bronze medal. "All About Eve" is the type of film Hollywood adores: ones about the inner workings of the entertainment industry. Bette Davis gave arguably the best performance of her career as an aging stage actress, Margo Channing, who falls victim to her conniving understudy (yet still somehow, Davis didn't win best actress for this role, a travesty that could be the lead of a similar article of acting award snafus).
"Sunset Boulevard" also tells the story of a struggling actress, as Gloria Swanson gives a career performance, portraying the fictional Norma Desmond, a recluse veteran from the era of the silent screen who still dreams of a comeback. It is an oversimplification though to compare these as two films about aging. "Sunset Boulevard" is film noir at the highest level. Billy Wilder creates a captivatingly eerie web, as Swanson lures William Holden, a struggling young writer into her lair. The legendary silent film director Erich von Stroheim is brilliant as Swanson's ex-husband, who she now employs as her butler. We see von Stroheim washing and folding her undergarments as Swanson tries to seduce a young writer half her age. Franz Waxman's haunting score highlights their downfall.
The best film of 1950, "The Third Man," wasn't even nominated. The British Film Institute correctly ranks it as the greatest in its film history. The setting is post World War II Vienna. Much of its picturesque architecture lies in rubble. The same can be said for the morality of its inhabitants. Director Carol Reed brilliantly shows the tolls the long war has taken on the city, and even gives us a preview of the birth of the Cold War. Every detail of "The Third Man" is perfect. Reed deliberately avoids subtitles as Joseph Cotten encounters Austrians who don't speak English to create the true essence of the confused American abroad, while Orson Welles is unforgettable as the malicious Harry Lime. The stark soundtrack of Anton Karas' zither is magnificently paired with the characters' journey through bombed out Vienna. Seven decades later, the film hasn't lost its bite, as exemplified by the fact that Vienna is home to a Third Man Museum, Third Man walking tours, and of course, a cinema that still shows the film.
19) 2010 Best Picture winner: The King's Speech
The Oscar should have gone to: The Social Network
"The King's Speech" plays well as a historical drama. Colin Firth rightfully won Best Actor playing George VI, who became the reluctant new king of Britain in 1936, and needed the help of an Australian speech therapist (Geoffrey Rush) to overcome a debilitating stammer. It is genuinely moving when Firth overcomes his disability to deliver a stirring radio address in 1939, declaring war on Germany. But it is still disappointing that David Fincher's "The Social Network" did not receive its full due. The movie covers how Mark Zuckerberg built Facebook – and burned a lot of bridges along the way. The Aaron Sorkin screenplay is funny and full of sharp insight into how modern technology actually isolates instead of connects us. The 2010 Best Picture winner is fine – but "The Social Network" is a movie of our time.
20) 1946 Best Picture winner: The Best Years of Our Lives
The Oscar should have gone to: It's A Wonderful Life
To paraphrase Jimmy Stewart from "It's A Wonderful Life," in regards to correcting Best Picture winners, "We don't have just one wish, but a whoooole haaatful." "The Best Years of Our Lives" is quite an impressive film, and legitimate arguments can be made in support for its case for best picture. Released the year following the end of World War II, the film explores what the men who later were described by Thomas Brokaw as "The Greatest Generation" lost during their years fighting to save the world from fascism. They returned to find their lives upside-down with kids grown, marriages changed, and careers disrupted. Meanwhile, Christmas movies are rarely honored come Oscar time, but Frank Capra's "It's A Wonderful Life" is not your everyday holiday movie. When its copyright expired in the 1980s, "It's A Wonderful Life" seemed to be on cable TV virtually 24/7 every December. Surprisingly, no matter how many times you watch it, between the acting of Jimmy Stewart as George Bailey, the struggling family man, Lionel Barrymore as Mr. Potter, the evil banker, and director Capra's timeless message of how each of our lives impacts everyone we encounter in the world, "It's A Wonderful Life" is enormously uplifting. It has become more than just a film, but a metaphor on life.
21) 1994 Best Picture winner: Forrest Gump
The Oscar should have gone to: Pulp Fiction or The Shawshank Redemption
Oddly, for many filmgoers, this year might rank No. 1 on the list of worst decisions for Best Picture – that's how heated the debate can be between people who loved "Forrest Gump," "Pulp Fiction" and "The Shawshank Redemption." We have it last on our list because we recognize the greatness of each of them. You could put the names of all three movies in a hat, pick one out, and you'd have a worthy Best Picture winner. "Forrest Gump" is sometimes scorned for being too sentimental, but it is a creative trip through the '60s, '70s and '80s, elevated by the acting brilliance of Tom Hanks. The group that might be angriest about this Best Picture pick is the "Pulp Fiction" crowd, who felt that Quentin Tarantino's revolutionary work wasn't properly given its due, despite its win for Original Screenplay. It may be true that the Tarantino's edgy, cross-cutting stories and hyper-stylized dialogue was too much for a still-conservative Academy -- but it also inspired a new generation of screenwriters and directors that is still felt deeply today. By contrast, "The Shawshank Redemption" is almost as old-fashioned as Forest Gump – but its strongest advocates would say it is less gimmicky, deeper emotionally and ages better than either Gump or Fiction. Shawshank's popularity may be in part due to its true subject, rarely covered in movies and almost never well -- namely, the deep bond of friendship between men. Looking at the three leading Best Picture nominees of 1994, you could have gone with your heart, your head or your soul. Any of them would have been a good choice.
John Shea and Dan Rosenberg have been writing (and arguing) about movies for more than 30 years. John Shea is a former film editor at The Michigan Daily and Dan Rosenberg is a journalist, blogger and music producer, who reports about arts and culture for the Huffington Post, The Times (UK), The Rough Guides, and various public radio programs including, "Afropop Worldwide", PRI's "The World", and the CBC.
Popular in the Community