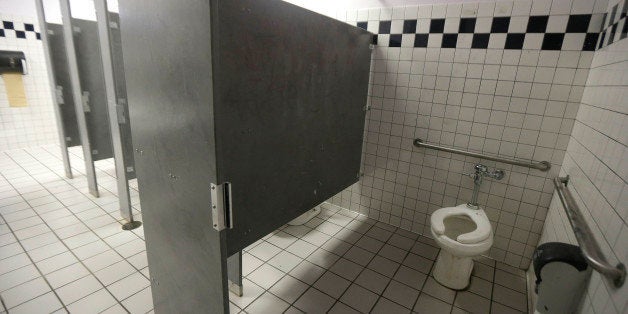 Thanks in part to a little poking and a little prodding, i've decided to write more about my experience. It must be said that I cannot nor will I ever, speak on behalf of all trans men or trans people out there. It's simply impossible! While most of us share experiences, I recognize that everyone's journey is just a little bit different.
That said, for me, as a trans person there are no shortage of anxieties I cope with on a daily basis, many of which stem from the use of bathrooms. Who'd of thunk it? Here are a few thoughts I experience daily...
1. Please don't let there be anyone else in this bathroom right now.
2. Remember not to speak and/or make eye contact with anyone.
3. If time permits, stop and wash hands (see: point #1) otherwise sanitize on the go/at desk.
4. Someone is now waiting to use the stall you're in, shit! No really, start taking an actual shit, I don't care how you have to do it, just DO it! In a pinch, farts will do. The louder the better.
5. Jesus Christ, guys use a shit ton of toilet paper.
6. Please let there be more than one stall available -- seriously.
7. Please don't let the one stall be clogged (see point #5).
8. Also related, please let there be toilet paper.
9. Please let there be a door on said stall.
10. Hurry. The. Fuck. UP.
11. Oh shit. Someone's already in the only available stall. I hope they're fast because I don't want to stand around attracting attention waiting on them to finish.
12. Damn, I hope this person doesn't "feel my anxious energy" as I stand around waiting.
13. Is there a handicapped/gender neutral bathroom anywhere in this building?
14. How about anywhere else on this block?
15. How hydrated am I? How hydrated do I need to be? Is it worth it?
16. Is there a bathroom on a different floor? Do I have access?
17. Should I just hold it until I get home?
18. Can I just hold it until I get home?
19. Am I at an airport? Will it be easier to find an accommodating bathroom or just dash into the first vacant stall of a bathroom which corresponds with my birth gender because it matches my boarding pass?
20. Cross my fingers and hope no one's coming in or exiting when I do if I chose the latter
What's the bathroom situation like at this party/office/movie theater/comedy venue/space i'm unfamiliar with?
21. I wonder what Pat McCrory's doing RIGHT now? JK -- I hope he falls down a loo and drowns somewhere (JK, kinda).
This post is part of HuffPost's Journey Beyond the Binary blog series, an editorial effort to bring diverse trans and gender non-conforming voices to the HuffPost Blog during and after Pride month. As the LGBTQIA community celebrates great strides forward this June, it's important to acknowledge the struggles still pertinent to trans and gender variant members of the community. Please email any pitches to beyondbinary@huffingtonpost.com

Calling all HuffPost superfans!
Sign up for membership to become a founding member and help shape HuffPost's next chapter