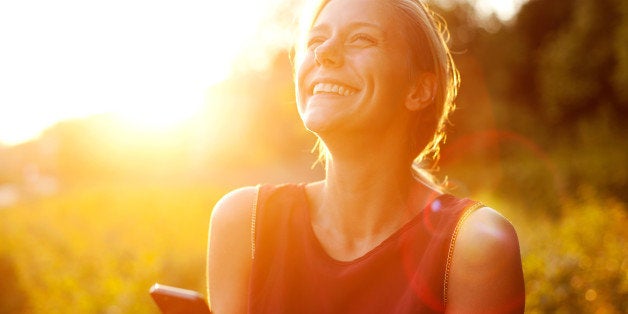 Stop scrolling through your social feed and reading about what people are watching on TV, chuckling at clever memes and laughing (out loud) at cats being hilarious. At least for a short while. It's draining your productivity.
Just imagine what you could be accomplishing if you unplug for a while and start doing something else.
Work harder at work. You'll gain a massive edge on your coworkers with the added effort of working at work.
Talk to a friend with your voice. One of the great things about talking is that you'll receive an immediate response.
Read one of those books you have.
Write that book you always talk about writing. That's the best way to get it done.
Learn to play an instrument. It won't happen while you're scouring through social feeds.
Exercise. You'll live longer and have more time to Instagram in your golden years.
Buy an actual birthday card because you remember someone's birthday.
Make eye contact. With anyone.
Joke with a friend. It's like in-person Tweeting.
Look up. There's interesting stuff in front of you.
Learn to code. Then you can build the next great social network and make a billion or two.
Go see a movie. You still get to stare at a screen and don't have to talk to anyone.
Walk your dog. He's been holding it for too long.
Plan a vacation. Think of all the photos you'll be able to post.
Invent something. Inventions have historically made the world better.
Volunteer for something. You'll get a like from whomever you help.
Sleep. You can always check your likes first thing in the morning.
Study anything. Math, physics, foreign languages, sideshow history. You can be the smartest poster out there.
Enjoy a sunset. And no matter how #amazing it is, don't brag about it.
Plant a seed. The few minutes this takes will result in the growth of something beautiful, and depending on which seed you plant, may bear fruit that you can eat (think FarmVille, but for real).
Leave the bathroom. Quit reading tweets and finish up already.
The list is over. You should be doing something else by now.
Did these ideas strike a chord? We spend at least 1 hour and 7 minutes a day on social networks--time that could be spent writing a book, learning to dance, or making eye contact (with anyone!) On Thursday, October 16, 2014, join us in logging out and living IRL again for the first-ever Social Media Blackout Day! Take the pledge: www.socialmediablackoutday.com.

Author Marc Hartzman's work includes the Anti-Social Network Journal, "Found on eBay," American Sideshow, and God Made Me Do It. When he's not writing about curious characters or contributing to the Huffington Post, he works as a creative director at an NYC ad agency. Enjoy his musings on how social networking has affected life as we know it and follow him on Twitter @marchartzman.
Related