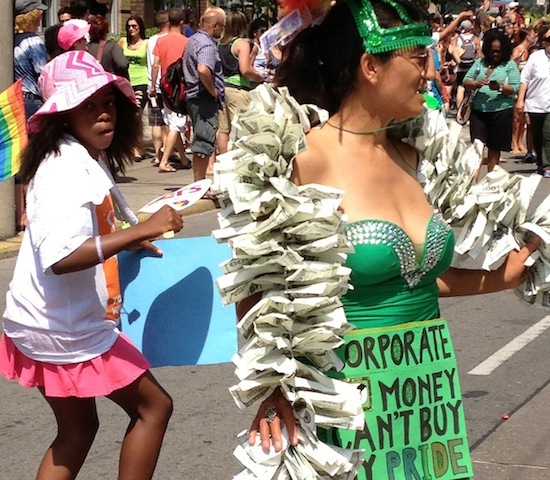 Large crowds gathered to watch seven thousand dykes take to the streets in an impressive display of visibility and power. Led by Dykes on Bikes, the World Dyke March on June 28 included a rainbow of marchers from women's health collectives and craftivists, to Canadian unions and individual dykes. Some marched for politics. Some just for fun.
One money-covered marcher shared the message, "Corporate money can't buy pride," expressing the tension between those who see Pride events as opportunities to remember the anniversary of the Stonewall Riots and our radical roots, and those who just want a good gay party, no matter who foots the bill.
Toronto Dyke March receives money from the official Toronto Pride organization, but encourages at least some political content, recalling on their website that Dyke Marches originated with the Lesbian Avengers, who organized the very first one the night before the 1993 March on Washington for Lesbian, Gay, and Bi Equal Rights and Liberation, determined to make their presence felt.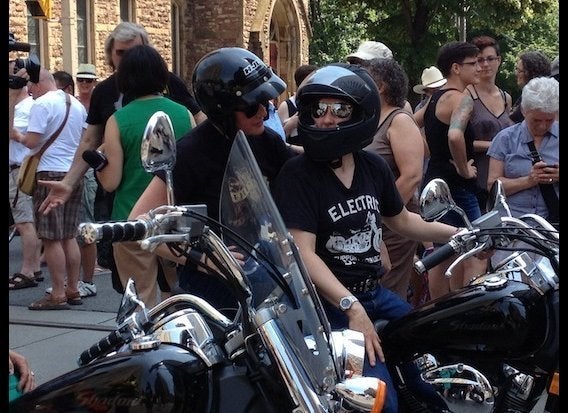 World Dyke March Toronto, 2014
Popular in the Community