 Name: Jemima Kirke
Age: 27
Occupation: Artist/actor
Location: New York
What project are you working on now?
I have been looking at my drawings. Reviewing and rethinking some old ones and archiving the finished ones. I'm also working on finishing up some new paintings.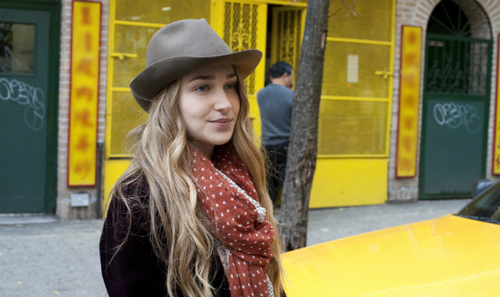 Jemima Kirke / Photo: Jojo Whilden
After receiving a BFA from RISD in 2008, you had a solo show of portraits at Skylight Projects. Now, you're in the center of a media hubbub surrounding HBO's "Girls." As both an emerging artist and accidental TV star, do you ever worry that your acting career will take precedence over your painting?
Yes, I worry about that. But not too much. Ultimately all that stuff is in my control. I have to remember that for the most part people will see me for what I do, not what I say I do.
Although you also make drawings and collages, you mostly show oil and watercolor portraits. What draws you to portraiture?
I haven't shown my drawings and collages yet because I feel I'm not ready to. They are quite bewildering to me still and I have to think about them for a bit before I'm ready to share them. Portraiture keeps me humble. It's simple and straightforward. There is nothing more interesting I can make up than the figure sitting right in front of me.
Your paintings are characterized by flatness and striking, deliberately primitive brushstrokes. Your influences range from Manet to Freud. I see quite a bit of Alice Neel in there too. How would you describe your aesthetic?
Alice Neel paints very closely to my heart. That is sure. But if I want to be better than her I can't mimic her. I have to strive to paint like the pioneers of the art form.
You create your portraits in real time without any preliminary sketches. What do you like about this improvisational way of working?
It keeps the reaction immediate and free. Working this way allows me not to be exacting or to second guess myself.
While poking around your Web site, I came across a nude portrait of your friend and costar Lena Dunham. What was it like to paint her?
During one of our sittings she was on vocal rest so we sat in silence... which was really nice. For another, she had a UTI so she was bitching and whining the whole time which touched me because she sat through it anyway for the sake of the painting. It felt very right that I paint her. We're both artists. We use each other for inspiration. We help each other out.
What's the best painting you've ever made?
My opinions of which of my works are good are vastly different than other people's. There is one that I'm obsessed with but I swear... no one else has ever even commented on it. So I'm a bit shy to draw attention to it.
Who is your favorite living artist?
One who comes to mind in Ophrah Shemesh. She is a painter to her core. She knows no other medium. She speaks in paint. Painting is a medium which I feel is in danger of being lost and for me she keeps it alive.
What's the last show that you saw?
Alice Neel at David Zwirner.
What's the last show that surprised you? Why?
The de Kooning retrospective at the MoMA. I teared up. I didn't expect to.
What's your favorite place to see art?
What's the most indispensable item in your studio?
What's the first artwork you ever sold?
My uncle would buy my artwork from me throughout high school and college. That motherfucker got some of my best pieces for nothing. But I was happy then with enough money to buy me and my friends a drink.
What's your art-world pet peeve?
"Don't touch the art." I want to touch the art. To name a tiny one.
None that won't get me in trouble. Jokes are great.
What's the last great book you read?
Willa Cather's "My Mortal Enemy."
What work of art do you wish you owned?
What would you do to get it?
Nothing. But I love stories of people stealing art just because they love it so much and have to have it. I respect that in some way.
What international art destination do you most want to visit?
Lots. But I'm interested in the Barnes Collection in Philadelphia. I hear there are some of the worst Matisses there. I like seeing bad art by good artists. It's inspiring. I'm able to identify with them. It makes them real.
Collecting jewelry, giving tattoos, watching tv, naps, reading, researching things.
More of Today's News from BLOUIN ARTINFO:
Calling all HuffPost superfans!
Sign up for membership to become a founding member and help shape HuffPost's next chapter