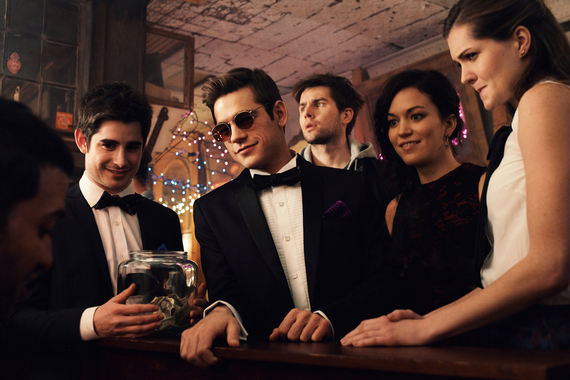 This post originally appeared on Confessions of a Boy Toy.
San Francisco may not be as diverse, as open-minded nor as bohemian as it once was in the late 70s, when the very first LGBT film festival was put on by Frameline. But in its 39th year, the Frameline Film Festival retains its commitment to depicting authentic, diverse portrayal of queer stories -- even as it has expanded to become the most attended gay film exhibition in the world and the largest queer arts gathering in San Francisco.
For the second year in a row, we've been asked to participate in the screening selection committee for Frameline. With all the films we watched during the selection process, as well as a handful of press screeners sent over by our friends at Frameline, we've compiled a list of sexy, daring films -- an eclectic collection of narrative features and shorts by fearless new voices, as well as documentaries shining the spotlight on our even more fearless ancestors -- to satisfy all of your cinephile desires.
I Am Michael (Opening Night Feature)
Thursday, June 18, 7PM at the Castro Theatre
Another Frameline Film Festival, another chance to boost James Franco's ego. Just kidding. I Am Michael was the talk of the town at Sundance earlier this year, and Franco has even been labeled an A-grade actor after his portrayal of real-life San Francisco writer Michael Glatze, a former LGBT advocate who started a twink-tastic magazine (before Tumblr, kids) but ended up undergoing ex-gay therapy, renouncing all that homo stuff and marrying a good, godly Christian woman.
I Am Michael was produced by Gus Van Sant (director of Milk, Good Will Hunting and My Own Private Idaho) and was based on a New York Times article by Benoit Denizet-Lewis. The film co-stars Zachary Quinto as Glatze's boyfriend and Charlie Carver as the young stud whom they have a tryst with (ah, the good old days before ex-gay therapy).
Uou'd think that making a film about the true-story metamorphosis of a once out and proud, glitter-covered fairy into an anti-gay straight person would get James Franco's jockstrap in a knot, but I Am Michael does not cast a single stone. Rather the film lets the audience decide for themselves in which ways we're all made of multitudes.
Thirst & Desire (collection of short films)
Friday, June 19, 1:30PM at the Castro Theatre
Thirst: Two young friends from Tel Aviv embark on a physically and emotionally draining desert hike, and their relationship only get more intense and steamy from there.
F*ggot: A little queer boy creates a vivid fantasy life to cope with schoolyard bullying as he discovers the tragic reality of his uncle struggling with HIV in 1990s Mexico.
The Future Perfect: Zachary Quinto voices a futuristic presence in this minimalist sci-fi thriller that explores time travel as a way to turn a personal sacrifice into humanity's best hope for survival.
Showboy: After the loss of his mother, an Australian teenager begins skipping soccer practice and opts instead for the flashy catharsis of performing in drag.
Those People
Friday, June 19, 9:30PM at the Castro Theatre
Portrait of Dorian Gray meets Gossip Girl in Joey Kuhn's directorial debut about a young love triangle in luxe, modern-day Manhattan. Like any good erotic drama about society's upper crust, Those People serves up just enough scandal, intrigue and OMFG moments to keep us clutching our pearls. But it's in its treatment of characters, not caricatures, that gives the film a lasting impact beyond all that glitters.
Fun in Boy Shorts (collection of short films)
Saturday, June 20, 11AM at the Castro Theatre
Sunday, June 28, 1:30PM at the Castro Theatre
The Little Deputy: Family photos are always just a little bit awkward. At least be glad they're not this awkward. A man tries to recreate a family photo with his father in this short, eerie documentary that premiered at Sundance.
Open Relationship: A charming couple in Barcelona open up a can of worm when the suggestion of entering into an open relationship pops up.
Pipe Dream: Before getting it on with a female classmate, a high school geek wants to make sure his dick size is up to par. So who best to consult with in the male junk department than his two gay dads?
Pop-Up Porno: m4m: A Grindr hookup goes south in this animated pop-up book-style film that could very well serve as an illustrated primer to "top privilege."
Tab Hunter Confidential
Saturday, June 20, 4PM at the Castro Theatre
Dreamy-eyed actor and quintessential California golden boy Tab Hunter could very well be the original prototype for having heartthrobs take their shirts off as often as possible (we're looking at you, Zac Efron). But as Hunter's fame skyrocketed, so did the movie industry's determination to shield his homosexuality from the public. In this new documentary that first premiered at SXSW, Hunter -- 83, still handsome and gleefully retired -- recounts his secret life as a closeted 1950s Hollywood heartthrob.
Do I Sound Gay?
Sunday, June 21, 1:30PM at the Castro Theatre
David Sedaris, Tim Gunn, Dan Savage and George Takei open up about their "fagcent." Where does it come from? Why do we have it? Did we learn it from Truman Capote? Or from watching Mean Girls? Why does it only come out when we find out that J.Crew is having a sale? Can the sound of our voice prevent us from being happy or finding love? This cheeky documentary explores what it means to sound gay.
That's Not Us
Sunday, June 21, 6:30PM at the Castro Theatre
This is what happens when three New York couples of all sexual orientations stay at a beach house and drink lots of whiskey: lots and lots of emotional outpourings. That's Not Us allowed the actors playing the couples to improvise most of the dialogue to create an honest and compelling portrayal of modern relationships.
Seed Money: The Chuck Holmes Story
Sunday, June 21, 9:15PM at the Castro Theatre
Chuck Holmes founded Falcon Studios, the adult film empire that brought oiled-up sex fantasies with bronzed gods right to your VHS, and in the process helped alleviate the sexual frustrations of an entire gay generation. But Holmes is not only known for his contributions to the gay porno industry. The money he made from our obsession with hairless pecs and bubble butts, Holmes donated a lot of it to help propel the nascent gay rights movement. Holmes helped start the HRC and the SF LGBT Center is named after him, for god's sake. In this documentary, filmmaker Michael Stabile sheds light on how hypocritical the gay brass were towards Holmes, accepting his kind monetary contributions but also giving him the stink-eye because of his smut work.
Fassbinder - To Love Without Demands
Tuesday, June 23, 4:00 PM at the Castro Theatre
Rainer Werner Fassbinder was a fearless filmmaker, not only because he was openly gay in the 60s and 70s, but because his films were explicitly intended to push boundaries and tastefully expose the audience to taboos. This documentary paints a portrayal of the passionate but flawed and obsessive artist, and Fassbinder's homoerotic tour de force, Querelle, is also playing at Frameline (read below).
Querelle
Wednesday, June 24, 1PM at the Castro Theatre
There's homoeroticism in cinema. And then there's Querelle: Fassbinder's rapturous 1982 film where even the buildings have erect cocks. A bad boy arrives in a French port town topped to the rim with lustful seamen and learns that the only way to get rid of temptation is to succumb to it.
The Amina Profile
Wednesday, June 24, 4PM at the Castro Theatre
Do you like your modern-day love story with just a dash of cyber intrigue? This captivating documentary recounts a lesbian Catfish situation that happened during the Arab Spring. Be prepared to have your mind-blown. If not by the crazy twisted story, then by the awesome soundtrack.
Peter de Rome: Grandfather of Gay Porn
Thursday, June 25, 9:30PM at the Victoria Theatre
If Chuck Holmes was the father of fuck-fests, Peter de Rome was the granddaddy. Decades before sex tapes, webcams and sexting, Peter, a curious French voyeur, recorded the sexual exploits of his friends using a Super8 camera. In the early 60s, Peter then started hosting private screenings of his sex film at house parties. This documentary includes archival footage (some soft-core, some very NSFW) of Peter's best films and catches up with filmmaker, still playful at 90 before his death this year, as he discusses hanging out with early admirers like William S. Burroughs and Andy Warhol.
54: The Director's Cut
Friday, June 26, 9PM at the Castro Theatre
You think you've seen 54, the late 90s studio-sanitized take on the infamous nightclub? You haven't seen nothing yet. In this director's cut, 36 minutes of previously unseen footage has been restored to give audiences a far more realistic (and edgy) depiction of the debaucherous times: cocaine, Quaaludes and gay sex included.
Larry Kramer in Love and Anger (HBO documentary premiere)
Sunday, June 27, 3:30PM at the Castro Theatre
After the critical acclaim for The Normal Heart, HBO is releasing a new documentary on Larry Kramer, the co-founder of Gay Men's Health Crisis and ACT UP. Kramer wrote the original, fiery Normal Heart play based largely on his life around the outbreak of the AIDS epidemic in New York City. Larry Kramer in Love and Anger will premiere on HBO on Tuesday, June 29 at 9pm, but San Francisco cinephiles will get to watch it before anyone else during the advanced Frameline screening.
Bare (Closing Night Feature)
Sunday, June 28, 7PM at the Castro Theatre
Meet Sarah (Dianna Agron), a small town Reno girl urging to break free, and Pepper (Paz de la Huerta), a wild child who likes breaking all the rules. Together these women embark on a joyride punctuated by strobe lights, stripper joints, psychedelic drugs and female mindfucks in this feature film that just premiered at the Tribeca film festival last April.
Popular in the Community