Traveling to Cuba is a humanitarian and educational experience... a mission trip. Probably a painful expedition, especially for a Cuban exile like me.
I am extremely blessed to have been able to travel back to my homeland after many years. The profound emotions that I felt with my origin, family and identity will be addressed in another blog so stay tuned.
However, on this 7-day trip, I traveled with my Beau. He is from North Carolina. We flew direct from Miami to Havana, rented a car and visited Havana, Sancti Spiritus, Trinidad and Varadero. Because of his love, empathy, compassion and sense of humor, I wanted to share some travel tips that only a "gringo amigo" (as some called him in Cuba) could provide.
1. You do not need to arrive at the airport 4 hours prior to departure as instructed. Two hours are fine. Your seats are pre-assigned without your consent. Anything over 10lbs must be checked and the combined maximum weight per person was 50lbs. You can carry more but expect to pay $20 for each additional bag plus $2.00 per the total amount of pounds.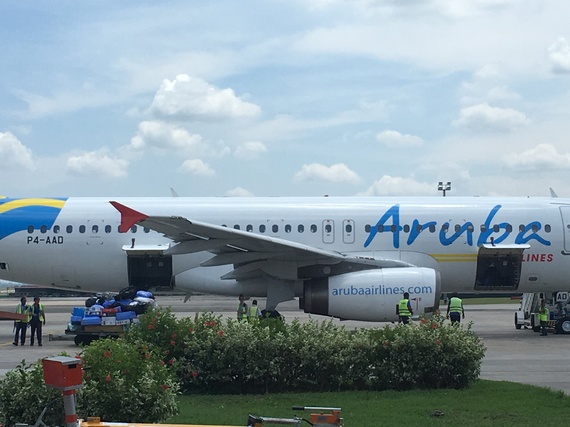 2. You leave Miami in the oldest part of the terminal and arrive in Havana (45 minutes later) in an even an older terminal without air conditioning. The wait time for our luggage was 2 ½ hours. Be patient... one will wonder if we should have been prepped for the journey or if we've been punished for making it.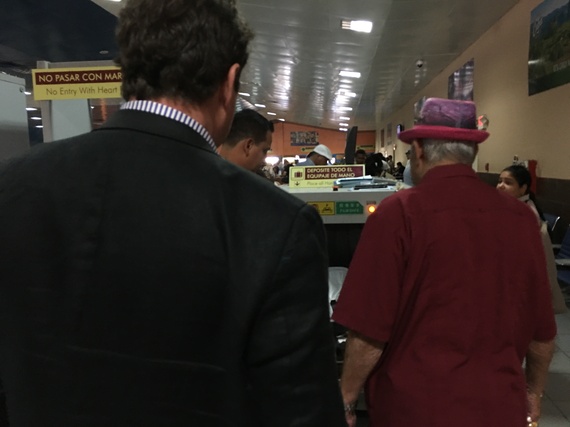 3. If you are bringing more than two electronic devices per person be ready to fill out papers at the airport. You are allowed to have a phone and a tablet or a laptop. If you have more, you will need to return with those items or be prepared to pay for the cost of the items left.
4. Exchange rates ranging from 87 CUC (Cuban currency) to 90 CUC per every dollar. For example, if you exchange $1000 you lose between $100 and $130. Since US debit and credit cards do not work...budget and plan your expenditures wisely.
5. Most bathrooms are paperless. They have bathroom attendants who "hold the roll" and sell sheets of toilet paper. The size or amount of toilet paper depends on your tip. Tip size = Number 1 or Number 2.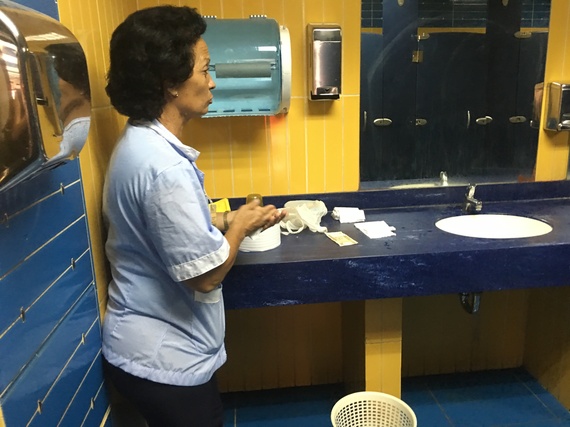 6. Car rental was easy (except for all paperwork that is done by hand- including hotel check in) but driving in Cuba and finding gasoline was a challenge. Flats and/or damages to the wheels are at your expense. Driving was difficult because of the pot holes, horses pulling carts (taxis), motorcycles with side cars (taxis), cows, goats and lack of road signs. Oh....and forget about navigation/Google Maps there is no internet. When lost... people were friendly and provided directions, but take a poll because it seems that Cubans would rather send you somewhere else than tell you they do not know. No road signs but many political banners with communist slogans.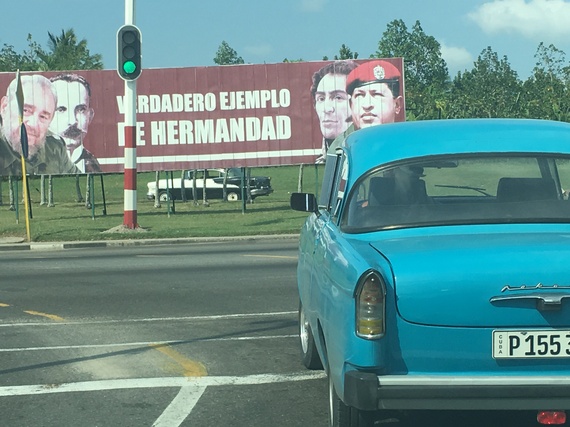 7. Good Luck with finding a Coca Cola or ice cream, especially outside of Havana, but pretty much everywhere you can buy postcards and posters of Fidel Castro playing baseball or Che Guevara playing golf.
8. A lot of the ladies wore "fishnet" stockings! According to Cubans, this garment symbolizes a certain professionalism of "work ethics", not an intentional sexual provocation. It seems strange to wear in such hot weather. Leave your long pants and long sleeves at home but pack plenty of shorts, t-shirts and baby powder. The hot weather could keep you in a permanent stage of sweating profusely, thus making you constantly sticky.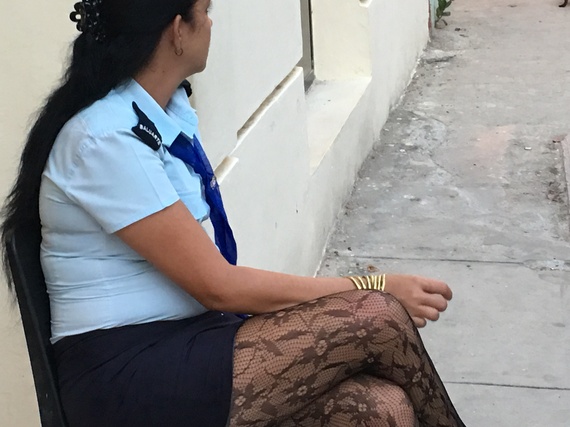 9. There is "Cohiba Profiling". You will be approached by many selling cigars.
10. Don't expect 5 star hotels even if they are advertised as one. A 5 is really a 3 or 3.5. And do not be surprised if they are out of hot water.
11. Major tourist attractions such as La Bodeguita del Medio and Floridita are the best places for Mojitos and Daiquiris in Havana. Both places have live bands with talented musicians who are eager to sell their CD's. Be ready to sweat (AGAIN) if you eat in La Bodeguita.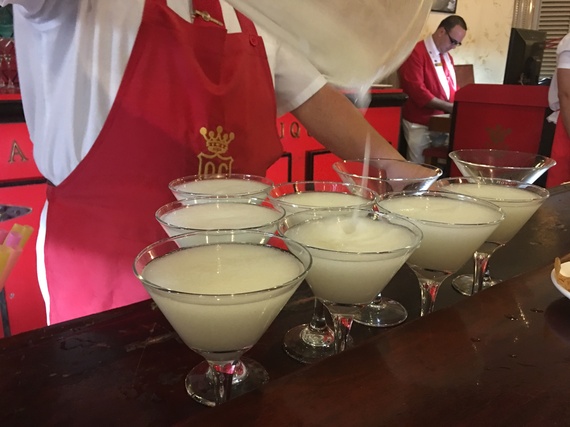 12. Always have some change in your pocket for tips. Wages are low and in Cuban pesos. You have to tip in CUC. I felt uncomfortable leaving such small amounts. $1 (CUC) tip is a fortune. The average salary is the equivalent of 10 (CUC) per month.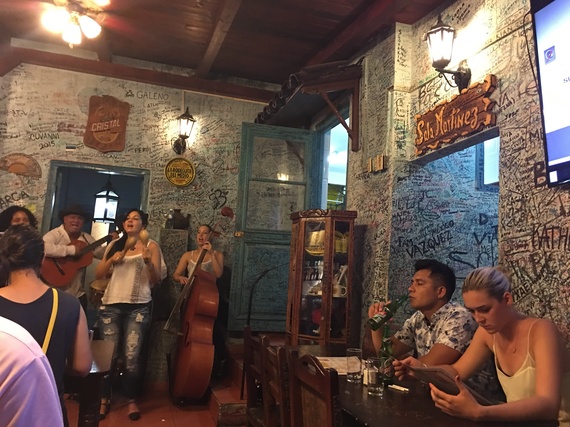 13. Trinidad and Varadero have been overtaken by the all-inclusiveness resorts. Thank goodness for the Dupont House in Varadero. This allowed us to escape the hungry crowd of tourists fighting for low quality buffets and beverages. Most tourists come from Argentina, Canada and Germany. They purchase inexpensive travel packages in their countries: 10 days in Cuba for $800!.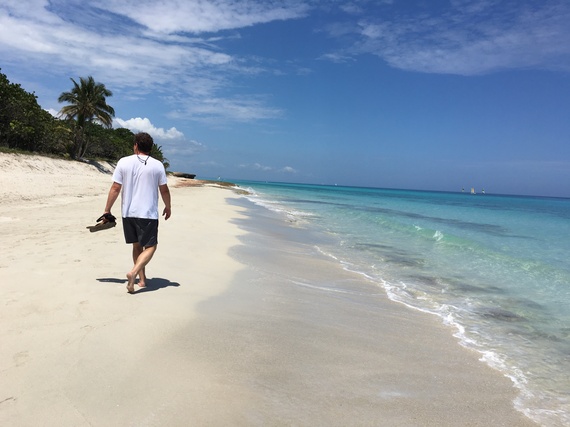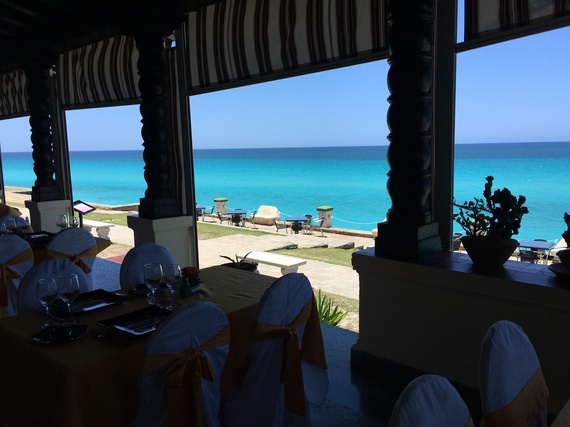 14. Paladares restaurants (family-run businesses) are the best option if you are looking for homemade Cuban food. They appear to be giving the government-run restaurants some much needed competition.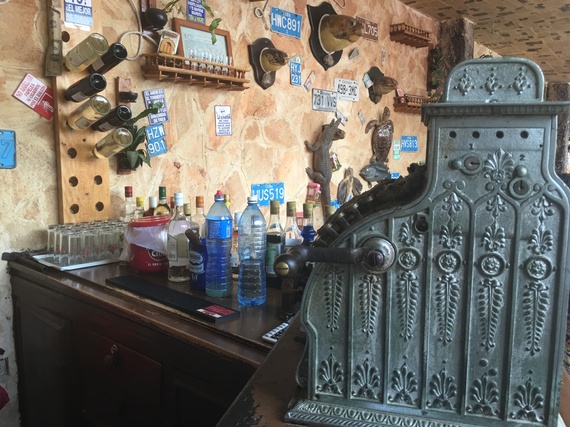 15. If you really want to know Cuba, you should explore beyond Havana, vintage cars, hotels and Cuban cigars. The country is a place of painful contrasts. People are always struggling to cover their most basic needs. People are tired of a political system that clearly shows that does not work, most Cubans will strongly agree.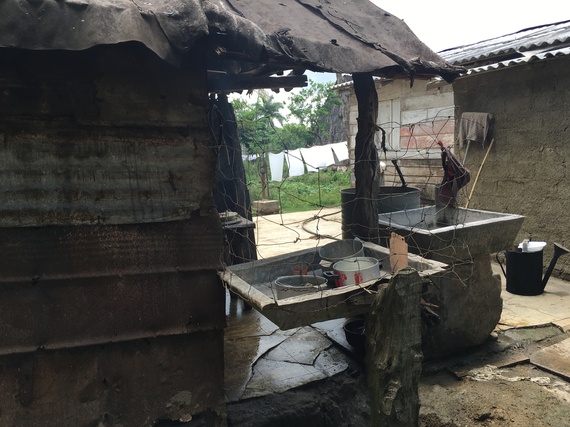 16. If traveling to Cuba soon, consider extending an invitation to senator Bernie Sanders to join you and see how Socialism is "working".
I would love to return... but not for the cars or the architecture or the Caribbean waters...but for the people. Cuba's greatest treasures are the people. Even though they have few earthly things, you can see them always smiling. They have strong big hearts for their families. I have been humbled.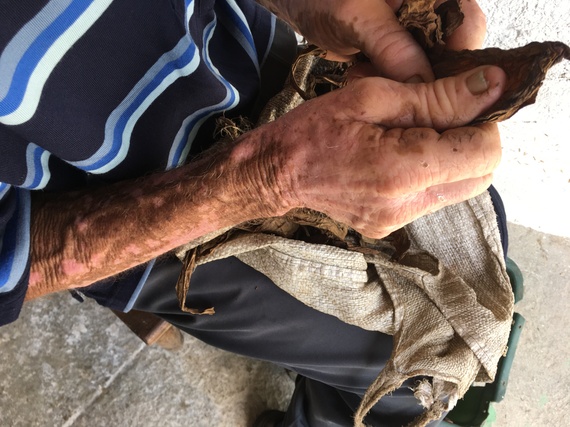 Related