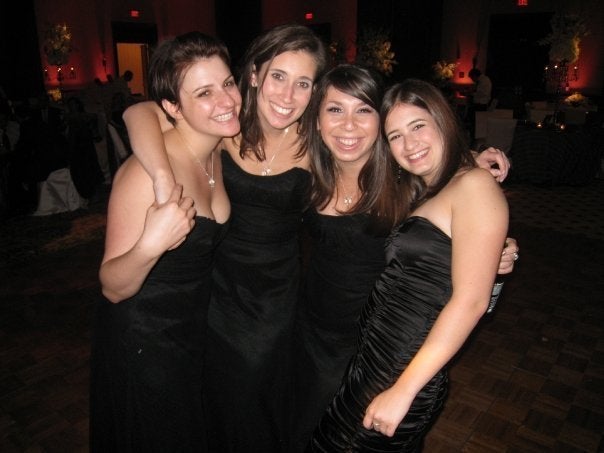 I have a lot of friends. It always feels like bragging when I say that, like I'm suggesting I could be the inspiration for a Little Miss Popular book or something, but I'm not sure how else to phrase it. I've remained close with the friends I grew up with in Houston, and I've met new people through college in Chicago and post-college life in New York. And it's all added up to quite a large group.
What this means is that I've put many of my vacation days toward bridal showers and bachelorette parties and rehearsal dinners and weddings. I've flown to Minneapolis, Dallas and Cincinnati, taken the train to Boston and rode in the passenger seat to Wilmington, Del. I've had to decline a few invitations when the trip just wasn't feasible, but for the most part, I've tried to be there for my friends' celebrations. My wedding count is now at 21, and I have several more already on my calendar, including my own.
Here's what I have learned:
1. The wedding is about the couple, but it's not only about the couple. Maybe you could make the case that when people elope or have a totally private ceremony, it really is just about the two of them. But assuming there are others in attendance, the wedding is a big deal for family and friends who are like family too. Remember that a marriage joins two lives, not just two people.
2. Wedding websites are not just vanity projects. Yes, you have to put pictures of yourself and your future spouse online, often accompanied by your charming "how we met" and proposal stories, but it's not just about broadcasting your happiness to the world. Having all the relevant information (registry, hotel and transportation, area attractions) in the same place is extremely helpful for guests. I'm now disappointed when a couple doesn't create one of these sites.
3. You can pull together a beautiful wedding pretty quickly if you want to. One of my friends got engaged in November and tied the knot in March. There was no need for a prolonged engagement. She and her now-husband were ready to get married, so they got married. And their wedding was just as gorgeous and fun as weddings I've been to that took double the time to plan.
4. Bridesmaids probably won't wear their dresses again, even if the bride assures them that they'll be able to. The chances of the dress being something they would have picked out on their own are pretty slim, but that's OK. The bridesmaids agreed to be in the wedding party because of their relationship with the bride, so for the most part, they'll wear whatever she asks them to. It's just part of the deal.
5. Plus-ones should be given more liberally as you get older. It's understandable that you don't want your single friends scrambling to find someone, only to bring a random date you've never met. But guests in relatively new relationships shouldn't be subject to the same strict "How long have you been together?" test that they might have been just after college. First of all, you probably have fewer people in this situation now than you would have in the past, as many of your friends have already paired off. But beyond that, a six-month relationship at 29 is typically much more serious than a six-month relationship at 22. The rules should change accordingly.
6. Just because an item is on the registry doesn't mean it's a great gift. Sure, the couple might use a laundry hamper or flatware polish, but is that really what you want to give a close friend on this special occasion? Do you really want to be the one to say congratulations with a corn husker? Leave that to someone who doesn't know them as well or let the newlyweds buy it with the credit they get from returns. Choose a silver picture frame or porcelain vase instead.
7. It's not selfish or rude to plan a wedding over a holiday weekend. I realize this one is controversial, as a lot of people like to arrange their own trips over Memorial Day, Labor Day, etc. But my feeling has always been that if you're close enough to be invited to a person's wedding (and aren't going just out of obligation), this shouldn't be such a burden. If the wedding involves any travel at all, you're probably going to have to take off a Monday or a Friday to be there anyway, so it's really just a matter of using that vacation day for personal reasons instead and devoting your holiday to the wedding.
8. Black tie doesn't necessarily mean ball gown. This is a wedding, not the Academy Awards. So while it's smart to ask around to see if the hosts have any expectations or preferences, I've definitely worn short dresses to very formal weddings and haven't been out of place.
9. Out-of-towners always appreciate a good hospitality bag. It's such a treat to arrive at the hotel and have the person at the front desk present you with a gift. Because, in addition to the weekend schedule (which is essential), you know you're about to get chocolate chip cookies. Or M&M's. Or caramel corn. Or pretzels. Or some regional treat. Or all of the above. The best bags, I've found, have a combination of sweet and salty and at least one bottle of water. The water comes in especially handy when you get back from the reception and don't want to open the $8 Evian.
10. You will never regret having tissues in your purse. It doesn't matter if the bride and groom are my best friends or if they're my fiance's friends and I've met them only once. I will most likely tear up. Recently, at a wedding in Boston, I told my fiance I just had the sniffles. I was lying.
11. Your friend's spouse-to-be doesn't have to be someone you would want to marry. Perhaps you don't agree with the groom's political beliefs or don't find his jokes that funny or aren't attracted to him. Well, that's fine, because you're not marrying him. As long as he loves your friend and they have a strong connection, just be happy for them.
12. Little kids in formal attire are incredibly adorable. They may get nervous walking down the aisle. They may get fussy or talkative during the ceremony. And they may get tired (or wired) by the end of the night. But, on the other hand, toddler tuxes!
13. There's really no need for a signature drink. Your guests will be happy with wine, champagne, vodka or some other basic beverage and likely prefer these drinks to a fruity concoction with a whimsical name. Focus more on making the food stand out. I still have fond memories of the lobster-taco appetizers at one wedding and the macaroni and cheese bar at another.
14. Photo slideshows are risky. Proceed with caution. It's sweet to see your friends as babies and with their families and with each other and with each other's families, but these presentations can get overly long. Also, there's the potential for a projector malfunction. This isn't to say don't put them together. Just keep your audience in mind if you do.
15. The bouquet toss is kind of an uncomfortable tradition. Even when I was single, I chose that time to go to the bathroom, especially as the group of eligible women started to dwindle. Or I would stand off to the side in the back of the group and let my less shy friends go after the flowers. There are few things in life that aren't made better with Beyonce, but even "Single Ladies" doesn't improve this particular situation. In fact, it always signaled to me that it was time to hide.
16. It's really nice to hear the bride and groom express how they feel about each other. Not everyone recites personal vows at the ceremony. But in addition to toasts from the best man and maid of honor and friends and family, I want a few words from the couple. I want to hear the groom say how stunning his bride looks and how sweet she is with his grandpa. I want to hear the bride talk about the groom's good heart and how he calms her down when she's feeling anxious. And cliches completely get a pass: No one is going to judge the newlyweds for saying they feel like the "luckiest people in the world."
17. The grown-ups like to party just as much as the kids. Many of the weddings I've attended have been for close family friends, so my parents and their friends have been invited as well. I've found that it's often my dad's friends who are rounding up a group for tequila shots. Plus, when "Firework" comes on, my first thought is not to find friends my age, but to jump up and down with one of my dad's best friends who happens to be a big Katy Perry fan.
18. A variety of appetizers is more important than a variety of desserts. No one is going to be all "Ugh, macarons" if you decide to end the evening on an extra-sweet note, but as long as you have a really awesome cake, you're good. While everyone is mingling during the cocktail hour and hungry for the main course, however, they're going to be excited to have options.
19. "Don't Stop Believin'" by Journey is the magical song that gets people on the dance floor. If you're inclined to avoid it because you worry that everyone plays it, consider that maybe there's a reason. The band played this at the end of a friend's wedding in 2008, and I still associate the song with that night. This might be because I had friends who hopped up on stage -- emboldened by more than just the lyrics -- but I think the familiarity of the song also encourages guests to gather and sing to one another.
20. Sometimes it's worth sacrificing a little sleep to extend the festivities after the reception. Honestly, I usually just want to crash after the send-off, and I'm not the type to seek out a wild after-party. But I'm thinking of the night I sat in the lobby of a Chicago hotel eating pizza with one of my best friends and two of her friends I didn't know quite as well. We'd all spent hours on the dance floor, but the impromptu get-together that followed made the weekend even better.
21. It's wonderful to have a good wedding, but it's more important to have a good marriage. Despite the effort that goes into making everything perfect, the wedding is still just one night. Ultimately, it's not about the food or the flowers or the music or the dress. It's about the relationship between the two people you've come together to celebrate.
This story appears in Issue 44 of our weekly iPad magazine, Huffington, in the iTunes App store, available Friday, April 12.