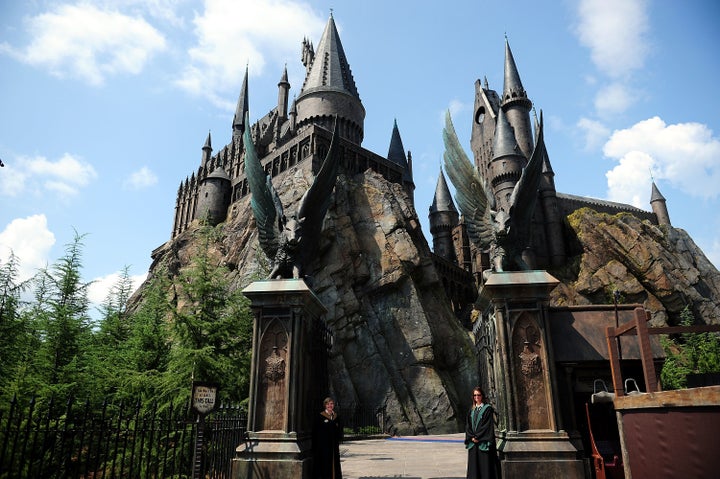 Visiting the Wizarding World Of Harry Potter at Universal Orlando is a bucket-list item for Harry Potter fans eager to see the *magical* details of the rides, restaurants, shops and other attractions.
There's plenty to see in both Diagon Alley and Hogsmeade, which are in two different parks (so your first tip is really this: The Park-to-Park ticket is a must). With so much to take in, you'll want to pull a Hermione and do your homework before you go.
This list of tips focuses on the Wizarding World Of Harry Potter in Florida, but a lot of this advice also applies to the smaller Universal Studios Hollywood and Universal Studios Japan locations.
The Earlier, The Better
The Harry Potter sections of Universal Orlando tend to get crowded, so it's best to arrive as early as possible to check out the attractions and take in the streets before they're jam-packed.
Rides First
Wait times for certain Wizarding World of Harry Potter rides can reach multiple hours at peak times, so head straight for the big rides like Harry Potter and the Forbidden Journey and Harry Potter and the Escape from Gringotts as soon as you get to the park.
Butterbeer Comes In Many Forms
If you're a fan of this cream soda-esque drink, you can try it in regular cold form, as well as frozen and hot. There's also Butterbeer soft serve at Florean Fortescue's Ice-Cream Parlour, Butterbeer fudge at Honeydukes and Sugarplum's sweet shops and Butterbeer potted cream at The Leaky Cauldron and Three Broomsticks dining halls.
Try The Other Drinks
But Don't Buy A 'Gillywater'
Bottled "Gillywater" is available throughout the park. Despite its fun, themed name, it's just regular bottled water that costs more than $4 a pop. You can add some flavor (and double the cost) by throwing in one of the magical "elixirs" like Fire Protection Potion and Draught of Peace, but you really should just bring your own reusable bottle and take advantage of the park's free water fountains.
The Train Offers Different Experiences For Each Direction
The Hogwarts Express train ride connects Diagon Alley and Hogsmeade, which are in Universal's Islands of Adventure and Universal Studios Florida, respectively. Plan to ride the train both ways, as each direction offers different experiences drawn from the Harry Potter universe.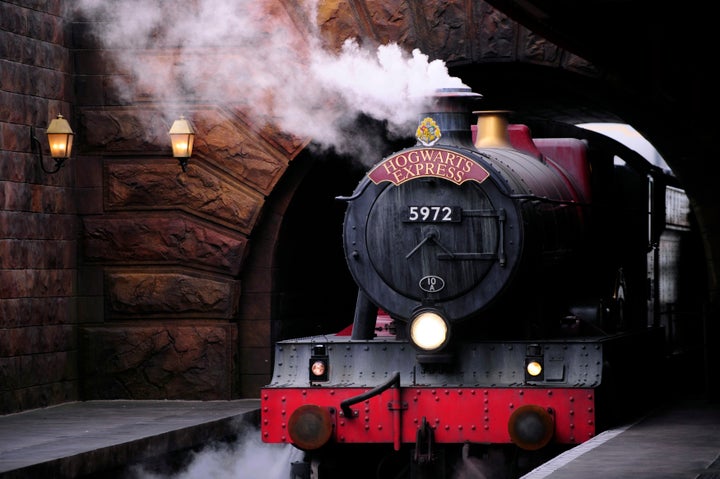 Express Passes Work Now
Until July 2017, Universal Express Passes weren't valid for Harry Potter and the Escape from Gringotts, Harry Potter and the Forbidden Journey or the Hogwarts Express. But those rides are included in the deal now, so it could be worth it for you to shell out extra money to avoid long lines. The Universal Express Pass (which allows you to take the shorter line once per ride) and Universal Express Unlimited Pass (which lets do it an unlimited number of times) vary in cost depending on when you visit and the number of parks and days included.
The Single Rider Line Is Your Friend
If you choose to forgo the Universal Express Pass and eschew the early arrival recommendation, there's another way to avoid long wait times: the single rider line. The single rider line is a great option if you're comfortable potentially separating from your park companions for the duration of the ride. That said, it might be worth waiting in the regular line for attractions like the Forbidden Journey to get the full castle experience the first time ― and then going single rider for repeat rides. The Child Swap system is also clutch for parents with little kiddos.
The Forbidden Journey Has A Reputation
If you're prone to motion sickness, you may want to skip The Forbidden Journey ― or at least prepare for it accordingly. The ride has a "reputation for retching."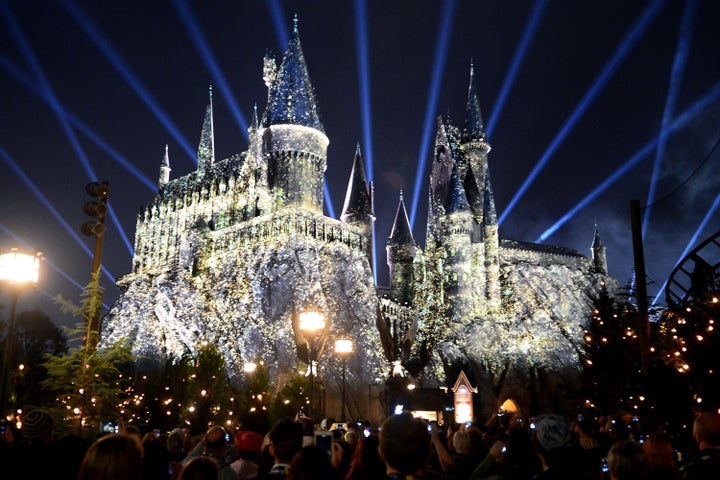 You Can Take A Castle Tour
If you don't want to ride Harry Potter and the Forbidden Journey, you can simply tour the castle. Just let a staff member handling the queue know what you'd like to do, and they'll direct you.
Wands Are Not Cheap
Ollivanders is one of the more exciting shops for Potter fans to visit. But be warned: A a regular wand costs $44, and an interactive wand, which allows you to "cast spells" around the park, is $50. If you do decide to spring for the interactive wand, know that there are a number of hidden spell locations throughout the Wizarding World of Harry Potter, in addition to the official ones marked on maps.
Moaning Myrtle Haunts The Bathrooms
Don't be alarmed if you hear a high-pitched voice when you go to heed nature's call. Audio of the ghost Moaning Myrtle plays in the bathrooms.
There Are Performances Throughout The Day
Check the event schedule if you're interested in seeing performances like Celestina Warbeck and the Banshees, the Triwizard Spirit Rally, the Frog Choir or The Tales of Beedle the Bard. There's also The Nighttime Lights at Hogwarts Castle show on select evenings and a number of seasonal events.
The Lunch Lines Are No Joke
Lines at the dining facilities understandably get longer around the middle of the day, so try to eat at an irregular hour if you're trying to cut down on wait times.
The Hippogriff Ride Is Not A Must-Do
If you have to skip a ride, make it the Flight of the Hippogriff. Unless you're traveling with small children, this family-friendly roller coaster is not worth the wait and can be a bit of a letdown.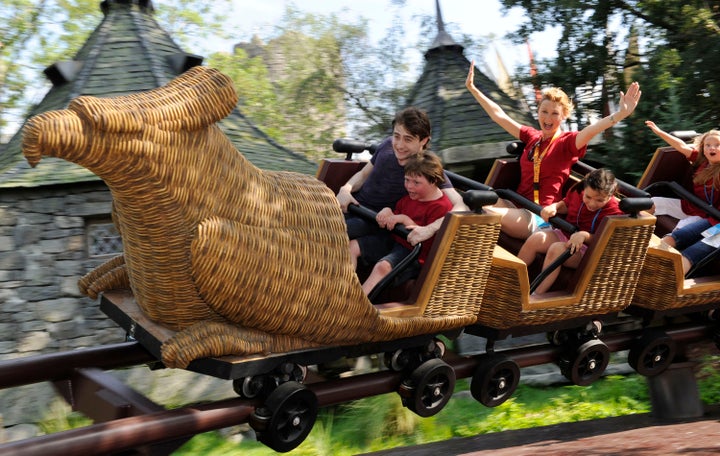 Gringotts Does Special Currency Exchanges
If you want to immerse yourself even more fully in the Harry Potter universe, you can exchange your U.S. money for Gringotts bank notes in $10 and $20 denominations. These bank notes are valid for purchases in Diagon Alley and Hogsmeade shops and restaurants, and you can swap them back for U.S. currency at the end of your visit.
You Can Send A Postcard
If you visit Owl Post, you can send your loved ones a postcard featuring a special Hogsmeade postmark. It sells Harry Potter-themed stamps, or you can save money by bringing your own.
Fizzing Whizzbees Are A Real Treat
Candy preferences are subjective, of course, but the Fizzing Whizzbees are one of the more exciting and delicious options at the Harry Potter sweet shops. They're a combination of chocolate, fruit flavor and a Pop Rocks-esque ingredient that creates a fun effect in your mouth. The Exploding Bon Bons also include "popping candy."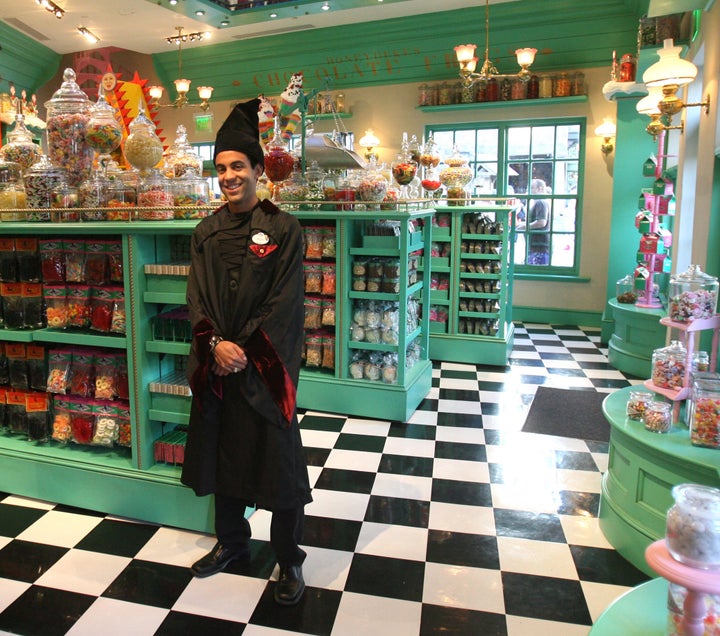 Buy Your Costume Beforehand
Getting the chance to dress up like your favorite magical character is undoubtedly one of the draws of the park. But consider buying costumes online before you get to the park, as the merchandise sold in its shops can really drain your wallet.
You Can Call The Ministry of Magic
If you go to the phone booth outside King's Cross Station and dial 62442 (MAGIC), you'll be connected to the Ministry of Magic.
It's All About The Details