Getting organized can seem like an insurmountable task, especially if you have lived in your home for years. "Stuff" seems to accumulate overnight and clutter creeps in right before our eyes.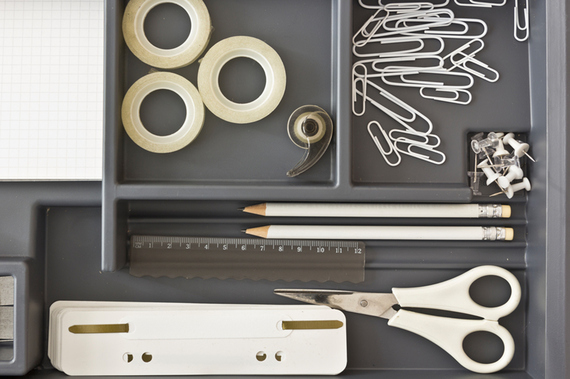 Rather than renting a storage unit, moving to a bigger house, or suffering through the disorganized chaos, try implementing some of the tricks that organized people use to keep clutter at bay. Your space will feel fresh and clean, almost like a brand-new home.
1. Whether it's the bureau in your bedroom or the desk in your home office, dedicate each drawer to storing one type of item and partition each drawer for maximum organization. (Old bank check boxes and shoe boxes make for affordable drawer partitions.)
2. Double up and attach brackets to the top and bottom of wall shelves. Or if your shelf can support the weight, hang it upside down. The brackets function as built in dividers.
3. Streamline your closets and choose one brand and style of hanger; they will hang against one another with less wasted space. Say goodbye to the crazy wire hanger mess!
4. Rather than folding and stacking clothes in the traditional way, try the fold and roll. More items will fit in a drawer, and you can instantly see each one, making clothes selection painless, especially for the little ones.
5. Instead of leaving the bottom half of your closet with a ton of dead space, consider inserting a second closet rod so you can hang shirts on top and skirts and pants on the bottom.
6. Toys make bath time more fun, but they can really clutter up your space. Hang a mesh laundry bag on a tile wall in the bathroom and fill it with all those rubber duckies.
7. Use a silverware organizer to keep toothbrushes, floss, toothpaste, and other daily items in one spot, especially if your vanity has drawers.
8. Use your time more efficiently and load your dishwasher in an organized way that lines up with where items live in your cupboards. Stack all plates, bowls, and glasses together. Also load all the silverware in the same place in the utensil rack -- forks in one container, knives in another. Then all you have to do is grab a handful and put them away.
9. Tired of digging through your pantry for one ingredient? Organize your food pantry with items grouped by category. Double the storage space in your pantry with an over-the-door shoe or accessories organizer; fill the see-through pockets with accessible snack items.
10. Declutter counters by mounting a magnetic board on a wall for random reminders, receipts, and lists.
General Home Organization.
11. Take care of unsightly electrical cords with zip ties or flexible tubes that bundle them for a streamlined look. Paper towel and toilet paper tubes are great for organizing a drawer full of miscellaneous cords; wind the cord through the center of the tube, securing the end in a notch cut into the cardboard.
12. Dedicate a specific location for mail. For example, set up a shelf or a basket by the front door to hold all incoming mail plus a pen, stamps, and envelopes. Sit down at set intervals each month with the basket and go through everything that has come in over the previous few weeks. Don't leave anything for a "later" pile; deal with it now.
For more tips on how to become an expert home organizer, check out the full story on Trulia's blog.