"You're the meaning of my life
You're the inspiration"
-Chicago
Elizabeth Whitt, a communications major at Eastern Kentucky University from Richmond, Kentucky, has the maturity of a 40-year-old in the body of a woman who just turned 21. It's a 175 pounds thinner body than the same that she had at age 19, when she made the decision to have gastric sleeve weight loss surgery and focus on her health.
I am writing a book called Project 199: My Business Plan to Lose 175 Pounds based on my recent gastric sleeve surgery and my plan to move from my initial weight of 377 pounds to weighing 199. (That is actually 178 pounds, but we based the title on my wedding day in 2012 when I weighed 374.)
I did my surgery on December 1 of last year and have lost nearly 70 pounds in the three months since then.
Elizabeth did not need me, or my book. She figured out how to get to her goal weight with a business plan that she created herself.
"Did this meeting of our minds together
Happen just today, somewhere"
-Chicago
Outside of our shared love for Eastern Kentucky University, Elizabeth and I came at the decision to do the gastric sleeve surgery from very different perspectives.
She was 19 years old when she did her surgery and I was age 55. She is a single woman and I am a married grandfather. I was faced with a number of middle age, life-threatening, weight-related ailments like diabetes and high blood pressure.
Weight loss surgery was my last chance to avoid a very early death. Elizabeth recently celebrated her 21st birthday. As an Eagle's song notes, no one thinks about death at age 21. At least not enough to undertake major, life-changing surgery.
Our study and research brought us to similar conclusions. We chose different hospitals and different programs, but both of us chose the same surgery and the same surgeon, Dr. Derek Weiss at Bluegrass Bariatric in Lexington, Kentucky, to operate on us.
I had researched the idea of weight loss surgery for years and my primary obstacle had been insurance coverage. The plans offered to small businesses in Kentucky do not pay for weight loss surgery, but even further, they don't pay for any COMPLICATIONS from surgery. If I had a heart attack during surgery, I would have been out hundreds of thousands of dollars with no coverage.
I was a desperate man and my body was falling apart, but what got me into surgery was being able to purchase coverage for the surgery from a company called BLIS, based in Oregon.
BLIS played into Elizabeth's decision making. At the time I did my surgery, only three doctors in Kentucky offered BLIS and Dr. Weiss was one of them. Like me, Elizabeth connected with Dr. Weiss personally and professionally and speaks highly of him.
Since she is 175 pounds lighter than when she started, and I am working to get to that same number, it's hard to argue with the decision.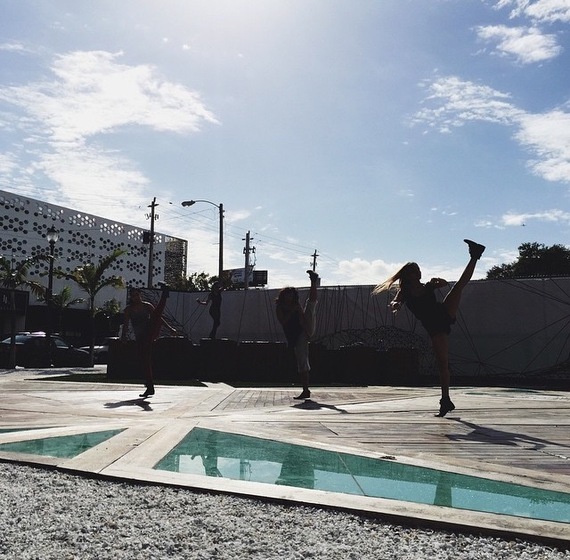 "Tell me you will stay
Make me smile"
-Chicago
Elizabeth's father, public relations guru Marc Whitt, has been a friend of mine since college and I followed Elizabeth's journey on social media as I was contemplating my own surgery.
I thought her 175 weight loss was a great story, but I had a selfish motive to want to interview her. I needed her help.
I have terrific access to medical professionals and experts, but I really needed to talk to someone who had walked the walk. I had a lot of questions that needed answers and gastric sleeve is different from gastric bypass, lap band and other types of weight loss surgeries.
I've talked to nearly 100 people who have done other surgeries. In my career as a wealth transition and structured settlement expert, I've talked to the families of several people who died while having the surgery. (None of the people who died were patients of Dr. Weiss. I checked carefully and it turns out that Elizabeth checked Derek out carefully, too.) I followed the online boards and services like BaratricPal.com and know enough about weight loss surgery to talk about it with anyone.
However, Elizabeth was the first person I had met who had the gastric sleeve, like I had.
My guide was less than my half my age, but I could not have picked a better advisor.
You can tell Elizabeth was the daughter of a public relations wizard by the way she prepared for our interview.
The confident, level-headed, but empathetic communications major at Eastern Kentucky University showed up promptly for our meeting armed with tons of data. That included a month to month printout of how much weight she lost, an essay she had written about the experience, before and after pictures, was dressed appropriately (I suggested that both of us wear the school colors of our alma mater) and she had a photographer nearby (her father) to make sure we had a professional picture.
She could have been doing the media planning for a presidential news conference. Or running for President herself.
Her excellent interview preparation skills are a byproduct of her education and upbringing and her goal is a noble one. Fame is not the motivation. Giving back and educating is. She wants to inspire others to follow in her footsteps.
She understands that her achievement is unique, but that Dr. Weiss and the gastric sleeve surgery gave her the tools to make a near miracle happen.
Although we had the same surgeon, Elizabeth and I went to different hospitals and programs for our surgeries. Her hospital recently filmed a video with Dr. Weiss that they will be using for education and marketing. Elizabeth also gave me permission to talk to Dr. Weiss about her success.
Derek told me that doing weight loss surgery on a teenager had been rare before the gastric sleeve became more common as the risk of complications is lower than other surgeries. Derek gives credit to Elizabeth for following the steps for her "exceptional" weight loss and said that "LSG (gastric sleeve surgery) is a tool. It limits the amount you can eat very successfully. But I think all LSG patients who succeed can take most of the credit themselves; they chose what to eat (and drink) and how much to exercise. The average LSG patient can expect to lose about 70 percent of their excess body weight (EBW) in about a year."
Elizabeth is a really unique model for me. She lost the exact amount that I want to lose in roughly the same time frame that I want to lose it in. She started at a lower weight and got to her absolute ideal.
I needed to know how she did it.

I had a bunch of questions. Some for the article and some for myself. She spent three hours answering them and followed up several times via email to answer more questions and give me advice.
"Sometimes I wonder
Where I've been
Who I am, do I fit in?
Make-believing is hard alone
Out here, on my own"
-Lesley Gore and Michael Gore (from the movie Fame)
Weight loss surgery did not change Elizabeth's character or personality; it allowed her body shape and overall health to be different.
Michael and Debi Benson, the president and first spouse at Eastern Kentucky University, trust Elizabeth as the babysitter for their three small children.
I also got to know the president of Eastern Kentucky University, JC Powell, 35 years ago when I was an EKU student. Because I was frequently stirring up trouble and his staff was often yelling at me.
I was active in student government and had a column in the campus newspaper. I pushed controversial ideas that drove President Powell crazy.
He didn't want to spend any more time with me than he had to and was never going to have me on his payroll.
It is the opposite with Elizabeth.
President Benson said, "Debi and I are very grateful for Elizabeth and have marveled at her physical transformation. This change has allowed her inner beauty, which has always been radiant and contagious, to shine through even more. As a family, we value a great deal the friendship we have with Elizabeth and very much appreciate the bond she has developed with our children."
Elizabeth and I discussed how having the surgery has allowed her to be more energetic and active, but as President Benson said, her inner beauty had been there for a long time.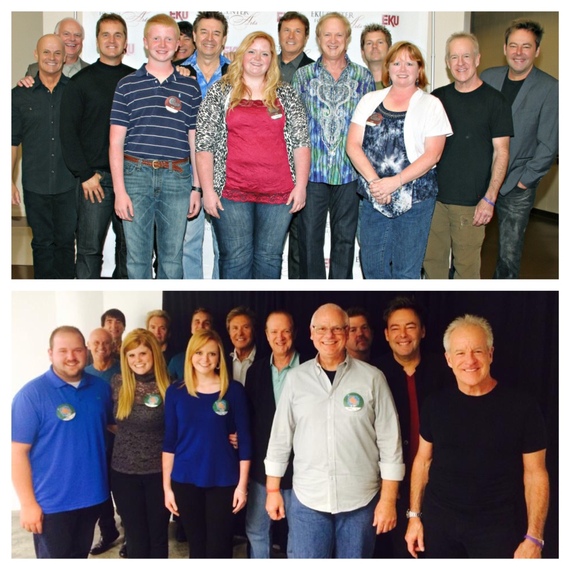 "And knowing that you would have wanted it this way
I do believe I'm feeling stronger every day"
-Chicago
There were two questions that I had to ask Elizabeth.
The first was whether she liked the music of the group Chicago. The one college memory of her horn-playing father was that he was an absolute, die hard Chicago fan at a time when genres like punk, new wave and disco were more popular. The band was way off the charts at time. Chicago made a big comeback in the early 1980s, but Marc took a lot of college grief for his undying affinity for Chicago.
She said that she felt like the member of the band; they were like a part of their family. They frequently go to Chicago concerts together and she gave me "before" and "after" pictures of her weight loss as she posed with the group.
The second question was a lot more personal.
My true area of expertise is not my new passion of weight loss, but how injured people, lottery winners and those who suddenly get a large sum of money deal with the life and financial changes.
The biggest problem is always family and friends. Especially newfound "friends."
It's amazing how people are drawn to success. When someone becomes rich or famous, it changes the way others look at them and deal with them. It's the primary reason that I recommend that lottery winners or anyone who receives money keep that information to themselves.
It's hard to say no to people who act like they are admiring you, especially if that person is a potential romantic connection.
My daughter Angela Luhys, Executive Director of Kentucky Guardianship Administrators, developed a concept for people going through a wealth transition called the "trailer park test."
Would that person be interested in you if you lived in a trailer park instead of having money? Or it can work the opposite way: Would a new romance be as romantic to you if the person lived in a trailer park?
A weight loss twist on the "trailer park test" is whether a person would have paid attention to you if you were fat.
The idea is not as relevant to a married middle age man. Losing weight will help me stay around longer and develop healthy behaviors, but I won't be attracting groupies and after years of experience, I keep my inner circle very tight.
For a female college student, who had been overweight since she was eight years old, it is an entirely different world. I had to wonder how Elizabeth was handling sudden surge of attention.
The answer was very well.
As I suspected, her stunning looks were now bringing a lot of interest from the opposite sex, many of who had ignored her over the years. The attitude she articulated is that if they were not interested when she was overweight, it was shallow of them to start getting interested now.
Which is the right attitude to have.
Not many people handle success well. About 70 percent of people who get a lump sum of money run through it all in about five years. You constantly read about people, especially in Elizabeth's age category, who become stars one day and train wrecks the next. Too much change in countries brings on revolutions. Too much change in people can bring on divorce, substance abuse and a loss of self.
I hammered Elizabeth with a lot of questions, like I would for a client who just won the lottery. She never ducked one and gave sincere answers.
I came away thinking that the "inner beauty" that President Benson spoke of allowed her to deal with a dramatic change in life and keep her perspective and core values.
"I am a man who will fight for your honor
I'll be the hero you've been dreaming of"
- Chicago original member Peter Cetera (from the theme song to The Karate Kid)
The Whitt's are a super close knit, church-centered family. They seem to do everything together and are the type of family that you want to develop for the next generation. It also seems logical that a young woman with the skills to babysit the president of a university's children is going to want to be married and have children of her own someday.
Elizabeth told me that her parents opposed the idea of surgery until she did the research and data to convince them of its benefits. She had the long-term vision that being healthy and active is part of the process that will someday allow her to have the same kind of family life that she currently enjoys.
She also gets that her unique achievement serves as a role model for others. I view my own experience as one like being "born again" in a non-religious sense. My life totally changed, for the better, after I had my gastric sleeve surgery and it has for Elizabeth in the same way.
Some people want to keep their weight loss surgery a secret. I understand that most of the world has a stronger need for personal privacy than I do, but I think it deprives the rest of society when people who ought to be role models step to the sidelines.
Arianna Huffington wrote in her book Third World America that people needed to be role models. Arianna's focus was on economics, but the message is the same. Our heroes need to step up and be heroes. Or at least let us see what they are doing right.
Elizabeth and I are on the same wavelength. We feel it is our duty and mission to let the world know about a tool that can improve health, lifestyle and lifespan.
It took all of my focus and courage to have the surgery at age 55. There is no way I would have undertaken it at age 19. It's not just that she has had such an incredible result; it is that she had the guts and fortitude to go down that road in the first place.
When I weigh in at 199 pounds and hit the same 175 weight loss number that Elizabeth hit, I will say one thing for certain:
She has been my inspiration. And my hero.
Don McNay, CLU, ChFC, MSFS, CSSC, is a wealth transition expert, a former syndicated business columnist and a best-selling author based in Lexington, Kentucky. He is in the Hall of Distinguished Alumni at Eastern Kentucky University. You can find more about him at www.mcnayconsulting.com
Related
Popular in the Community