In 2010, a developer purchased two pizzas using the forum Bitcointalk.org. He paid 10,000 bitcoins for the pizza. The price of Bitcoin today is 2X the price of ounce of Gold. Had the developer kept his 10,000 bitcoins, he would have had $25 million dollars today. In 2017, Digital currencies had a market cap of $100 billion. You can track the crytocurrency market cap in real time at coinmarketcap.com. So what is the reason behind the incredible growth in value of Bitcoin?
There are several factors driving the current Bitcoin boom including:
Major investors are interested in US, China and South Korea: investors are also more bullish on the success of blockchain – the groundbreaking technology behind bitcoin. Blockchain is a game changer because of: 1. Trusted ledger based on a mathematical calculation and peer network validation, 2. Incentivized system that pays miners for their work - coins, 3. Decentralized approach which reduces dependency on financial institutions, 4. Privacy which allows people to separate their identity from their transactions.
More people are using Bitcoin: In April, Japan's new legislation allows retailers to being accepting Bitcoin as legal tender, followed by Australia in July of 2017. Banks now trust Bitcoin with 10 financial institutions using Ripple to send real-time payments. Retailers are accepting Bitcoin with 5.8 million people using crypto-currency wallets.
Bitcoin scaling agreement has been reached: 56 companies in 21 countries have reached consensus on a settlement process.

To learn more about Bitcoin, Blockchain and get a real example of a company delivering value using a crypto-currency, Ray Wang and I invited one of the world's foremost authority, entrepreneur, venture capitalists and now CEO of a Bitcoin based Silicon Valley startup to our weekly show DisrupTV.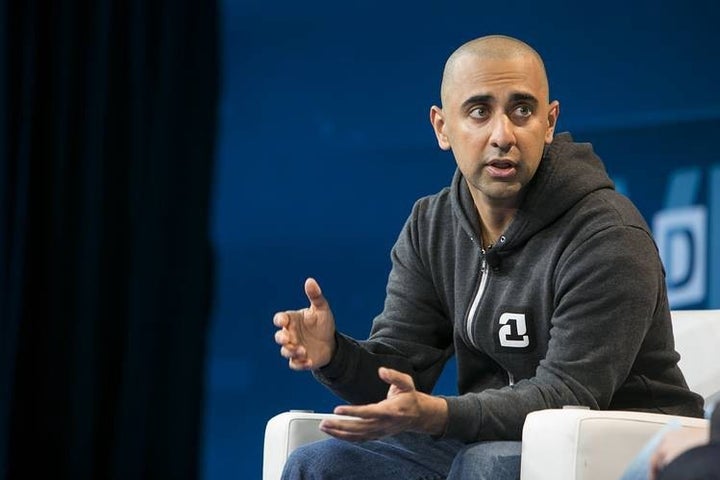 Balaji Srinivasan is CEO & Co-Founder of 21.co. He is a computer scientist, investor, entrepreneur, and academic. Prior to taking the role of CEO at 21, Dr. Srinivasan was a General Partner at Andreessen Horowitz. Balaji invests in and advises startups, teaches a popular MOOC at startup.stanford.edu (more than 200,000 students have attended his classes). He also runs the Stanford Bitcoin Group – you can learn more at balajis.com. He was named to the MIT TR35 (35 top innovators under the age of 35) and the Founders Fund F50 lists. Prior to 21.co and Andreessen Horowitz, Srinivasan was the CTO and co-founder of Counsyl, a genomics startup that began in a Stanford dorm room and now tests ~4% of all US births. Counsyl won the Wall Street Journal's Innovation Award for Medicine, was named one of Scientific American's Top 10 World Changing Ideas, raised more than $65M in funding and has become one of the largest clinical genome centers in the world. You can follow Srinivasan on Twitter at @balajis.
Ray and I covered several topics with Srinivasan, including Blockchain, Bitcoin, 21.co, and advice for startup CEOs and entrepreneurs.
What is 21.co? According to 21's webpage, a user can set up a 21 profile to receive paid messages from people outside your network. Keep the money, or donate it to charities like Black Girls Code. It's like LinkedIn InMail, except you get paid. So how do you find people? It's very easy: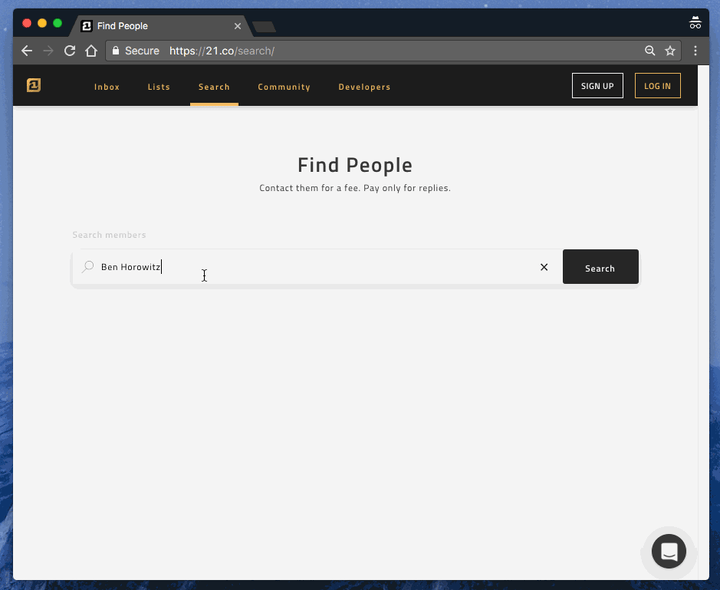 A 21.co user can answer paid messages on mobile and web and earn money while waiting in line for a coffee, during your morning commute, or when you're bored at work. You get paid in bitcoin, so it works in any country. Srinivasan estimates that there are 5-10 million people worldwide that are holders of digital currency. To earn digital currency, you have be technical enough to mine digital currency or you need to take a financial risk and buy digital currency. With 21.co, you can now earn digital currency. You now have access to Bitcoin withing mining or paying for it - this is very cool. Another awesome service is access to some of the most important people in tech. Pitching a startup idea to the top VCs in Silicon Valley has never been easier. 21.co gives users access to a VIP curated lists of 100 plus CEOs, 50+ venture capitalists, 50+ angel investors, 400+ startup founders, 200+ blockchain experts and 37 Andreessen Horowitz partners.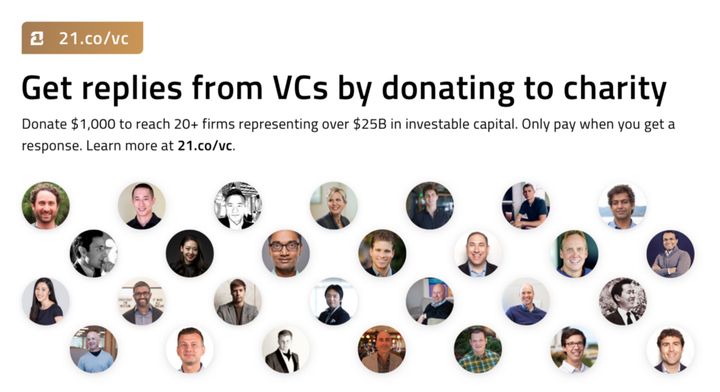 All businesses today invest in purchasing lists of prospects that sales, recruiting or fund raising lines-of-business use to connect and network. The entire process is highly inefficient - no incentive, no proper introductions or consent leading to a vast majority of unread and deleted messages. Marketing and research driven businesses can use 21.co to solicit feedback from an already vetted group of subject matter experts who are willing to co-create value with mutual benefits for all stakeholders.
The performance results and business outcomes at 21.co is simply stunning. Users can reply to email, conduct research and assign tasks using 21.co. On average, 60% of people who get a 21.co message respond within 24 hours. As a former CMO, I am simply amazed at this incredible business outcome. Completing a task at large scale with 60% participation in a single business day is unheard of.
Here is a high-level summary of other topics we discussed with Srinivasan. I highly encourage you to view our video conversation with one of the world's foremost experts on Blockchain, Bitcoin and cryptocurrencies.
Advice to startup CEOs? Srinivasan said that there are two types of startup CEOs. There are CEOs who are currently managing a business and potentially new CEOs/founders who are thinking about building a new business. For existing CEOs, Srinivasan believes that you have to have something that gets you up in the morning. Srinivasan believes in decentralization and digital currencies so the cause gets him up in the morning and gets him through the startup grind. A higher level motivation is key to success. For new CEOs, he advises entrepreneurs to consider building something purely on blockchain, versus starting a company. Creating a technology that others can use, versus building a company, can bring influence, monetization and impact. More kinds of decentralized organizations will arrive in the near future, powered by Blockchain, that will provide commercial value.
The Hierarchy of Blockchain (Public vs Private) - Srinivasan described the high-level taxonomy with Blockchain at the top, branching into public and private blochchains. Within the public blockchain space you have cryptocurrencies like Bitcoin, Etherium, Ripple, Dash, etc. Private blockchains include hyperledger, interledger, Corda, etc. Bitcoin was the first and today is the biggest blockchain. A good analogy regarding public vs. private blockchains is Internet vs. Intranets. The popularity of Bitcoin led to expansion of blockchain into private (intranet-like) models.
The Value of Digital Currencies - According to Srinivasan, Digital currencies get their value the same way offline currencies get their value. If you have a nation state or a region of people, it become legitimate and reasonable for that group of people to have local currency. There is no conceptual limit to group size in terms of legitimizing the value of internal and local currencies. Today we have the new phenomenon and a key prerequisite for Bitcoin, called social networks. Social networks are agglomerations of people that are not in a physical location but rather online. If millions of people offline can have this informational thing we call currency (informational meaning everybody in that network needs to agree upon as being valuable for transactions). This process and logic does not have dependencies on physical locations, they can be distributed. Bitcoin is the first digital currency based on millions of people who are in different locations around the world, deciding to give value to it. Today, there are several digital currencies with value in the billions of dollars. The value of digital currencies based on market cap can be possibly 10X the market cap of the largest companies in the world.
Here is a fantastic Bitcoin 101 video presentation by Srinivasan:
Blockchain will disrupt every industry and digital currencies will drive new business model innovation, scaling and accelerating business outcomes at unprecedented levels. 21.co is proof point that data driven sales and marketing organizations can receive feedback and completed tasks using a highly efficient and powerful framework built on trusts, consent and mutual benefit.