Backyard barbecues with the family and parades are Memorial Day customs but how about adding 22 pushups to your tradition? That's what Dr. Dennis Rebelo has been doing for the last 22 days as part of the 22Kill project, which challenges individuals to do 22 pushups to raise awareness for the 22 veterans that die by suicide everyday and educate the public about mental health.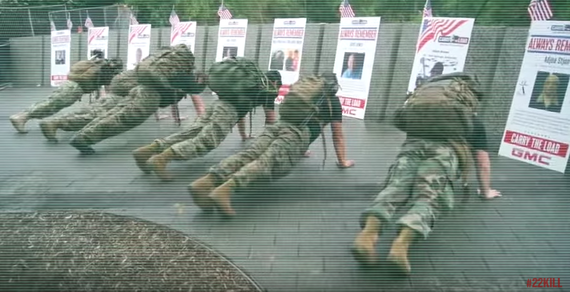 For almost a month Dr. Dennis Rebelo has allotted time each day for his routine 22 pushups in places as arbitrary as an elevator or while playing ball with his dogs. He posts his pushups to Facebook and with each post he calls out a new friend or family member to the challenge. Just by showing his support and spreading awareness he's adding to the platform for discussion around suicide and brain disorders such as Post Traumatic Stress (PTS) & Traumatic Brain Injury (TBI). Important health Issues that we need to create a dialogue for so those affected will know they're not alone and can reach out for help when needed.

Spreading the word that veteran suicide is not the answer is what veteran empowerment group, Honor Courage Commitment, Inc. wants people to understand. They started the 22Kill project in 2013 after learning of the shocking statistics of veteran suicide that plague this country. With the combined efforts of the organization and participants they hope that "bridging the gap between veterans and civilians" will "build a community of support" for those living with these mental health challenges.

We need more concern for our veterans who become at risk for brain disorders because of the extreme stress they undergo day in and day out. 22Kill is spreading awareness and educating the public on the core causes of these challenges that arise after these heroes return home. Creating a smoother transition in and out of service is essential for veterans having difficulty finding their way after the military.
Today, Rebelo's daily 22 pushup routine came to an end, but that doesn't mean the conversation has to. If there was ever a call to action, this is it. On average 22 veterans will die by suicide every day. It's time we raise awareness and change those numbers. So Memorial Day, when we're remembering the courage of our veterans and those still in service, let's not overlook the damaging effects that PTS and other brain disorders can have on our veterans. Challenge yourself or your friends to 22 pushups and see the change you can make. This challenge is much more than displaying your physical strength, but more about flexing your empathy and compassion muscles; it's 22 pushups that could result in awareness and saving a life. At the Flawless Foundation, we see the perfection in every person. What may seem like a simple act, can help someone to feel seen and heard or help them remember that they are truly flawless.
Calling all HuffPost superfans!
Sign up for membership to become a founding member and help shape HuffPost's next chapter