Not finding what you want to eat is never an issue for a New Yorker, unless you want affordable Japanese but that's another story. New York's infamous avenues of restaurants and 'mix and match' canteen style delis provide endless lunchtime options. As a foreigner my first deli experience was extremely overwhelming, I walked out with 3 days of food. But for a Corporate Midtowner, it's ideal. Everything you want is within a block radius. But what is the real cost of this unobstructed life we have created? I'm not talking about the excessive $18 midtown prices or the 35-minute wait queues, I'm talking about 23,500 tons of trash we make daily.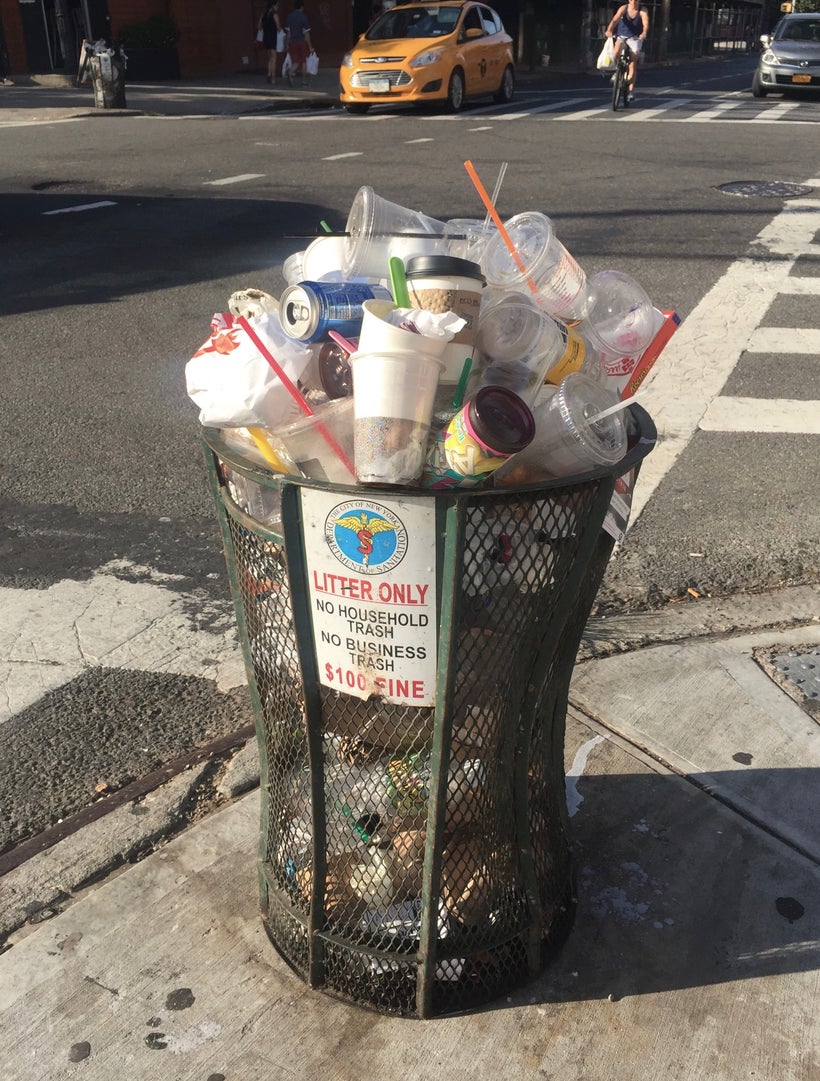 Corporate Midtown is the Disneyland of packaged food. Every Deli, Prêt-A-Mange, Chic-fil-A, Halal Guy order comes with at least one plastic container with a plastic lid, a plastic fork, plastic spoon, plastic knife all safety wrapped in a plastic bag for the 5-minute elevator ride back to the desk. Warm food comes with additional aluminum armor against the climate-controlled 70 something room temperature air. Add a drink and you get a plastic cup, tin can, wrapped plastic straw or stirrer depending on your beverage selection. Condiments? It's all there, colorfully wrapped and meticulously marketed little plastic containers of ketchup, soya sauce, mayo, salt, and pepper.
This quick no-mess throwaway mentality doesn't stop at the cafes. You would be hard pressed to find a Midtown firm with reusable, washable plates and cups. New York's multi-billion dollar skyscrapers house not only the working power of the world's financial center, they stock and dispose of millions of throwaway cups, forks, spoons, and plates daily. Sure it is simpler to pick up a new cup and stirrer every time you need a coffee but if we do this every very day we are looking at a hell of a lot if trash. And that is exactly what we are doing.
Manhattan's daytime population is approximately 3.94 million; 1.61 million workers, 1.49 million residents, 778,000 visitors, 70,000 students and 17,000 hospital patients. For example, let's take coffee cups. Say 40% of New York Office Workers are employed at a building with throwaway cups. Let's say these office dwellers are your typical office type, they struggle to withstand the palm-warming sensation received from holding a warm beverage and opt for the standard two-nested cup option. If just 40% of New York Office Employees drink one office coffee a day, 1.3 million non-reusable cups end up in landfill. That's a staggering 6.4 million chemical filled, non-biodegradable dishes buried in the ground WEEKLY from office pantries alone.
What confuses me is that the executive offices have mugs. When did a mug become an executive level service? Fresh flowers, Central Park views, and leather seats yes…but mugs?! And when did tea leaves start coming in a plastic pod pockets? Why do we have Brewing Machines rather than kettles and compostable tea bags? No wonder the British have isolated themselves, look at how we are treating their tea culture.
But hey, it's alright we don't have to worry out it. The New York City Department of Sanitation pays Pennsylvania, Ohio, Virginia or South Carolina to take it off our hands - literally. Sure it costs us $2.3 billion annually but it's gone! We only need to worry about the bottom line right…? This is Wall Street.
Calling all HuffPost superfans!
Sign up for membership to become a founding member and help shape HuffPost's next chapter
This post was published on the now-closed HuffPost Contributor platform. Contributors control their own work and posted freely to our site. If you need to flag this entry as abusive,
send us an email
.