It's that time again! Your best friend's birthday has rolled around, and you need a thoughtful, personal message to send them. Well, you've come to the right place — here, we've compiled 43 birthday wishes that will bring a smile to any friend's face. Take them as they are or make them your own! The most important thing is that your friend knows you're thinking of them on their special day.
If you are fortunate enough to have a good friend or a best friend, then you have something that many people do not: a bond with another person that is truly unique and special. And if it is your friend's birthday, then you'll want to find just the right way to say "happy birthday friend." Finding the perfect words for someone who has played such an important role in our life can be a challenge, but never fear, this collection of birthday wishes for friends and birthday wishes for best friends will help you do just that.
We are born with family, but we get to choose our friends, and anyone that makes the cut must be truly special. They are the people we play with, joke with, get silly with, confide in and just plain hang out with. Your friend's birthday is one of the most significant days of the year to them, so why not try to make it special by sharing a message that will touch them or make them laugh? So check out the different greetings below, listen to your gut as you read them, and once you find just the right one, text it, email it, share it on social media or just tell them in person so they know how important they are to you!
We hope that you and your friend have the best birthday celebration together, and many more!
This compilation contains:
Birthday wishes for friend

Birthday wishes for a best friend

Funny birthday wishes for best friend
We hope you enjoy these birthday messages and are able to find the one that perfectly expresses how you feel about your friend.
Everybody says they've got the world's best friend, but in my case, it's actually true. Happy birthday bestie!
Happy birthday to the friend who's always there for me, no matter what. You deserve all the celebration!

I feel so lucky to have you as my friend. Hope your birthday is as special as you are. May all of your dreams come true. Thanks for being such a great friend. Happy birthday!

Celebrating your birthday with the best gift of all... my friendship, obviously. You're welcome!
I can't imagine my life without you. Thankful for another fun trip around the sun with you!
Happy birthday to the most wonderful person I know! You inspire me with your kindness, strength, and positivity, and I am blessed to call you my friend. Have a fantastic birthday celebration!
Thank you for all that you've given me! Can't wait to see all you accomplish in the year ahead. Happy birthday!
Celebrating you today... your humor, your charm, and all the ways you make this world a better place. Happy birthday!
Happy birthday, bestie! You continue to light up my life. Best wishes for a fun-filled year ahead!
You're simply a wonderful friend, and each year that passes only makes you more so. Happy birthday!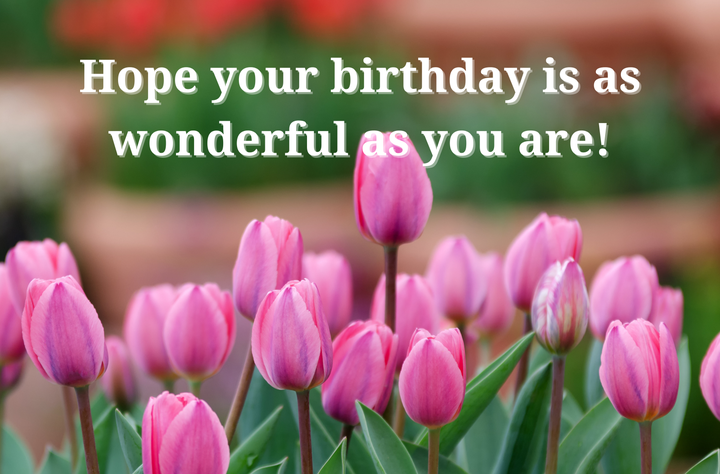 Happy birthday to the kind of friend everyone wants to celebrate!
I am looking forward to many more years of friendship and birthdays with you. Have a fantastic birthday!
You are my rock! Looking forward to another year of being partners-in-crime. Happy birthday!
Happy birthday to my ride or die! I'd go anywhere and do anything for you — love you!
Happy birthday to someone who has EXCELLENT taste in best friends. Enjoy your special day!
I want to wish you all the love and happiness in the world, all of which you deserve. Happy birthday my friend!

I am grateful that you are a part of my life. All the best on your birthday!

In good times and bad, I'll always be by your side. Happy birthday friend!

Happy, happy birthday! You deserve all the cakes, love, hugs and happiness today. Enjoy your day my friend!

May God shower you with blessings today and always. Happy birthday wishes for my friend!

Happy, healthy, exceptional, rocking birthday to you my friend!

Every step of the way you were there for me. Through thick and thin I'll always be there for you. Happy birthday wishes!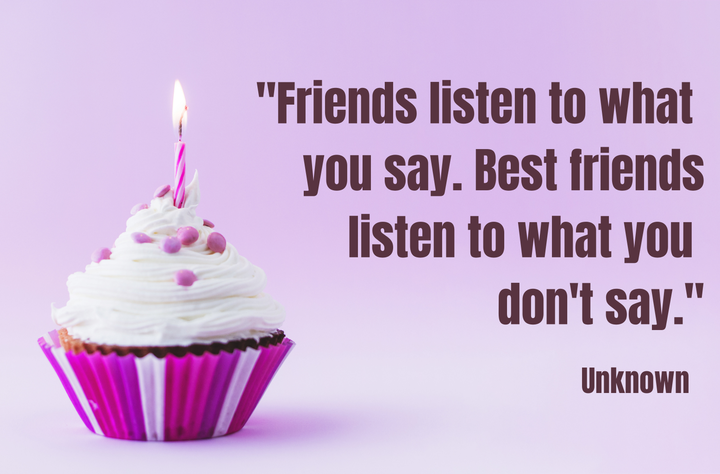 Thanks for another year of being an awesome friend. Happy birthday dear friend!
Happy birthday to my dearest friend! May your special day be filled with love, laughter, and all the things that make you happy. Wishing you an amazing year ahead!
I am grateful for your true friendship. Hope you birthday is amazing as you are my best friend!
I wish you love, hope and everlasting joy and happiness. Thank you for being my best friend.
Another trip around the sun with you sounds good to me! Happy birthday, bestie.
I am so proud to be your best friend. May you have a happy and healthy birthday!
You understand me like nobody else. I have a sibling in you my friend. Happy birthday to my best friend!
Thank you always being there to listen. I am so lucky to have you as my best friend. Enjoy your birthday!
I am so thankful and happy that we are best friends. Enjoy your birthday and happy birthday wishes for my best friend!

Happy birthday to my best friend, the one who laughs at my silly jokes and still stands beside me even when I do dumb and stupid things!

Best friend: someone whom you can be yourself with, someone whom you can have pointless conversations with, someone who still likes you even when you're weird, someone who forgets to buy you a birthday gift…that's why I came up with this. Happy birthday my best friend!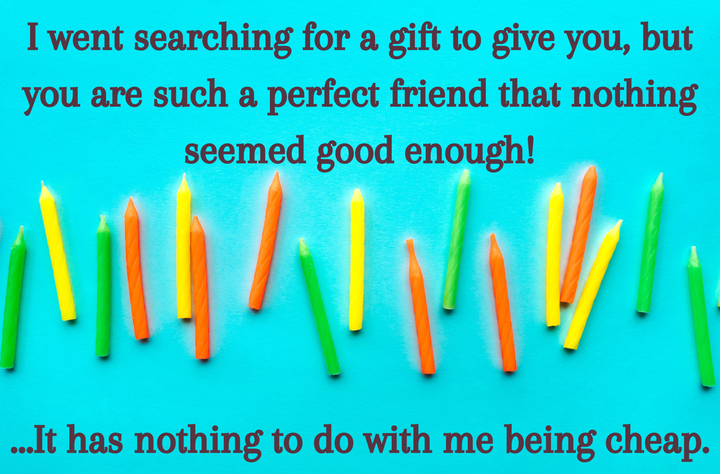 Happy birthday to my best friend! We are such a great team: I am smart, good-looking and talented and you are great at being my friend!

Cheers to another year of life, my friend! I am so grateful to have you in my life and I hope this year brings you all the joy and success you deserve. Happy birthday!

You may be getting older but at least I still look great! Happy birthday best friend!

I am so blessed to have a friend like you. It may be your birthday, but I feel like I am the one with the gift!

May you have a happy, healthy, peaceful, successful and fun year. And may this year be your best one yet.

Today is your special day and I promise to try my utmost to not steal the spotlight from you for at least one day! Happy birthday my friend.

The only gift I have for you is my continued friendship. I went searching for the perfect gift to give you, but you are such a perfect friend that nothing seemed good enough. It has nothing to do with me being cheap!

I am so grateful to God for our friendship. May you continue to be showered by God's blessings and may we always find time for each other. Happy birthday dear friend.

Here's to all the birthdays we have celebrated together! I hope today is an amazing one and I look forward to celebrating many more together!

Birthday greetings and cheers to you my friend. I hope your day and your year are both spectacular ones.
We truly hope you have enjoyed these birthday wishes, messages, greetings and quotes for friends and best friends.
Before You Go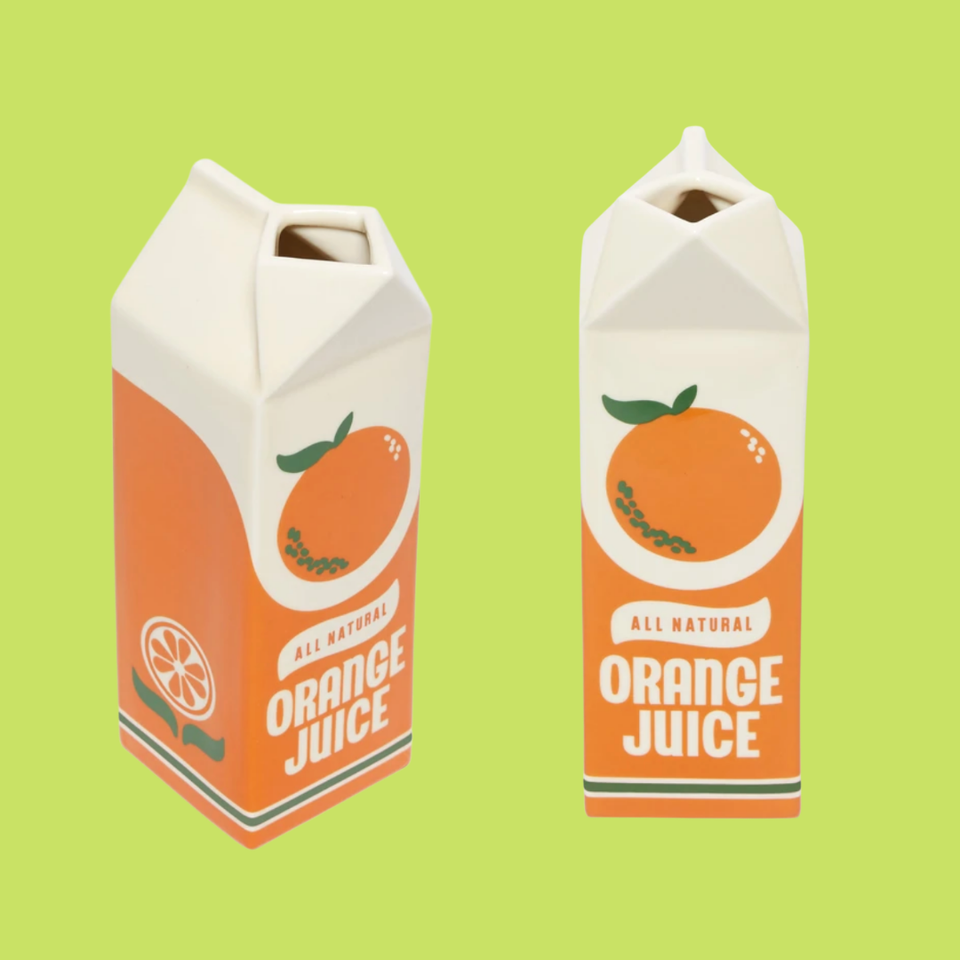 16 Perfect Birthday Gifts For The Aquarius In Your Life