I met Erin Hazelton when she was writing for fashion magazines in New York City. This was more years ago than I care to remember -- but she looks the same. What struck me the first time I saw her, and still what strikes me every time I see her is how she exudes pure elegance. She reminds me of my godmothers, whose style tips I wrote about here, and indeed, their style philosophies are not that far apart.
Last week in Geneva we met at the Mirror Bar of the Metropole Hotel in Geneva, and I couldn't help but make her promise to put her style philosophy in writing. Here are her tips. Which means two things for me. First, I am going to clean out my closet. Second, when she comes to Washington, DC next weekend, we are going to go shopping together!
Thank you Erin for being an inspiration -- of style and of substance.
(As told to me by Erin Hazelton)
1. As Diana Vreeland once said: "Too much good taste can be boring." To offset this truth, I often find myself using leopard as a neutral. There is a fine line between being vulgar and interestingly chic. That said, never take your clothes too seriously. A little touch of humor -- or extravagance -- can make an otherwise uninteresting look seen instantly smart.
2. Keep it neat. If you are going to wear something oversized on top, keep the bottom skinny. If you are going to wear billowing trousers, tuck in your top to show off your waist or opt for something that is closefitting or waist-skimming, otherwise you risk looking messy.
3. Dress for your body type, not for the latest trends. A cropped top and high-waisted trousers is a current look I like... but that doesn't mean everyone should wear it.
Learn to work with your body, highlighting the parts you like. Belt a small waist. Show off your shoulders. Camouflage the parts you are uncomfortable with. Narrow shoulders and no boobies? A deep V creates some shape up on top. My best friend thinks her hips are too big, but she has a tiny waist, so her favorite proportion is a full skirt with a high waist. Poof! Her hips are hidden under a swish of fabric, only her tiny waist left behind to be admired. I've also adopted this look for myself, but for the opposite reason: my hips are too narrow and I like to give the illusion of a more hourglass shape.
If you don't like your arms, don't wear sleeveless tops, even if you love the top. You aren't going to feel comfortable wearing it, your arms constantly on your mind. If you don't feel great, you don't look great.
4. Lulu Lemons are wonderful and flattering, but they are intended for the gym and, at a stretch, grocery shopping on your way home from the gym. Try to wear real clothes when you are not working out.
5. A boat neck is always flattering... and elegant.
6. My mother taught me to always buy high quality coats, shoes and handbags. They are the things you use everyday and the things everyone will notice first.
7. It's almost spring: show off your ankles. Trousers that hit just above the ankles are always chic... think of Grace Kelly and Audrey Hepburn. Pair these trousers with flat sandals or college loafers for day and choose an elegant pump or high-heeled sandal for evening.
Which brings us to shoes:
8. Just say no to big platform pump. I don't care how short you are, there is no excuse for looking like a stripper. If I see another actress walking the red carpet in a pair of these uniformly colored hooves, I'm going to start a petition.
If these kinds of shoes are hidden under a floor-length gown, fine -- no one can see them. But if you can see them? No. Absolutely not. If you need height opt for a sculpted wedge or an over-the-top, Miu Miu, proclamation platform or a shoe with a subtle, hidden platform, but if you think a two-inch platform is invisible because it's the same color as the rest of your shoe, guess again.
I'd sacrifice an inch or two of height in the name of fashion any day.
9. Everyone should own a nude shoe. Because the shoe matches your skin tone, there is nothing highlighting where your leg ends, which helps to give the illusion that they go on for much longer than they actually do. I've never heard anyone complain that her legs look too long.
Whether it's a flat sandal, a simple pump or high-heeled sandal in the perfect shade of nude, you can't go wrong: they go with everything. I usually pair mine with floral prints or bright colors... nude and red is a classic combination.
10. The black pump. It seems obvious, but there is nothing more useful than a black, closed toe pump. Elegant and timeless, this shoe adds quiet elegance to any look. A slight point to the toe is more modern and helps to add elongate the leg.
11. If you feel your outfit is a boring, the best way to make it more dynamic is to dress it up with an embellished shoe. Leopard print, gold or beaded and embroidered are among my fancy shoes of choice.
12. Just like on Wall Street, more is never enough. A little gold letter on a chain around your neck isn't going to change your look, but a huge cuff on each wrist? Or a shining statement necklace or oversized Eddie Borgo tassel necklace peering out from under a white button down? Kind of brilliant.
"Too loud?" you say? Open up any J. Crew catalogue and ask yourself again. Prodigal is the new preppy.
13. Don't be scared of a fancy cell phone cover. A golden gate motif, a bejeweled peacock, a Chanel perfume bottle on a chain, or a cover entirely encrusted with pearls? Why not? Cell phones are already kind of obnoxious. Embrace it.
14. Pearls never go out of style. Never. I'm a big fan of wearing them in a more sensual or slightly punk way -- never too literally. I love a pearl choker, a Dior pearl "piercing" or one of Ana Khouri's pearl ear cuffs. I leave the tidy, boring single strand to my mum.
15. Handbags are another great way to add some character to a look. Never buy a boring one. If you go for a classic shape, why not buy it in red or kelly green? That said, it is difficult to wear a color everyday, so you will inevitably resort to a black, brown or nude everyday bag -- we all do.
This "everyday" handbag is the one you will wear most, so while it may feel boring -- it has to go with everything -- make it special. Let this bag be the one you spend the most on. Go for luxury. Hermès is obviously the ultimate choice, but perhaps not the most realistic. Look for a bag by your favorite designer or brand and make sure it's not an "it" bag... one that you've seen in every magazine or on the arms of all of your girlfriends. You want it to last, not look dated by next season. You also need to make sure it is big enough to hold all your stuff and has a shoulder strap. Being dominated by your handbag isn't chic, but being able to maneuver your way through the day with both hands definitely is.
If you the bag passes these tests, hold you breath and blow the better part of your paycheck. This is an investment piece.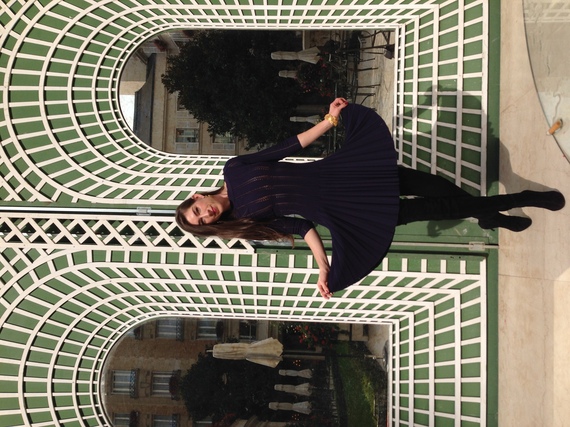 Erin in Alaia (Courtesy of Erin Hazleton)
16. Take care of your skin. Figure out what works for you and stick to it. The worst thing you can do is to constantly change your beauty routine. You'll aggravate your skin. I like a gentle cleanser, a lightening serum, a light moisturizer with SPF for day and something a bit heavier at night. Find an eye cream targeted to your "issues": dark circles, puffiness, fine lines. I also use a gentle, at home, tri-weekly peel to keep my pores clean and my skin glowing.
17. A light foundation hides a multitude of imperfections. Even skin tone is a must. Find a great foundation that perfectly matches your skin. (I like "invisible" formulas like Giorgio Armani Maestro Fusion Make-Up and Koh Gen Do Manifanshi Moisture Foundation). Apply with your fingers or a foundation brush and then cover up any residual spots and under eye circles with a cover-up (I swear by like Kevyn Aucoin's The Sensual Skin Enhancer).
18. Mascara or discrete eyelash extensions are really all you need to finish your makeup look for day. Healthy-looking skin and long lashes can take you quite a way...
19. If you need more, a bronzer or taupe/brown eye shadow brushed in a straight line and blended under your cheekbones adds instant definition. A bright pink or apricot blush on the apples of you cheeks makes you look fresh and awake. Like you just ran a 10K.
20. Try to keep your nails neat. If you don't have time to paint them, cover them with a clear coat of shine. This will also add an extra layer of protection against splitting and chipping. If you do have time for color, I'm partial to the classics, only using reds, almost invisible pinks and the occasional beige.
I go wild with jewelry, but nail art terrifies me.
21. Hair. Hair is a tough one. I'd love to get a blowout every other day, but that's not realistic (more like once every three months). Keep a travel-sized brush in your handbag or car and run it though your hair when no one's looking (preferably not in public) and you'll look like you just walked out of a salon... until the wind hits you, then game over.
22. I might get some flack for this, but don't dye your hair unless you have to. Chances are your natural color looks pretty good, even if you find it boring. Un-chemically treated hair often looks healthiest... and it won't go brassy or green after a few months. If you do need to color, opt for a natural, vibrant shade and then take good care of it. Nothing looks worse than dried out locks, ratty roots and artificial color.
23. I once met a countess who told me she always wears her long hair up in a chignon when she went out in the evening. That always stayed with me and a standard I often follow. But since my husband really likes my hair down, I break this guideline for him... sometimes.