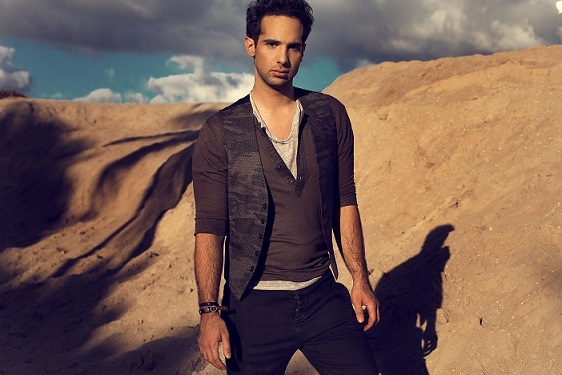 Jordanian chart-topping singer-songwriter & producer, Jaafar, discusses his new single "Sixteen" and his upcoming debut album. Jaafar's Website.
I wasn't looking for a different type of music to listen to. My loyal readers know I love metal, hard rock, 80s, hip hop, rap and reggae.
Then pow. Jaafar, who is from Jordan, landed in my speakers. Now I can't get his "Sixteen" song out of my freakin' skull. "Sixteen" tells of a girl aged only 16 in a war torn area just dreaming for a better tomorrow and the hope of reaching her 18th birthday.
Jaafar is cute, too - you know, for a dark haired boy. ;)
Your much anticipated single "Sixteen" is on iTunes. What did it take for you to get your music on there?
I really just wanted to make my music readily available so I put it up on iTunes as well as most major online music stores and streaming services. The point was for the song to be easy to find, download, and stream. Getting paid for downloads really depends on several factors, like how much the store takes off the top and if you're on a label or not.
What's the difference between touring with someone else and funding your own tour? Which do you prefer? Tell us about the cities you have played and visited.
I think it's any artists' dream to headline their own tour. That's the goal, at least for me. Opening for another artist or playing a festival is great too, though. That's exposure to an audience that may not have ever heard of you or your music before. My favorite part of what I do is definitely performing live; it's a big thrill. I've played in some incredible places and on some iconic stages around the world. Earlier this year I played at the Fonda Theatre in LA, which was amazing. I'm from Amman, Jordan so to play in the entertainment capital of the world in a venue with such great history is a big deal to me. When I saw my name on the marquee it was very surreal. My manager sent me a picture a couple of weeks later with the Rolling Stones name on the same marquee, THE ROLLING STONES, that's crazy! Another memorable show that I've played was in the historic city of Jerash in Jordan last summer. I played on the North Theatre... that stage has been there since around 165 AD!
What is it about Miami that keeps you grounded, why did you decide to move there?
I moved to Miami originally because I had been working sporadically with a producer who was based there, and I felt that was a good way for me to get in to the music scene there. Also, I was accepted in to the University of Miami, so I went there to pursue my undergrad degree. Miami has been really great to me in many ways. I've been able to meet and work with a lot of talented people. Some of them, legends whose work I grew up listening to, and others who were sort of coming up in the Miami music scene at the same time I was. I was very proactive about making music and soaking up knowledge from the people I was working with during my time in Miami. I moved there in 2010, and in the short time I was there I really feel like I learned and grew a lot.
What is your day like in the studio when you are recording? Do you have daily routines such as voice warm-ups, certain work-outs?
I like to record in the afternoon. Otherwise, I don't have any energy. I'm not one of those guys who can start a recording session at 11:00 PM. There are definitely some routines I have and little things I do, especially if I'm recording vocals. I'll often go on complete vocal rest, cut out caffeine and dairy, and basically avoid anything that might irritate my voice. Most importantly though I try to just take it easy and avoid stressful situations, which is easier said than done!
Have you ever been stopped on the street by fans?
Let's be honest, it's always nice when someone comes up to you and is genuinely excited to meet you and talk to you about your work. People at parties and restaurants have come up to me to tell me they 'love the music' or 'can't wait to hear what's coming next' sort of thing. So far I've only had very positive and respectful interactions with people. It hasn't got anywhere near the point where I can't walk down the street without being mobbed though. There's still a certain level of privacy I have and I enjoy that. If one day that is no longer the case, then that's what I signed up for, and as long as people are listening to my music it's all worth it.
What /who inspires you to do the music that you do?
With a lot of the songs that I've written for this album in particular, I was inspired or should I say affected by what's going on in the world today. Lyrically and in terms of subject matter, there's a lot of commentary on the state of humanity and the deterioration of society. It's not all doom and gloom though, it's important to always hold on to hope and I think the music portrays that aspect as well. Sonically, this album is a departure from my older material. Strangely enough though, I only now feel like I've stumbled upon 'my sound', which if I could describe in simple terms is a fusion of Middle Eastern and Western Pop-Rock sounds.
What did you do for a living prior to your music career?
I've always done music. I feel like it's a part of my identity as opposed to just a profession. Before recording this album, I was a student at the University of Miami. I actually started recording the album while I was still at school. Throughout my time at school I was always making music and actually put out two successful singles in my country while studying in America. 'Sixteen' I would say is my first international effort.
Being from the Middle East and crossing over to the United States, what hurdles have you jumped through?
I wont lie and say that it was easy leaving Jordan. I'm still not entirely used to it to be honest. More than anything else, being away from my family, friends, and the city I grew up in was a big adjustment for me. Aside from that, being in the music business itself, I feel I jump though hurdles on a daily basis. There's a lot of ugliness that comes with the beauty of making music.
How do you feel about your followers on that social media? How has the response from your fans help your music?
Honestly, it's very weird to see a number on social media and believe that those numbers represent real people, even though they do. It's great that people follow me and care what I have to say. The lack of real human interaction on social media just makes it all seem unreal to me though. When someone sends me a drawing they've done of me, or leaves a kind comment on my page that makes it a little more real. I really appreciate that sort of thing. The fact that someone takes time out of his or her day to connect with me is humbling.
What did it feel like the first time you were on stage in front of an incredibly huge audience?
It's really hard to describe. It's a high that is unparalleled and one that you don't ever want to come down from. Watching people's reactions and emotions while they enjoy your music and sing along to melodies and lyrics you've written is an addictive thing.
Tell us how you give back to the youth and the community, either here in the States or in Jordan.
Firstly I try to raise awareness through my music. I'm not into writing music about being in the club. "Sixteen" for example, is about children during wartime; Killed, left alone, misplaced... There is no greater injustice in the world. I also try, like anybody who can should, give back to any community I'm in. I try to donate things like food, clothing and toys to local charities whenever I can; my parents always taught me the importance of that. In today's world I don't think that's enough though. I do feel like I could be doing more, and as a result I have been looking at different charities, not only on a local level, to get involved with.
Anything else you'd like to say?
Thank you so much for taking the time to talk to me! I'd like to ask anyone who hasn't yet heard my music to please check out my current single "Sixteen". To those of you who have reached out with such nice words, THANK YOU! You're support and encouragement is not lost on me. Look out for new music soon and I hope to see you on the road in the not too distant future!
Calling all HuffPost superfans!
Sign up for membership to become a founding member and help shape HuffPost's next chapter