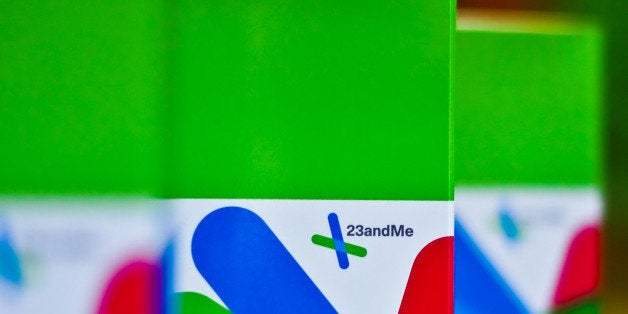 Co-authored with Barbara Prainsack of the Department of Social Science, Health and Medicine, King's College London, UK
Recent action by the FDA against the California-based personal genomics company 23andMe has sparked international attention and bemusement. While some observers agree with the FDA's insistence that the company stop marketing their tests until they have comprehensively backed up the validity of their health claims, to others, particularly outside the U.S., these developments seem very odd. For six years, 23andMe has offered (mostly) SNP-based genetic risk calculations for ancestry, common diseases, and common traits, at ever-decreasing costs that have undercut even academic operations. By the time the company complied with the FDA and stopped offering health-related genetic risk calculations last week, it had over 400,000 users. Whether they will ever achieve their goal of reaching the 1-million mark now that they were ordered by the FDA to cease operations and are faced with a class-action lawsuit is now more dubious than ever -- if they stay based in the U.S.
23andMe Is Interesting Because It Disrupts Traditional Classifications, Not Because We Love It So Much
The FDA is unhappy with 23andMe's inability -- or unwillingness -- to provide evidence on the clinical significance of their test results. In other words, the FDA seems to have no issues with 23andMe giving customers their raw SNP data, but they want to see proof for the claims that they make about the clinical utility of their tests. As David Kroll pointed out, "Where 23andMe got into trouble was regarding ... results on disease risk and drug response, potentially actionable results." While it has been argued that the FDA has no leeway in whether or not they hold companies that make such claims to the standard of clinical validity, others argue that the FDA has no authority to regulate online genetics tests as medical devices. The definition of medical devices is open to interpretation -- and some might argue that horoscopes could be the next logical target. The fact that 23andMe disclosed genetic information rather than information on one of the other "-omics" has probably acted as an extra catalyst to those who falsely fear its prophetic properties.
Evidence from users is complex. 23andMe results have reportedly caused problems for some of their customers, while being sources of entertainment for many and of great help for others. Moreover, most commentators agree that the way that 23andMe communicates results to users is generally informative and balanced. Indeed, a considerable part of their website content did not even relate to genetics but to lifestyle and other environmental factors. To the best of our knowledge, all incidents where 23andMe results reportedly caused harm to customers were due to mistakes made by the company, and not due to the way that 23andMe was set up to operate. Making impactful mistakes is not a redeeming quality of any company, but it is not the same as making false claims. Nevertheless, it is strange that U.S. regulators are focusing on the moving target of assessing tests for their clinical validity rather than encouraging better communication of scientific and health findings by demanding that the company work harder on reducing mistakes and errors (and earmark harm mitigation funds to compensate customers when actual harm occurs).
This is partly due to a conflation of the notions of health-related, medical, and clinical results. Although these three notions blend into one another, they signify different domains. Something can be health-related without being medical (e.g., the fact that I run in the morning because it makes me feel better), and "medical" is a wider term than "clinical." 23andMe's way of operating is also so distressing for regulators because the results given to customers cannot be neatly teased apart into health-related and non-health-related information, contrary to what 23andMe is trying to do now. The notion that clinical utility is the best measure of the robustness of communicating genetic risk data to customers is like saying the decibel is the best way to measure the effects of a violin concerto.
Online Genomics Is About More Than Disclosing Genetic Information
Besides the fact that 23andMe was one of the few companies in the health domain that was still selling their tests DTC, the one characteristic that set it apart from other services offering genetic testing beyond the clinic is that they have tried to include "citizen science" elements and encourage wide data sharing. This has played a relatively marginal role in the wider discussion. We are not uncritically applauding the way that they have been doing this, but it adds an important new dimension and direction for science. Regulators, in contrast, still operate under the assumption that there are those who produce knowledge (traditional experts) and those who receive knowledge (patients/consumers), but this is not an accurate depiction of platforms such as 23andMe, and many others. This is where the greater significance of the conflict between 23andMe and its enemies lies, and it is indicative of larger power shifts in the organization and practice of health and medicine. To the rest of the world, the priorities of U.S. authorities in shutting down a company based solidly on science and largely academic discoveries are hard to fathom. It also raises the question of why we are not seeing similar legal class actions in the U.S. against the host of OTC or DTC pseudo-pharmaceutical and vitamin producers that have done infinitely more harm.
Related
Popular in the Community