If you're in our target audience (and the likelihood is that you are), then you might see an ad like this today when you're surfing Facebook to stalk that girl (or guy) that you really like, post pictures of your vacation in Aruba, or just share a funny-ass video from YouTube: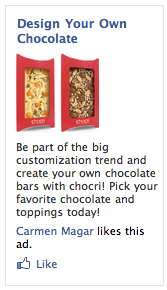 This is chocri's ad, which is just one of 24 ads that will be shown on Facebook today which will capture millions of impressions to spread awareness of the co-creation trend
Another ad example is the following ad we created for Blank Label, the company that lets you rock out with a pink dress shirt that has a black collar, striped cuffs and a checkered placket: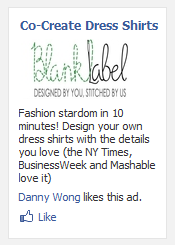 I kinda wish we had a better picture for the creative...
Each of the 24 startups, is ultimately looking to change the way people consume, and we're banding together to spread the word about co-creation and design-your-own.
With each company throwing in $50 - $100 for Facebook advertising, we are looking to start a conversation, not just push conversions, so there might be some buzz about people being able to create their own dress shirts or chocolates, t-shirts or jewelry. This way, more people can start searching for products they can co-create themselves rather than just settling for off-the-rack, mass-produced items.
This is an interesting campaign because it's the first of its kind using the Facebook ad platform for many players in a niche industry 'bum-rush advertising' at the same time in the same place to get everyone's attention.
Industry collaboration for a greater cause isn't uncommon though. Cloud Commons is an industry alliance building awareness and education for cloud computing, and NY solar companies have collaborated to create better solar technology.
As an industry, our goal today is to change the way people think about purchasing products and encourage them to co-create and actively look to have an input in the products they consume.
Here's the full list of the 24 co-creation companies participating:
Blank Label - co-created dress shirts (style the collar, cuff, placket and really make it your own)
chocri - co-created chocolate bars (pick your favorite chocolate base and mix in the toppings you love!)
Spreadshirt - co-created t-shirts, sweaters and hoodies (add graphics or text and get it personalized for you)
LaudiVidni - co-created handbags (for the woman that really knows style and is tired of the monotonous Coach and LV bags)
Gemvara - co-created jewelry (one-of-a-kind gemstone jewelry with 16 different gem varieties and eight precious metal choices)
Shoes of Prey - co-created women's shoes (style the heel (or no heel), toe, fabric, color and embellishments)
Wagner Skis - co-created skis and snowboards (uniquely suited to your style, strength, weight and mission profile)
Gemkitty - co-created jewelry (customize semi-precious gemstone jewelry. Choose from seven necklace, five earring styles and hundreds of gemstones)
Snaptotes - co-created totes (add photos to your bags to further cherish the memories)
Element Bars - co-created nutrition bars (energy and protein bars with the ingredients you favor)
YouBars - co-created protein bars, shakes, trail mix, cookies and cereal (mix the ingredients you love and need)
Red Moon Pet Food - co-created pet food (for that particular pet with a special diet or just because your pet deserves more)
Rooms By You - co-created bedding and soft goods (home decor customized on demand)
Lindgolf - co-created golf clubs and bags (golf clubs for performance and looks)
Artaic - co-created mosaics (build your own art by uploading the photos you love)
Melboteri - co-created handbags (select the style, components, and color of each handbag)
Indidenim - co-created jeans (jeans designed with your preferences in mind and made to measure)
Kidlandia - co-created home decor and puzzles (from dozens of designs, your personalized creations make memorable puzzles, wall decor, and other unique, high-quality gifts)
Maguba - co-created clogs and women's sandals (style your footwear however you want!)
Personalwine - co-created wines (personalize award winning wines with your unique label)
Proper Cloth - co-created luxury dress shirts (for the guy that loves Egyptian cashmere and is a luxury buyer)
Design A Tea - co-created tea blends (blend the teas with the proper proportions you prefer and personalize the packaging)
Selve - co-created women's shoes and boots (choose your style, color, suedes, leather and lining)
Open Runway - co-created women's shoes (still to be launched)
Calling all HuffPost superfans!
Sign up for membership to become a founding member and help shape HuffPost's next chapter