At 10 pm on Sunday, six writers, six directors, a production staff, and 24 of some of the funniest actors and actresses working today met in Times Square on a shared mission. They needed to create six 10-minute plays by morning -- by seven am to be exact. The rest of Monday's daylight hours would be spent polishing the goods -- rehearsing in preparation for an evening performance of these "24 hour plays," before an expectant audience of critics, colleagues and the general public.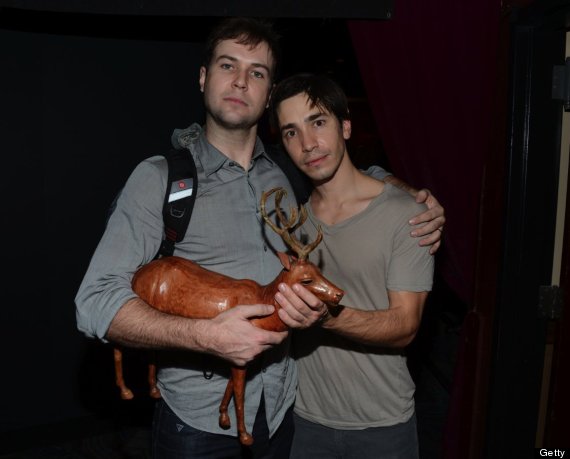 Taran Killam and Justin Long holding a prop from "Barrio Rescue" by Maynor Alas; directed by Ari Edelson. (Credit: Getty Images)
The results of this experiment, which played out last night at the American Airlines Theater in Times Square, were, as one might expect, a mixed bag. But to comment on form would be to miss the spirit of the project. The players, a group of pedigreed if under-the-radar comedians and actors, were having fun, and all for a great cause. For the past six years, the Montblanc-sponsored Broadway benefit has directed all proceeds to the Urban Arts Partnership, an organization that gives NYC teens a second chance to earn a high school degree.
Participating actors included Rosie Perez, who celebrated her 12th year as a cast member last night, as well as Anthony Mackie, Seth Green, Gina Gerson, and Zosia Mamet, among others. The volunteer thespians brought in ridiculous props and costumes to give the production some flair, and it showed. Justin Long and Billy Crudup ended up wearing tight, high-cut Hooters t-shirts during "Reservation for Rockwell," a hilarious homage to Sam Rockwell's acting career, while Gaborey Sidibe strutted around in a red and black lace number for no apparent reason while reciting lines in a seriously silly faux-Mexican accent during "Barrio Rescue." Jan-Patrick Schmitz from Montblanc referred to the production as "absolute organized creative madness," which seemed fitting.
When asked why he came out to support the cause, Questlove (from the Roots) admitted it was his first time seeing a 24-hour play, saying, "I'm a person who thrives in chaos and spontaneity and last-minute productions. I'm interested to see how this happens."
PHOTO GALLERY
The 24 Hour Play
Montblanc Presents the 12th Annual 24 Hour Plays on Broadway:
Actors include: Amber Heard (The Rum Diary, Zombieland), Amber Tamblyn (127 Hours, House M.D), America Ferrera (Emmy and Golden Globe Award Winner for Ugly Betty, End of Watch), Anthony Mackie (Gangster Squad, The Hurt Locker), Billy Crudup (Tony Award Winner for The Coast of Utopia, Almost Famous), Diane Neal (Law & Order: Special Victims Unit, NCIS), Eddie Kaye Thomas (American Pie Series, How to Make It In America), Emmanuelle Chriqui (Entourage, The Mentalist), Fisher Stevens (Damages, Lost), Gabourey Sidibe (Academy Award Nominee for Precious, The Big C), Gina Gershon (Killer Joe, How to Make It in America), Jack McBrayer (30 Rock, The Campaign), Jason Biggs (American Pie Series, Mad Love), Justin Long (New Girl, Going the Distance), Kristin Schaal (30 Rock), Mickey Sumner (CBGB, Francis Ha, Missed Connection), Maura Tierney (E.R., The Good Wife), Olivia Wilde (House, Tron Legacy), Rachel Dratch (Saturday Night Live, 30 Rock), Rosie Perez (Won't Back Down, Close Up Space on Broadway), Sam Rockwell (Seven Psychopaths, Iron Man 2), Seth Green (Family Guy, Buffy the Vampire Slayer), Taran Killam (Saturday Night Live, Community), Tracie Thoms (Looper, Harry's Law), Vanessa Hudgens (High School Musical Series, Spring Breakers), Vincent Piazza (Boardwalk Empire, Rescue Me), and Zosia Mamet (Girls, Mad Men).
REAL LIFE. REAL NEWS. REAL VOICES.
Help us tell more of the stories that matter from voices that too often remain unheard.