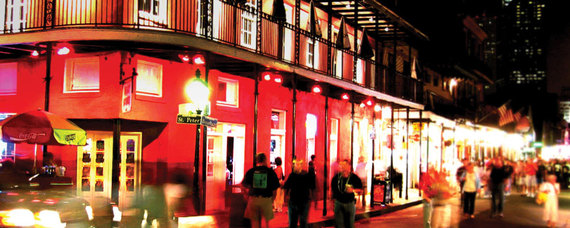 New Orleans reminds us of a slew of things, including boutiques, bars, restaurants, nightclubs, and did we mention bars? There's no question the Big Easy is notorious for Mardi Gras and wild nightlife, but the scenic streets of these districts hold much more culture and history than many visitors realize.
Home to some of the best shopping in the south (and the country if you ask us), New Orleans has a lot to offer for those who love to meander in and out of shops. The elegant Garden District, with one of the best preserved collections of historic Southern mansions, is the epicenter of shopping. The unique and eclectic boutiques include Green Serene on Magazine Street, which is a great place to start off your shopping expedition. Known for environmentally friendly accessories and clothing, owner Jamie Menutis has an expert eye for curating a chic, affordable collection made with eco-friendly fabrics.
A short walk away is Sincerely Luxe, a boutique newer to Magazine Street. Owner Leslie Lazard aspires to offer on-trend, contemporary pieces that let customers build a stylish wardrobe, home, and life. You can style yourself from head-to-toe with items from leading designers, as well as up and coming ones. As an added bonus, the prices are affordable and won't burn a hole in your wallet.
Carrie Bradshaw put it best: shopping is cardio. Walking from store to store works up quite an appetite. Luckily, New Orleans cares immensely about one-of-a-kind cuisine, so there are endless options for a terrific meal. Locals always know the best spots, and Mother's Restaurant has been a favorite since 1938. A must-try is the Ferdi Special, and since you can't come back from New Orleans without trying the infamous po' boy you might as well take a cue from the natives and grab one here.
We understand if you feel like you've been eating all day. Head to the French Quarter to take a stroll in the remarkable Jackson Square, where you'll feel like you're in a Parisian park. Hundreds of events take place here throughout the year, including the French Quarter Festival and Caroling in Jackson Square. Swing to some live jazz and browse handmade items from local artists.
The local, fresh seafood in the Big Easy is not to be missed. By now, you've (hopefully) worked up an appetite from your walk in the square. For over 70 years, Felix's Restaurant and Oyster Bar has served up the freshest, highest quality of shrimp, oysters, and fish. This Cajun/Creole restaurant also offers other New Orleans favorites such as red beans and rice, jambalaya, and hamburger steak.
Don't eat too much though-Café du Monde cannot be missed on any trip to New Orleans. Offering up a limited selection of infamous French beignets and café au lait, the menu fits on the side of a napkin dispenser but will certainly satisfy your sweet tooth. Hurried New Yorkers fear not, the long line moves quickly-and the beignets are well worth it!
Last stop: Bourbon Street! Take in the local culture (and a few drinks, too) at Pat O'Brien's. New Orleans' signature drink is the hurricane and this bar does it best. The people are friendly, the food is fabulous, the jazz is astounding, and the shopping tops almost anywhere else. In the words of Drew Brees, "If you love New Orleans, it'll love you back," and we promise you'll love it.