Ah, Paris...it has long been the backdrop and supporting character in countless love stories throughout history, and few things can inspire as much wanderlust as the City of Love in the fall.
Paris has a way of making you forget - where you were just a day before, where your phone is, and the need for good wi-fi connection. Here, you suddenly become the sort of person who reads the newspaper and wears felt berets.
Turning a corner on Avenue Montaigne I realized that no perfect itinerary could ever offer the true experience of La Ville Lumière. If you are a newbie like me, allow me to deter you from packing your day with tourist-y sightseeing and suggest you try the European way: Do as few things as possible, in the most glamorous of ways.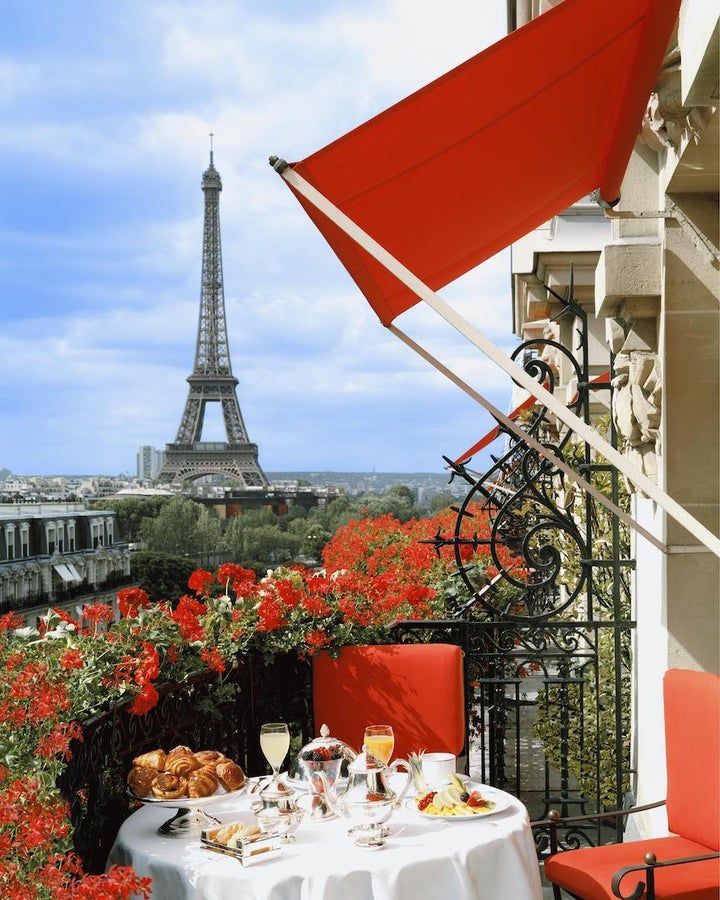 I learned quickly that one must not try to force Paris into a visitor-friendly mold, but let it be what it is: A moment in time, rich in (muted) detail, only appreciated properly when left undisturbed. With that in mind, I decided that going big was the only way to go, and staying at the world-renowned 5-star Hotel Plaza Athénée was the way to do that. Having just celebrated its 104th birthday, the historic hotel is as Parisian as it gets.
There is nothing quite as appealing as a historic hotel buzzing with a mix of travelers and savvy locals, an air of respectful excitement humming in the air. The nostalgia is tangible in the award-winning Dorchester Collection hotel, with a twist of modern-day amenities and spectacular service ushering it into this century. You get a jewelry box feeling under chandelier crystals grounded by classic French furnishings, adorned by fashionably dressed guests, calling the hotel's fashion heritage still alive today. Walking into the Eiffel Suite, named for its incredible views of the iconic landmark, is reminiscent of Carrie Bradshaw circa 2004, with romantic period details like intricate wall paneling, gilded mirrors, Louis XVI chairs, fluted legs and chateau-style fireplace mantels.
For breakfast, you won't need to wander far. Alain Ducasse, the 3-Michelin starred restaurant resides inside the Plaza Athenée and is where guests can enjoy their meals. Here, it's worth getting up just a bit too early to enjoy the still-dim morning light and the thousands of Swarovski crystals dancing on the stainless steel pods. Allow yourself a quiet hour at Ducasse, letting the classical music set the tone for the day along with a second basket of fresh pastries.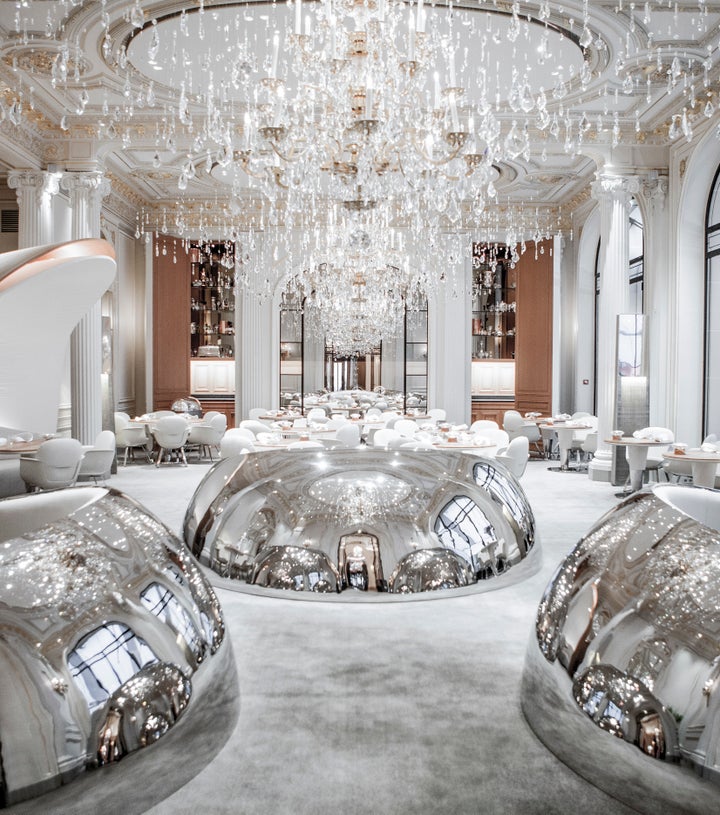 Later that day, set thirty minutes aside to consider the Eiffel Tower seen up close, and spend the rest of the morning working your way through the gallery-lined streets of Saint-Germain-des-Prés, the most classically Parisian neighborhood. Here, you'll find that the beauty of Paris is in its serendipity, not the obvious attractions. Linger a bit with a perfect croissant au chocolat, and people-watch from a busy corner — these are the streets which once served as home and inspiration to some of the greatest like Claude Monet and Auguste Renoir, and now serve as museums to preserve their very history.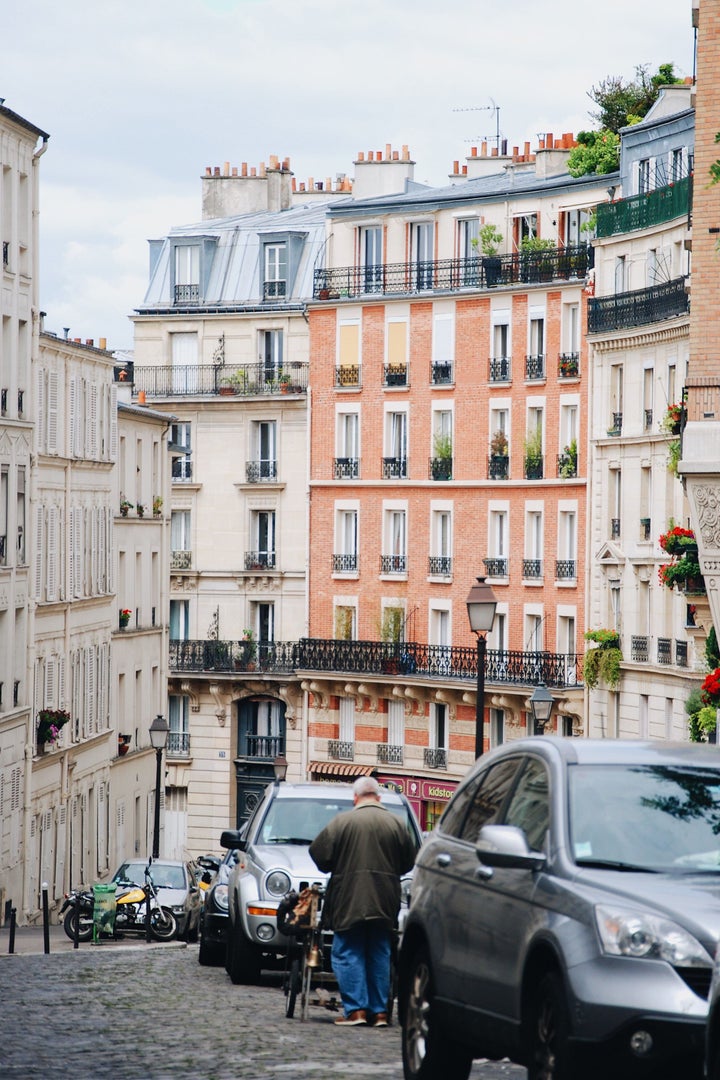 A short cab ride will get you to Jardin Du Luxembourg, where you can spend an hour or two visiting the famous lawns, promenades and flowerbeds, and the historic Medici Fountain. It is flanked on one side by the Petit Palais, built in 1900 and now housing the City of Paris Museum of Fine Arts, and the Louvre Museum, which dates back to 1190 and houses the world's most exquisite collection including the Mona Lisa.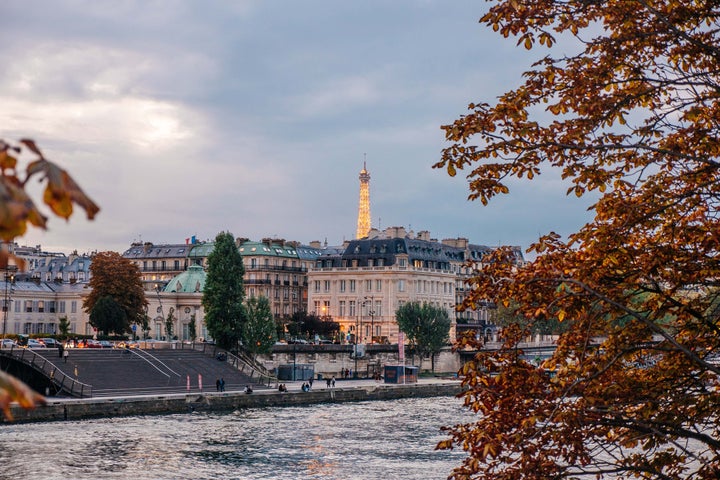 Our intellects indulged, now it's time for luxury of the other kind. Back at homebase on Avenue Montaigne, look up at the many couture houses taking residence just across from the Plaza Athenée. The first and most famous, La Maison Dior, takes up an impressive amount of real estate today at the famous 30 Avenue Montaigne address. A young Christian Dior set up his couture house just two hundred meters away, drawing attention from the foreign elite frequenting the hotel. These two legendary addresses, emblems of French luxury, face each other from either side of what was in 1947 and remains today, the most iconic fashion avenue in the world.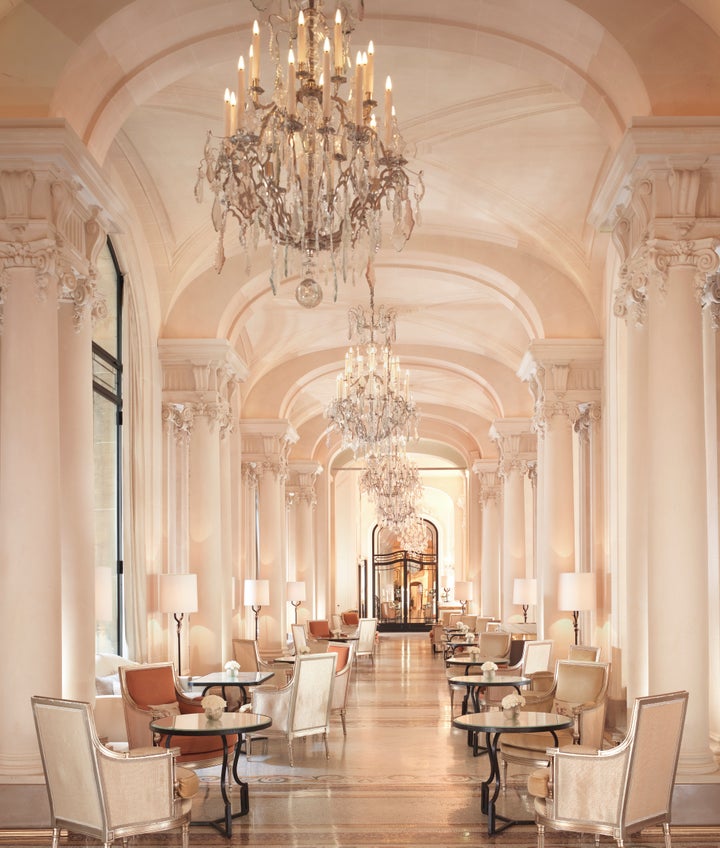 When the sun starts to set, head back for cocktails at La Terrasse Montaigne and fresh pastries at La Galerie, followed by an extravagant bubble bath in your room. Treat yourself to a one-of-a-kind spa treatment at Dior Institut, the first-ever Dior spa in a hotel. This fall, Hotel Plaza Athénée and Dior commemorate their 70th anniversary, so be sure to mention the celebration for a surprise Dior gift.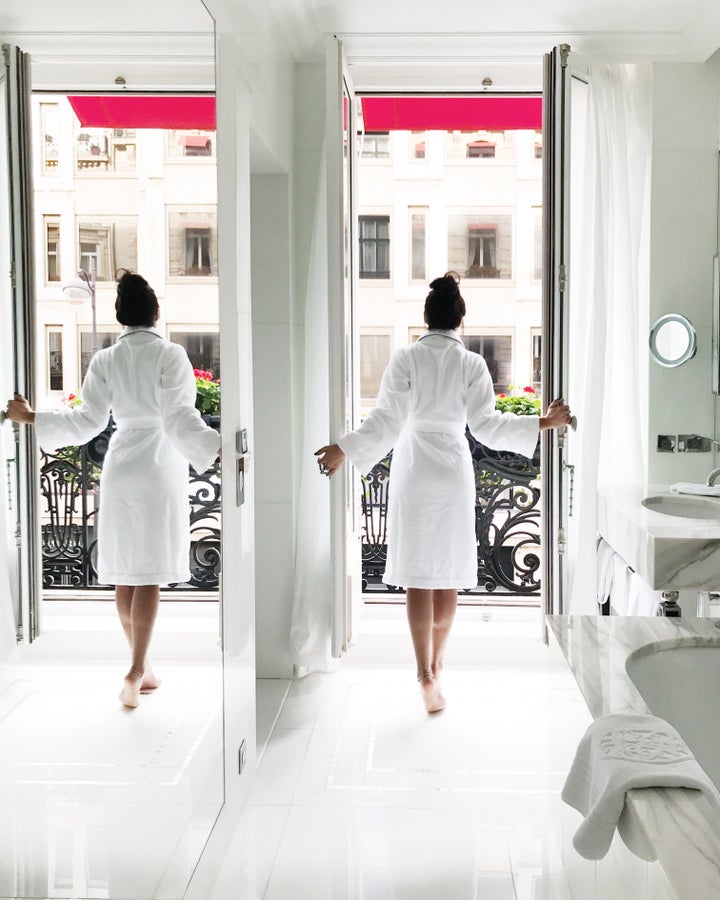 For dinner, step into France's roaring 30's at Le Relais Plaza grill-room, designed in the quintessential Art Deco style and serving Parisian brasserie food. If your heart is set on dining al fresco on the famous ivy-covered La Cour Jardin, make plans to visit during the spring, but enjoy the art exhibits taking place the rest of the year. If you have it in you after a day of exploring, head to Café de l'Homme for incredible views of the city night lights, and a seasonal menu to end your Parisian day on a high note.
Paris' unforgettable finesse is like that of an elegant dame. She's not about outdoorsy adventure or nightlife excesses. Her understated essence is in the red lip of a passerby, chilled champagne on a week night, in the drapes pulled just so to offer a glimpse of the Eiffel's nighttime show. C'est Paris!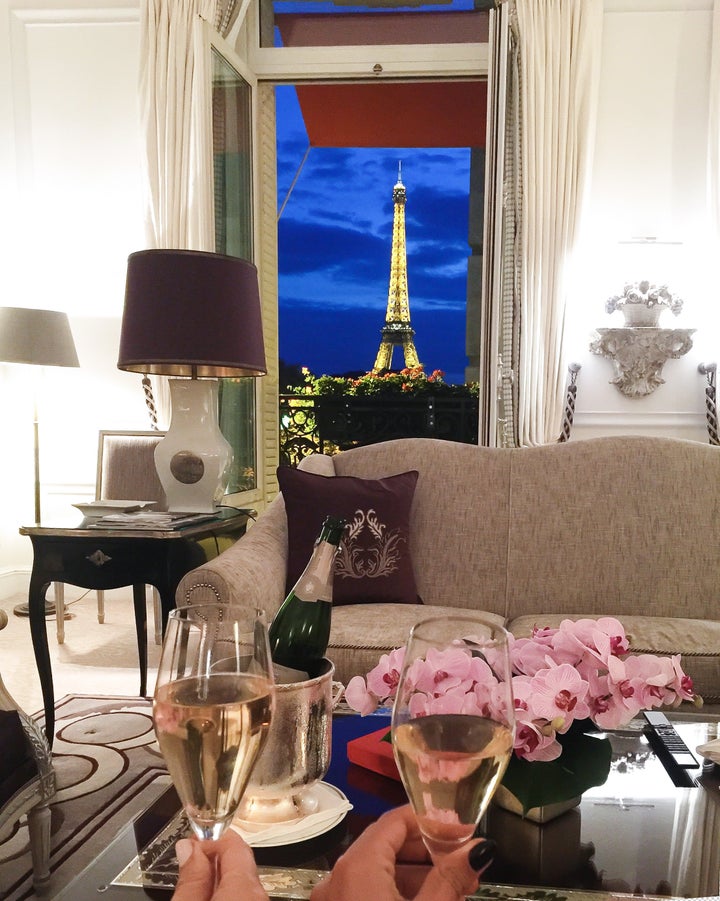 Find me and my travels on Social!