Seeing more than one country while you're in Europe is a breeze. Rail systems like the Eurostar are cheap and efficient, while the Eurail pass grants you access to nearly every train on the continent. Recently, some friends and I hopped a Eurostar train from St. Pancras International in London for a short weekend jaunt in ol' Paris. Here's how we made the most of our time there.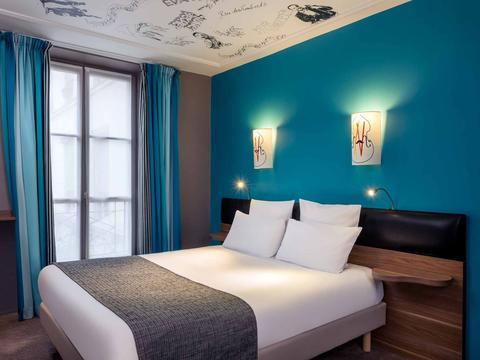 Stay
Our train deboarded at Paris Gare du Nord, and from there it was just a ten minute walk to the Mercure Opera Grands Boulevards Hotel. This newly opened abode in the heart of the Opera District is an American traveler's dream come true. Rooms are stylish and spacious, fully equipped with AC and free Wi-Fi, plus a mini fridge, a large double bed and pull-out couch, and a beautiful French balcony. The in-suite bathroom setup was also a pleasant surprise -- the toilet and shower were in separate washrooms, easing some of the chaos of getting four people up and out in the morning.
Play
When I heard we were going to taxidermy shop Deyrolle I wasn't exactly thrilled. As a vegetarian and a serious animal lover, the whole idea of killing something to stuff it or hang it on a wall makes me pretty furious. I imagined creepy stuffed housepets and birds, morbidly immortalized in some dark and damp underground chop shop for freaks to gawk at. But the Rue de Bac enclave feels more like a mysterious shrine to nature's majesty than a grotesque graveyard. Educational entomology posters and texts adorn the upstairs showroom where zebras mingle with moose and oxen, rabbits leap from pedestals, while a peacock proudly shows off its "train." Framed insect collections include specimens from the world over. And according to Vanity Fair, most of the larger, exotic animals like the lions and tigers died natural deaths in circuses and zoos before finding a second life at the 184-year-old establishment.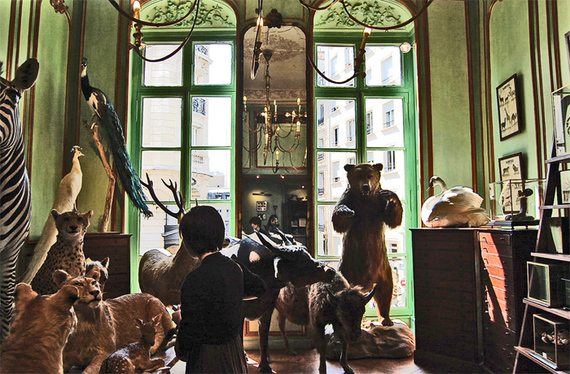 Drink
Next we wandered out to La Fée Verte -- a charming little absinthe bar on the lively Rue de la Roquette -- on the recommendation of a friend. Here, absinthe is served in the traditional manner with sugar cubes and a slotted spoon, and details like the ornate absinthe fountain and 19th-century Parisian decor make it feel like you've been catapulted back in time.
Eat
One of my favorite things to do for lunch in Paris is something I call urban picnicking: Grabbing a baguette, a bottle of wine, and a couple of cheese wedges at a market and finding a scenic spot to indulge al-fresco style. (When I tell people this they usually make some sort of hobo joke, but c'est la vie.) Julhès on Rue du Faubourg-Saint-Denis is the perfect jumping off point for any urban picnicker. This indoor/outdoor market has an enormous selection of gourmet cheese, meat, and wine, at the most affordable prices you'll find in Paris.
Come dinnertime it was hard to find a table anywhere. Finally we stumbled into Lucky Luciano on the Cour des Petites Écuries, and luckily is an understatement. Inside the no-frills dining room is a warm, romantic vibe that makes you feel like it's your little secret. Italian-style pizza is served at long, wooden, communal tables while friends cozy up with a bottle of wine, laughing happily into the night as candles slowly burn out. By the time we closed out our tab the owners were propping chairs up on top of tables as their cat nuzzled his face into our laps.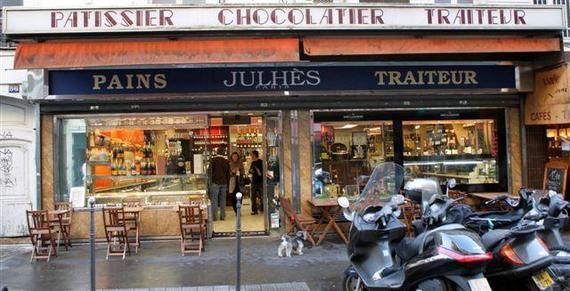 Popular in the Community