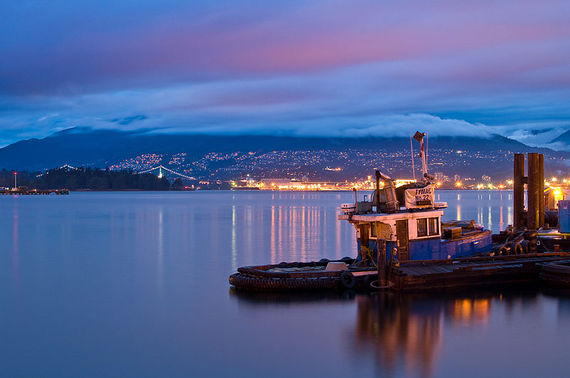 When winter super-storm Juno hit the East Coast, I was in British Columbia with my soon-to-be husband, at Whistler/Blackcomb, where we were experiencing record-high temps and some of the shittiest ski conditions the mountain has ever seen. We'd come for the snow (of which there was none) and when our Tuesday-morning flight back to Boston was canceled, it became clear that we were staying for the snow (that was coming down in buckets back home).
Rather than spend our last day--and what was left in our bank accounts--on overpriced resort food and lift tickets, we hopped a Wednesday morning shuttle bus from the mountain to Vancouver airport. From there, via a customer service rep, we were able to secure a hotel room and jump on a complimentary shuttle in less than 15 minutes. I think it's important to note that I found better hotels at better rates on my booking apps (think Priceline and Hotels Tonight) but Alex had already handed over the credit card so off we were.
Stay
Since we had an early-morning flight out, we decided to stay close to the airport (the Executive Airport Plaza; honestly, it was pretty gross) under the assumption that we could easily take public transit to the nicer part of town, the Waterfront, making our morning easier without sacrificing any of the fun. This worked out, but if I had more time, I'd definitely book a waterfront hotel like the Westin Bayshore or the Fairmont Waterfront--the harbor and mountain views are well worth the extra cash.
Eat
Lunch at the American Grille in Richmond isn't worth mentioning. But dinner at the Flying Pig on Water Street in Gastown was worth its weight in gold. We took the recommendation of a bartender at Steamworks Brew Pub (see below) and man, were we glad we did! An open kitchen and exposed brick in the industrial-chic dining room--plus floor-to-ceiling windows looking out to the sparkling streets--meant the ambiance was perfect and the food was equally as beautiful. Don't miss the crispy brussels sprouts and lobster-and-prawn risotto--or the perfectly pink skillet-roasted strip steak in a sweet brandy peppercorn sauce with crunchy pomme allumettes.
Drink
If you're getting off the train at the Waterfront station stop, you can't miss Steamworks Brew Pub. Inside you'll find unconventional takes on beloved brews like the Black Angel IPA (think an IPA that channels a stout) and the Paradox White Stout (looks like a pale ale, smells and tastes like a rich, full bodied stout) plus all your traditional faves from saisons to brown ales and everything in between. If beer isn't quite your scene, we heard that the Diamond, on Powell Street, has great cocktails, although we didn't make it there ourselves. Additionally, "Appy Hour" at the Flying Pig runs every day from 4 to 6, where they pour from an impressive wine list and mix creative cocktails that change daily while serving delicious half-priced apps like short rib croquettes and halibut poppers.
Shop
I'm a design and literary nerd so I immediately fell in love with Meadow gift shop (right next to the Flying Pig) where I bought two of my favorite books--A Little Princess and Anne of Green Gables--with limited-edition covers designed by Rifle Paper Co. They also have a beautiful selection of cards, unique t-shirts, and framed artwork. (I think I could live inside their shop.) Also on Water Street in Gastown are awesome interior design shops like Parliament and Öring & Wu, independent fashion boutiques like One of a Few, plus the neighboring Cigar Connoisseur for the tobacco enthusiasts in your life.
Related