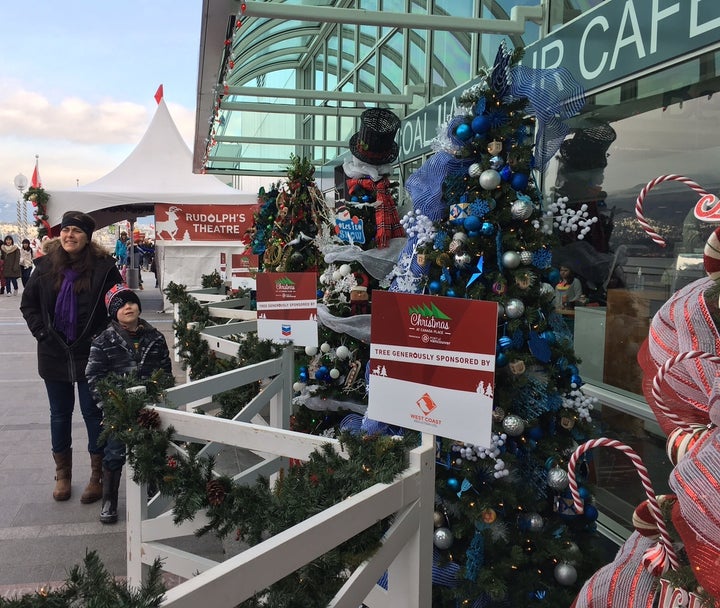 Vancouver is one good looking city, but it's never more beautiful than when covered in a light dusting of snow — we just won't mentioned the traffic nightmare that comes as the result of said snow. And as gorgeous as it is year-round, it's the holiday season when this city of glass becomes truly magical. There's so much going on in Vancouver in December, it could literally take a month to get through it all. But, what to do if you're only in town for the night? My suggestion is 24 hours of Christmas in and around Canada Place, where everything is centrally located so there's no need to drive or take transit to make the most of your visit.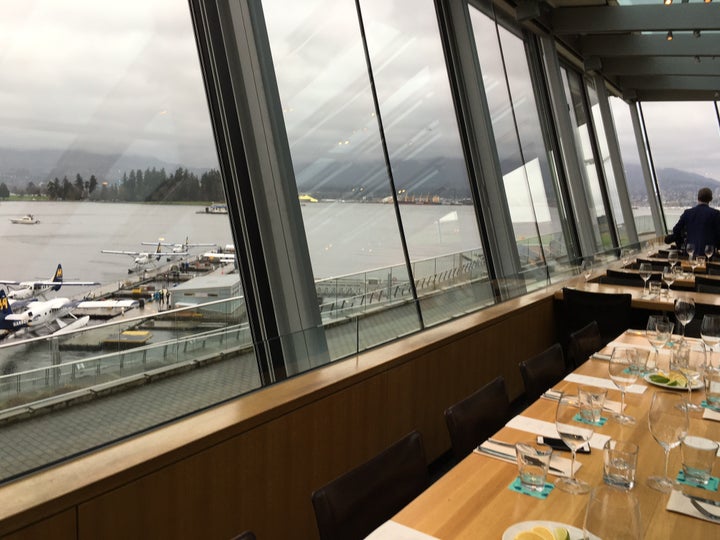 Enjoy panoramic views of the North Shore mountains, Stanley Park and Coal Harbour while digging into delicious and sustainable dishes created by executive chef (and Iron Chef winner) Rob Feenie, who's currently working on some new additions for 2017. The restaurant features a sea-to-sky terrace with retractable glass wall for open-air dining, weather permitting, and wrap-around patio offering stunning water views. And while fresh seafood is king at this location, the double braised, pineapple hoisin short rib is also seriously to die for.
1:30 p.m.: Vancouver Christmas Market
If you're looking for over-sized Nutcracker soldiers, mulled wine, hand-crafted ornaments, hand-knit creations and a 23-foot tall Christmas Pyramid, the annual Vancouver Christmas Market is where you want to head this holiday season.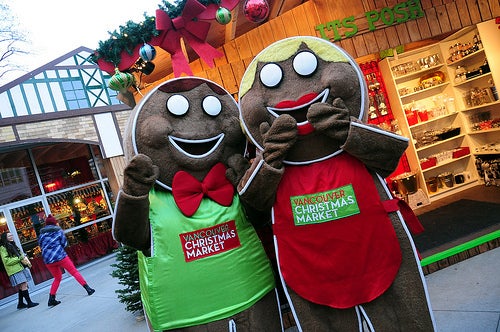 This year the German-style market relocated from Queen Elizabeth Theatre Plaza to Jack Poole Plaza, home of the Olympic Cauldron, a move that means an expansion of 20,000 square-feet of space for a total of 50,000. That allows room for more than 40 merchandise vendors and 24 food and beverage kiosks. New this year is the Alpine Haus — a heated tent that can accommodate 250 guests.
2:30 p.m.: Christmas at Canada Place
The 29th annual Christmas at Canada Place event, presented by the Port of Vancouver, takes place outdoors along the Canadian Trail (Canada Place west promenade) with the ever popular Woodward's Windows. When originally displayed in the former Woodward's department store in downtown Vancouver, the windows featured classic holiday scenes with animated characters and elaborate decor handcrafted in the 1960s.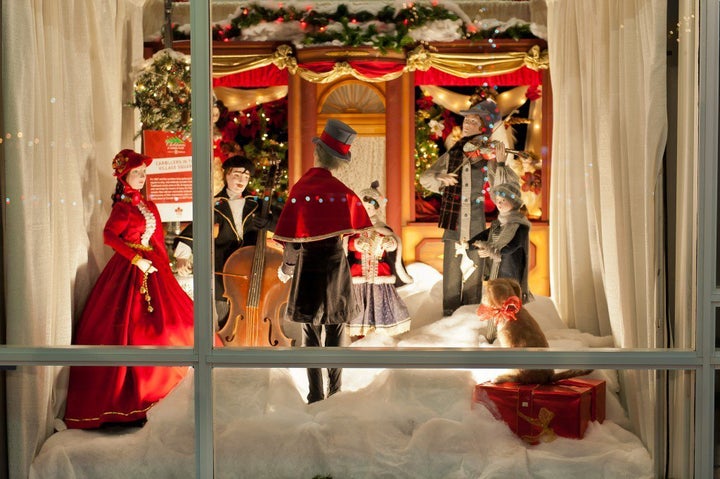 Canada Place purchased the displays in 1993, following the store's closure, and has continued to incorporate them into the Christmas at Canada Place experience ever since. Guests can also get festive photos taken (by donation) inside a 15-foot snow globe, with all proceeds supporting Strathcona Community Centre's Food Security for Children program. Both kids and adults will want to check out Rudolph's Theatre and catch a glimpse of the classic Christmas movies Rudolph the Red-Nosed Reindeer and Frosty the Snowman followed by a stroll along the Avenue of Christmas trees, decorated by members of the community.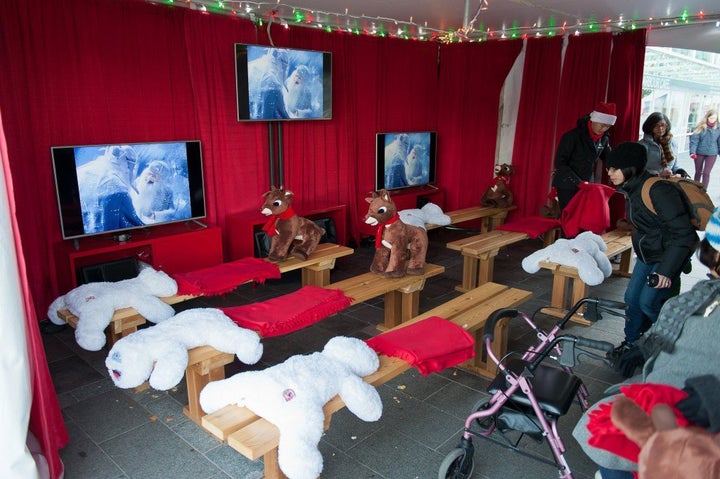 Most of the events are free, with the exception of Flyover Canada, but I have to say as a grandmother, it's well worth the cost. This special Christmas experience sees riders on the hunt for Santa's elves, who have all decided to vacation in Canada just weeks before Christmas. We could feel the snowflakes on our face as we headed to the North Pole to find Santa's workshop. And it was cuteness overload when the little girls sitting near us shrieked, "Santa!" every time we caught a glimpse of the jolly old elf.
3:30 p.m.: Check into the Pan Pacific Hotel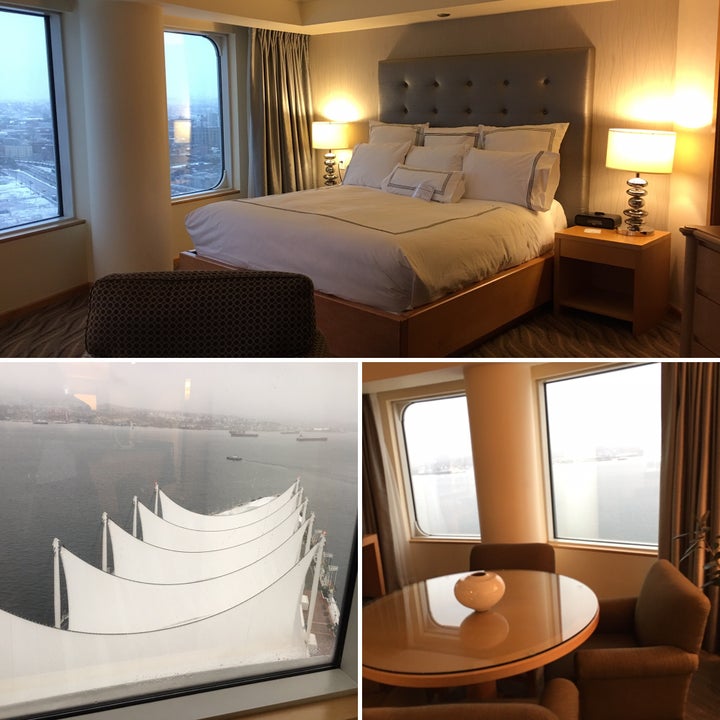 There's something about a grand hotel adorned with beautifully decorated Christmas trees and colourful lights for the holidays — and the Pan Pacific Vancouver is no exception. I won a night's stay at the Pan Pacific at an event in the spring, which then became the impetus for our mini staycation and 24 hours at Canada Place. Our gorgeous room offered a stunning view of the ocean and the famous Sails of Light at Canada Place, which are appropriately lit up for the holidays in red and green.
If you're a hand-crafted cocktail aficionado, you'll want to make the one-minute trek across the street from the Pan Pacific to ARC Bar at the Fairmont Waterfront for a drink before dinner. This uniquely curved space offers great local craft beers, world-class wines and some really interesting cocktails.
6:30 p.m.: Italian Opera Buffet at Oceans 999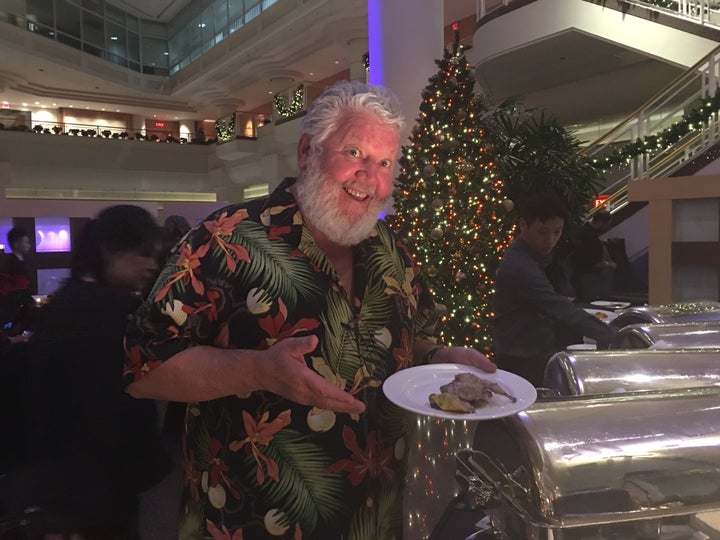 In celebration of the holidays, the traditional Saturday night Italian Opera Buffet at the Pan Pacific's Oceans 999 was transformed and aptly renamed Opera Angels Heard on High. Enjoy one of the best antipasto bars in town, as well as made-to-order pasta dishes and traditional Italian cuisine, while listening to heavenly vocals during this seasonal event. The weekly Opera Buffet includes much of the same Italian menu.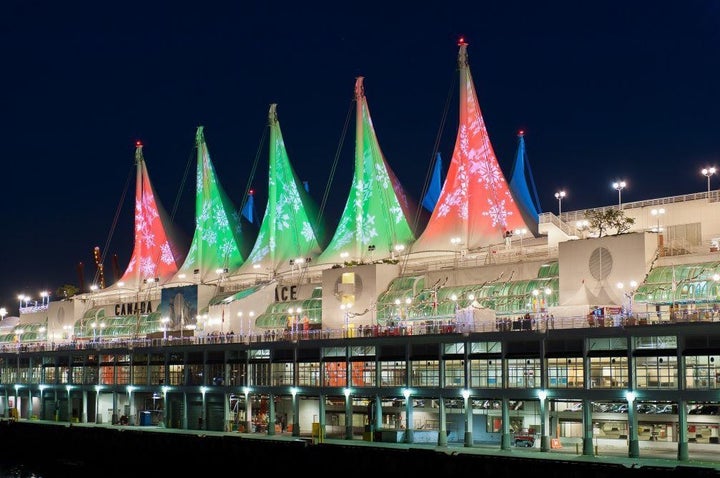 After all of that Italian food, red wine and decadent desserts from the night before, a brisk walk along the water in front of the Vancouver Convention Centre is just the ticket to blow off the calories — and red wine cobwebs.
11 a.m.: Santa's Sunday Brunch at Oceans 999
Just like at dinner the night before, the Pan Pacific's regularly-scheduled buffet brunch was transformed into a winter wonderland complete with an elaborate buffet, music and visits with Santa. This special buffet offers a great kid's selection, including macaroni and cheese and chicken fingers, as well as bowls of Jell-O in every colour imaginable.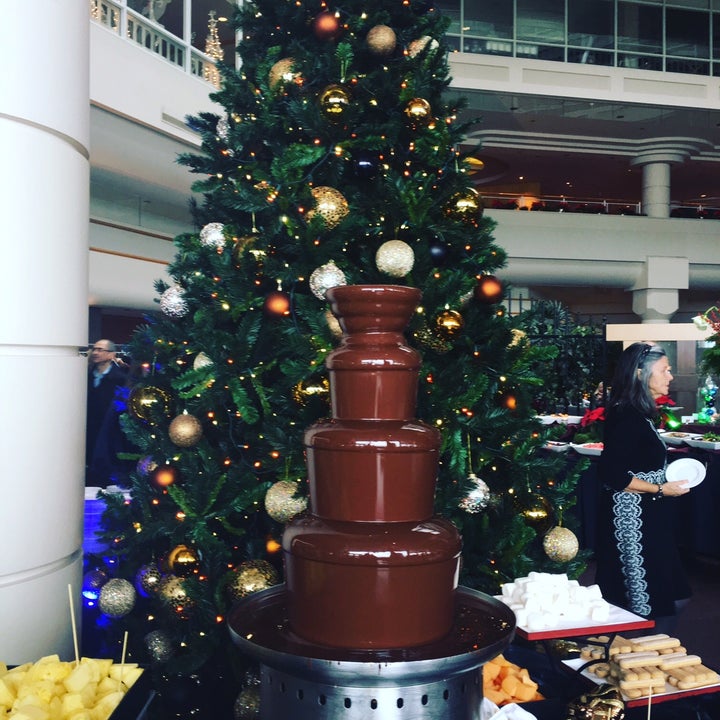 Meanwhile adults will want to fill up on fresh shrimp and crab, stuffed turkey and a large variety of dim sum items. Did I mention the chocolate fountain?
Oceans 999 is open all Christmas weekend with special events, including T'was the Night Before Christmas, a special Christmas Eve buffet including all of the traditional favourites. Diners will also enjoy Christmas classics performed by the KokoSoul Trio.