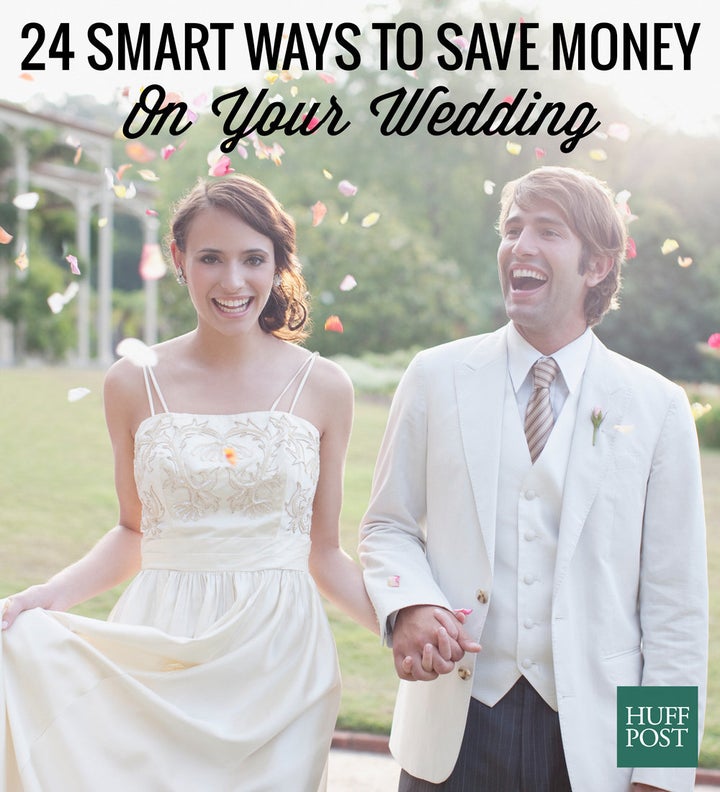 With the average cost of a wedding at an all-time high, brides- and grooms-to-be are likely looking for easy ways to trim the budget without sacrificing any of the important stuff -- like fun, food and guests' comfort.
We recently asked thrifty HuffPost readers for the smartest money-saving tips they learned while planning their own weddings. See what they had to say below:
1. "Focus on what you feel is most important to you and your guests. We spent almost all our money on good food, good music and open bar. We spent very little on the decor and flowers for the ceremony because we weren't there very long." - Cindy Tucker Garrard
2. "Cut down the guest list! Don't invite your mom's third cousin's 5th grade math teacher." - Kristen Campbell
3. "Etsy! I found most of my wedding ceremony accessories, decorations and even my veil at a fraction of the cost. Plus it's run by artists, so if I had a vision for something that didn't exist, I could create a custom order and get something even better than I ever imagined. And it feels great to support small businesses." - Myla Pothiawala
4. "Give a florist your budget number, wedding colors and a list of the pieces you need and let them do their own artistic magic! You will get far better results for your money." - Lori Gibson
5. "Skip favors for guests -- they don't care. The parting gifts for your guests will get left behind and/or thrown away within a month. Set aside some of the money you save and donate it to charity, letting your guests know via plate cards." - Rebekah Bacigalupo
6. "Don't get married where you have to bring everything in, like rented tables, cutlery and kitchen equipment. Always more money and more work for you." - Jenna Sims
7. "Don't get married in the summer! See when the off-season is and then search for your venue, photographer and caterer. You can save thousands." - Makenzie Beardsley
8. "When friends or family offer to provide something as a gift (e.g.: my bridesmaid paid for the hair and makeup for the wedding party; my sister got the cake, etc.), take them up on their offer!" - Rachel Oliver
9. "Our friends and family members like to drink; A several thousand-dollar bar bill was a serious reality. So it was important that our venue allowed BYOB. We purchased all the alcohol ourselves and 'hired' (really didn't pay much at all) our bus driver's girlfriend to bartend. I am guessing we saved several thousand on the bar alone. And the best part was that at the end of the night, we had a bus to ensure people got home safely." - Alicia Beverly
10. "Look at a Friday or Sunday weddings for discounts, and also consider weddings in December, as most venues are decorated for the holidays, which is less decorating for you!" - Tracy Englund
11. "For the ceremony music, we contacted a local music school whose students were available for hire for events at a fraction of the cost of professionals and they sounded amazing." - Charlotte Lowe
12. "Buy a small wedding cake and decorate it with real flowers. Plus buy a sheet cake from the grocery store." - Deborah Wall McGraw
13. "Ordered a bridesmaid dress in white, so my gown was only $250." - Pam Zander Turos
14. "Our wedding was a potluck and all of our friends brought their absolute most amazing dish, so the food was unbelievably delicious and eclectic. We had two friends who were chefs; one prepared a side of beef, the other made our wedding cakes." - Tricia Creason-Valencia
15. "Use your friends' talents! A good friend from college made our cake as our gift, my best friend's sister did my makeup as my gift, and my aunt did my hair." - Maddie Cruz
16. "Decide on the one or two things that are most important to you. Splurge on those, then go cheap on everything else. For me it was the photographer. Pictures are the only thing that really lasts." - Christa Savery Dunn
17. "Search Facebook's online garage sales for used wedding materials! People want to get rid of their stuff, so do not pay full price for it. Nobody will remember the little decorations or minor details that seem so crucial to you, but they will remember the most important thing -- that you got married." - Rainee Lisko
18. "Use herbs instead of flowers. Makes a beautiful bride's bouquet!" - Jill Trachtman Waxler
19. "I rented my wedding dress! Best savings ever!" - Shannon Muat-Jachetta
20. "I used potted plants for my centerpieces, which then became part of my garden. Or they could be given as wedding favors or special gifts for the bridal party." - Una Baer
21. "Find a venue that offers perks, like cake and centerpieces built into the price." - Sara Grayczyk
22. "We were married in the park and held the reception in a local community building -- it all looked great and we saved a ton of money on the location! Do a little extra research instead of going with the usual hotel or country club wedding!" - Ashley Cantrell Olson
23. "Use flowers that are in season. A week before my wedding I notice gladioli were on sale for a few dollars a bunch. I called my florist to ask what would she charge for a bouquet of glads over what I had originally picked and the price dropped by two-thirds." - Cathy Cleary
24. "Do things as nontraditionally as possible. As soon as you start dealing with vendors who specialize in weddings, you're going to have your pockets ripped out. We had a Sunday brunch wedding in October. We were married in a movie theater and had our reception in a music hall within a bar. Having a nontraditional wedding in nontraditional venues saved us a lot of money and our wedding was fun for everyone." - Amy Dillon Cody
*Some responses have been edited or condensed.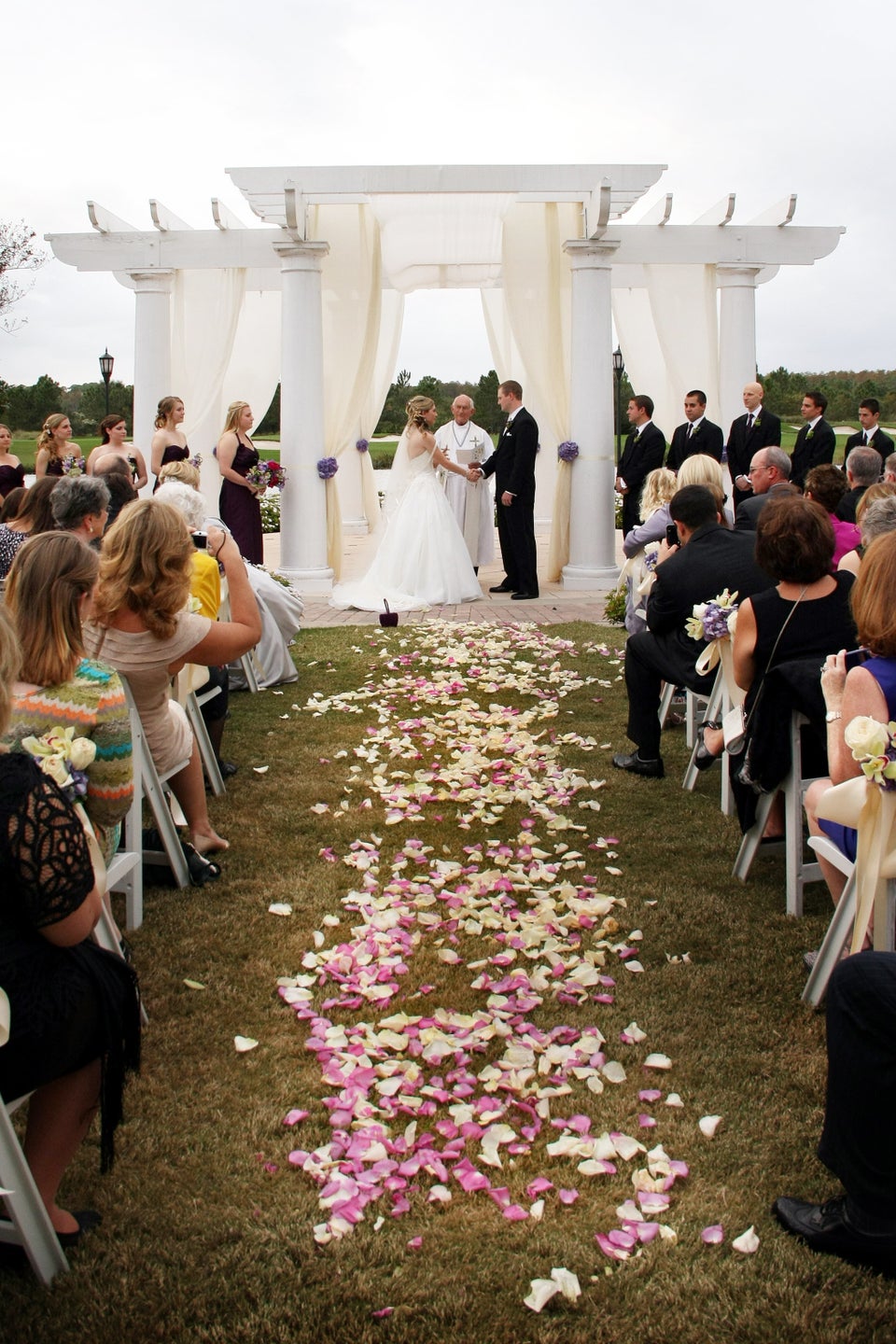 Best Ways To Save On Your Wedding Budget
Related