According to data from the Department of Transportation, United Airlines had the highest number of animal deaths and injuries for any U.S. carrier in 2017. The data pertain only to pets that flew with the airline's PetSafe cargo program, so it does not relate to the incident Monday in which a dog died after a passenger was reportedly forced to put her pet in its carrier in the overhead bin during a flight from Houston to New York. Pets that fly in-cabin are typically meant to be stowed underneath the seat in front of the owner.
The airline issued a statement Tuesday saying it took full responsibility for the "tragic accident" and said it was conducting a full investigation. But United spokesperson Charlie Hobart said medical experts indicate that an overwhelming number of deaths amid pets who flew in the cargo area last year were due to things beyond the airline's control, such as preexisting medical conditions.
"Any time there's a death or an incident, United does a thorough review," Hobart said. "We reach out to the customer, offer our support and condolences, and we work to ensure that it doesn't happen again."
About a year ago, United was criticized after a giant bunny, which was expected to be named the world's largest rabbit, died in its cargo area.
The Transportation Department numbers indicate how United shapes up with its competitors ― and the comparison doesn't look good. The airline flew the most pets of any airline in 2017 through the PetSafe cargo program ― 138,178. Eighteen pets died and 13 suffered injuries. Clearly the vast majority of animals that flew reached their destinations without incident.
One might think that more pets flown would inevitably translate into a higher number of animal deaths. However, the rate of pet deaths on United Airlines was also more than double that of the airline with the second highest frequency of pet fatalities, American Airlines. The same report from years past indicated that United also had the highest number of pet deaths in 2016 and 2015.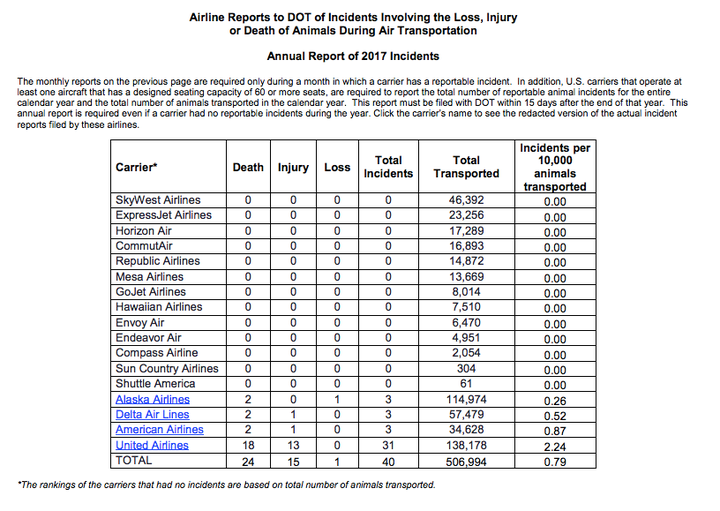 Of airlines that experienced pet fatalities, Alaska Airlines had the best track record in 2017, with 114,947 pets flown, two deaths and one missing animal. A cat escaped from its kennel as it was being transported on the grounds of Honolulu International Airport. The feline was never found.
"While the number of pet deaths is low, oftentimes when it does happen it's due to pet stress, such as the animals chewing out of their kennel," a spokesperson for Alaska Airlines told HuffPost. The airline urged customers to work with their veterinarians to prepare pets for flying weeks before the actual flight.
Putting a pet in airline cargo is risky ― no matter the carrier. Over the years, top U.S. airlines have rotated having the highest number of pet deaths. From 2010 to 2012, Delta held the top spot.
In an interview with HuffPost last year, Inga Fricke, director of pet retention programs at The Humane Society of the United States, cautioned customers against putting their pets in cargo.
"Putting pets in cargo areas should be avoided whenever possible," she said. "Once that animal is out of your control, there are so many risks it can be exposed to that it's just not worth it."