A new photo project is redefining both how Afro-Latinas in Brazil are seen and the way they see themselves. 
Race in Brazil has always been complicated. The country, which has the largest population of black people outside of Africa, has prided itself as a "racial democracy," a country wherein racism does not exist because race itself does not exist. But for the millions of black people who actually live in Brazil, disenfranchisement and discrimination are very real parts of every day life that are rarely acknowledged. 
And for Somer Nowak, a Fulbright Scholar from Milwaukee, W.I. teaching and studying in Minas Gerais, Brazil, racism in the country manifested itself early on. 
"I'm biracial, black and white, but I consider myself black, which seemed incomprehensible to some Brazilians," Nowak told The Huffington Post.
"When I told people I was black, I would be met with opposition: 'You're not black, you're light-skinned, you're beautiful, you can't be black.'" 
After seeing the realities of colorism in her country firsthand and then joining a black student feminist collective on campus called Coletiva Feminista Bonecas de Pixe, Nowak decided she wanted to help bring more visibility to the black experience in Brazil. Her contribution was the brilliant photo series Como é Ser Uma Mulher Negra, a photo project designed to let black women in Brazil tell their own stories.
Nowak photographed Brazilian women in the campus collective and throughout Minas Gerais, asking them each to write on a piece of dry board something simple, yet complex, "What it's like to be a black woman in Brazil?" 
The result: a series of captivating portraits that reveal the struggles and the joys that these women face on a daily basis.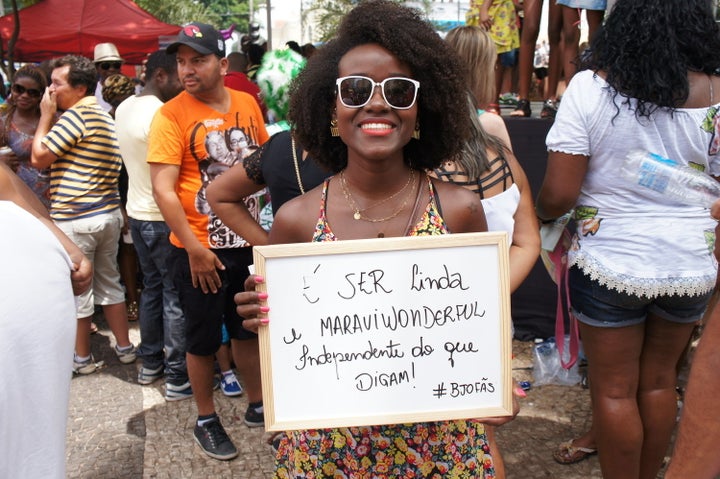 "Many women had never reflected on what it meant to navigate the world as a woman and as being black," Nowak says.
"When I'd hand them the board and marker, they would pause because they realized no one had ever even asked them... Some women in their 20s, 30s, and 40s revealed that they had just began identifying themselves as black."  
The women featured in the photo series exemplify the beauty and diversity of Afro-Latinas, but even more powerful are the signs they hold, which further distill the black experience in Brazil. For one of the women in the series, pictured above, to be a black woman in Brazil is to be "beautiful and maraviwonderful no matter what they say!"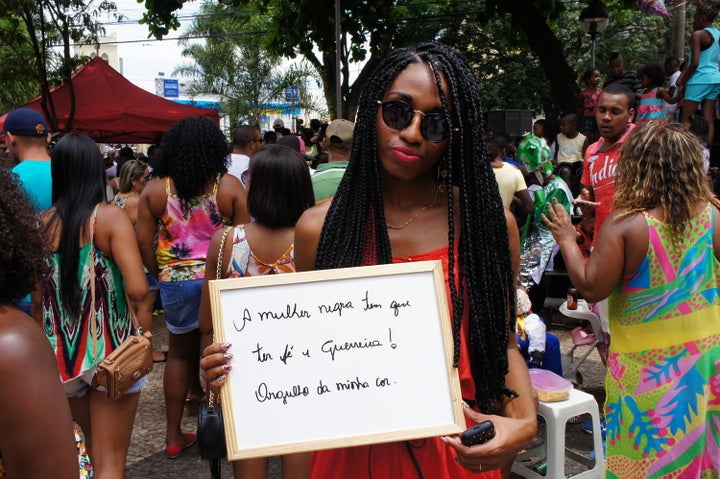 The project, which features over 30 Brazilian women, reveals not only the diversity but the commonality amongst black Brazilian women. For Nowak, that universality of experiences amongs black women across the Americas was the biggest takeaway. 
"Anti-blackness and patriarchal society had adversely affected us all, even though we were from different countries. That's one thing I wanted to stress with this project, community and support for black women across the Americas."   
Nowak says that her dream "is to create radical spaces where black girls are taught to love themselves, lead and resist." ComoéSerUmaMulherNegra is, without a doubt, a vital step in realizing that dream. 
View the rest of the photo series below, and learn more about Somer Nowak's work here.  
PHOTO GALLERY
Afro-Latinas Conquering Hollywood! (PHOTOS)
REAL LIFE. REAL NEWS. REAL VOICES.
Help us tell more of the stories that matter from voices that too often remain unheard.