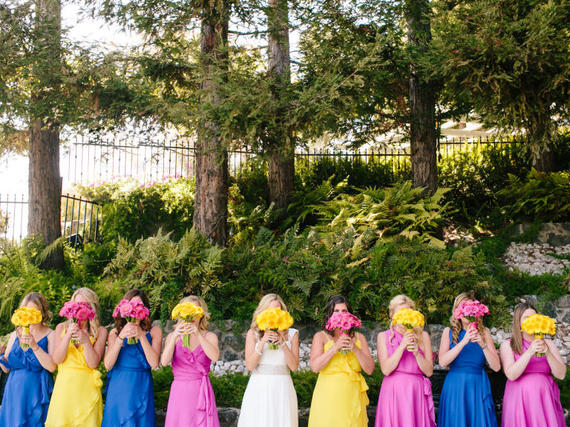 Even if you consider yourself a traditional bride, we're betting there's at least one wedding ceremony upgrade you'd consider.
Old-School Rule: Your wedding dress has to be white.
The New Twist: You don't have to go all out -- you could still wear a white or ivory dress -- but don't be afraid to add a pop of color with a sash, cardigan, pair of shoes or piece of jewelry. You could also do a lightly colored skirt with a white or ivory overlay for a barely there hint of color. Truly brave? Champagne, black, blush and pastel-hued dresses in mint, lavender or cornflower blue are on trend right now, adding an understated uniqueness to your ensemble.
Old-School Rule: You have to wear a long white veil.
The New Twist: Break away from the standard headpiece with a chic headband, a flower crown or a few sparkly hair clips. Or you could just leave your hair down with nothing in it at all (you rebel, you!).
Old-School Rule: You can only have two wedding colors.
The New Twist: C'mon, just two? Your palette can have as many (or as few) colors as you want. The trick is to make sure they work together by using multiple neutrals or colors in the same family of shades (think: pink, orange and yellow, or a palette of white, cream and blush). Some of the prettiest palettes are monochromatic, whether it's a cool white, a deep green or a bold purple.
Old-School Rule: Traditional ceremonies can't be personalized.
The New Twist: These days, it's all about updating traditional ceremony customs. For unity rituals, add a fresh spin by incorporating some new materials instead of the classic candle lighting. We know of two chefs who mixed together spices and another couple who combined their favorite cocktails at the altar. Or try a lesser-known tradition, like the wine box: Lock a bottle of wine and love letters in a box during the ceremony to be opened on a predetermined anniversary date.
Old-School Rule: You should walk down the aisle to Wagner's "Bridal Chorus."
The New Twist: Sure, it's a great standard, but it's not the only option. Have a bluegrass band play an acoustic banjo version of your favorite pop song. You can also look to your cultural heritage to inspire your music: Caribbean steel drums, Scottish bagpipes or a Mexican mariachi band are all great ideas. They don't have to stick to playing the classics either -- anything from The Beatles to Beyonce will do!
Old-School Rule: The ceremony program has to be formal.
The New Twist: Programs should include important info, like who's in the bridal party and the meaning behind your cultural traditions, but that doesn't mean you can't have a bit of fun with the design. Turn your programs into a playful Mad Lib, crossword puzzle with clues about your relationship or even make fortune-tellers with fun facts about your childhood. Guests will love the idea -- and they'll appreciate having something to do while they wait for the ceremony to start.
Old-School Rule: You can't see each other before the ceremony.
The New Twist: This superstition has long been proven false, so there's really nothing stopping you if you don't want to wait until your walk down the aisle to see one another. Schedule a first-look photo shoot (you and your groom meet with just the photographer before the ceremony). This frees up more time after the ceremony so you can actually enjoy your cocktail hour -- and it can also help with pre-wedding jitters.
Old-School Rule: You should make your exit in a shower of rice.
The New Twist: There are so many more exciting options than rice, from guests throwing eco-friendly confetti or paper airplanes to waving ribbons wands or ringing bells. You can even create a "toss bar." Set out bowls of confetti, glitter, popcorn (hold the butter) or herbs (like lavender) for guests to shower you with. Don't forget a few paper cones or bags for them to fill.
Old-School Rule: You and your fiance's wedding bands have to match.
The New Twist: You're both going to be wearing these rings forever, so you should each choose something you can see yourself wearing on any occasion and not just your wedding. If one of you prefers yellow gold while the other likes white gold, it's totally fine to have different metals. A nice way to have your wedding bands coordinate is to engrave them with your wedding date, initials or even a meaningful phrase or lyric.
Old-School Rule: Bridesmaids are female and groomsmen are male.
The New Twist: Don't confine your list of VIPs to your female friends (and vice versa for grooms). If your best friend in the world happens to be a guy, make him your bridesman, or your groom can ask his good friend to be a groomswoman. Coordinate their looks with the rest of the party with accessories like a colorful bow tie or sash.
Old-School Rule: Cocktail hour takes place after the ceremony and before the reception.
The New Twist: Even the order of events doesn't have to be set in stone. You could get the party started early with pre-ceremony refreshments (stick to snacks and lemonade, iced tea or fruit-infused water if you don't want guests hitting the hard stuff early). We've also heard of couples having the cocktail hour first and then doing the ceremony in the middle!
Old-School Rule: Your bridesmaids should wear matching dresses.
The New Twist: Let your girls' individual personalities shine by having each one pick a dress that suits her own taste and figure. The trick to pulling off the mismatched look is to have one cohesive element, like the same fabric, color or length. Or let them personalize their look with accessories, like funky jewelry, boleros or patterned tights.
Old-School Rule: Your father should walk you down the aisle.
The New Twist: Having your dad escort you can be a great moment for the two of you, but it's by no means the only option. If you have a closer relative or friend (like a brother or even your mom), it's perfectly acceptable to have that person walk with you. Don't have anyone in mind? You can even make the trip solo or with your soon-to-be spouse -- it's a great symbol of starting your life together!
Old-School Rule: Your guests must be seated on two sides.
The New Twist: There's more than one way to design a ceremony setup. If you have the option, consider banishing the idea of a bride and groom side with a nontraditional seating arrangement, like a circle or even a spiral around the altar. Everyone's there to celebrate the two of you together, so there's no reason it should matter where your guests sit.
Old-School Rule: You need one flower girl and one ring bearer.
The New Twist: While you don't actually need either one, you can have as many or as few child attendants as you'd like. You could try switching things up by having "flower boys" or a female ring bearer. If you have a group of kids to include, start your wedding with a parade of sorts, where all the kids wave ribbon banners. Even your beloved dog can play a starring role with the ring (or a fake one) tied around his collar.
Old-School Rule: Guests sit on chairs or in pews.
The New Twist: Choose ceremony seating that reflects the style of your wedding. Hay bales covered in soft, colorful quilts suit a rustic affair, whereas a few chic couches will fit in perfectly at a formal wedding. If you're getting married in a place of worship and your guests will be sitting in pews, have a few pretty patterned cushions to add your own style.
Old-School Rule: An altar is an altar.
The New Twist: Your guests are going to be staring at it for the entire ceremony, so shouldn't you at least take the time to make it pretty? But jazzing up the altar space doesn't have to mean two tall floral arrangements. Think: banners, oversize paper flower garlands, tons of pillar candles or even a couple of upright surfboards to define the space.
Old-School Rule: Your accessories should be understated.
The New Twist: Go ahead and make your accessories stand out. Punch up your wedding ensemble with boldly colored shoes, a statement necklace or a cute bolero. Worried they'll distract from your gown? Keep your look simple for the ceremony and then add accessories for the reception.
Old-School Rule: You should exchange traditional vows.
The New Twist: There's nothing wrong with sticking with the same vows many couples have said before you, and a lot of to-be-weds like the "bigger-than-us" feeling of saying traditional vows. But adding your own language can make the ceremony more meaningful to you. If you're nervous about writing your own vows from scratch, work with your officiant to come up with something custom or just add a few tweaks to the traditional wording.
Old-School Rule: Wedding ceremonies take place in religious institutions.
The New Twist: If you grew up attending worship services and have always dreamed of walking down that aisle, skip this and read on to the next tradition. Otherwise, pick a ceremony venue that's meaningful to the both of you. It can be anywhere, from a park or a backyard to an old theater or a hip city loft downtown. Just check with your officiant ahead of time to make sure they're comfortable with marrying you outside of a religious space.
Old-School Rule: Bridesmaids should carry matching bouquets.
The New Twist: Your bridesmaids don't have to hold the same kind of flowers to look the part. Have each one carry a bouquet in a signature color or let your florist create several monobotanic bouquets in the same hue. Or add fancy ribbon wrappings to help each girl stand out.
Old-School Rule: You should register for fine china and kitchenware.
The New Twist: If you're already set when it comes to your kitchen needs or you're not exactly the type to entertain with china, don't feel like those are your only options when it comes to your registry. While this is a great time to upgrade some of your worn-out items, you can also register for sports equipment, luggage and even art.
Old-School Rule: Your engagement ring should be a diamond.
The New Twist: The diamond engagement ring isn't going anywhere anytime soon. That said, if a classic ring, like a round solitaire or cushion cut, isn't your style, then you should feel free to branch out to other types of stones and settings. Antique jewelry is one way to go, and ask your jeweler about alternative stones to diamonds, like sapphires, emeralds and morganite.
Old-School Rule: You have to do a bouquet and garter toss.
The New Twist: If you're not into the idea of singling out the singles, try one of these alternatives. Take your bouquet apart and present individual flowers to your friends and loved ones, or have a bouquet and boutonniere station where guests can make their own. Another alternative option is to have a special anniversary dance to celebrate all the married couples at your wedding. Here's how it's done: The DJ plays a song and eliminates each couple depending on the amount of time they've been married. The last couple remaining is presented with the bouquet as a gift.
Related