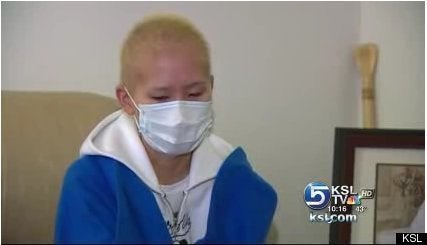 As part of its Bearing Witness 2.0 project, the Huffington Post is rounding up a few of the best local stories of the day.
Urangoo Baatarkhuyag, a Mongolian immigrant who moved to the United States eight years ago, has been told she will die because she does not have health insurance, reports Jed Boal for local NBC affiliate KSL. Baatarkhuyag, 24, was diagnosed with acute myeloid leukemia in September, after graduating from Utah Valley University earlier in the year.
Even though she is uninsured, the UVU Review reported that LDS hospital gave her one month of chemotherapy without charge, which cleared the cancer from her blood and drastically reduced it in her bone marrow. The cancer cells will return, though, according to doctors, and Baatarkhuyag's best hope is a bone marrow transplant, which costs $350,000. Without further treatment, doctors have predicted that she will die in the next two or three months.
Friends have started a website to request donations for her transplant and have raised over $42,000 as of Thursday -- though that is still far too little. They are considering sending Baatarkhuyag to India, where the medical procedure would be much cheaper. "I just keep thinking that even though we haven't been able to raise that much money for her, there's no way they're going to let her die in a U.S. hospital," said Bryan McGowan, a friend of Baatarkhuyag.
A three-year drought in central California has pushed more and more farmers out of work and into food bank lines, reports Rich Rodriguez of KMOH news. The agricultural town of Mendota has an unemployment rate of 38 percent; neighboring Firebaugh is at 24 percent. Food banks have been distributing food on a bi-monthly basis, thanks to an executive order signed by Gov. Arnold Schwarzenegger, and that assistance is in high demand. Recipients start lining up at 4:30 am.
With so many unemployed, a grocery story in Mendota now carries just snacks and soda. "I honestly believe this is gonna be the hardest winter the town in history has ever seen," said Joseph Riofrio, owner of the Westside Grocery. "I think a lot of people are gonna leave this area."
The city of Santa Ana, Calif., has started to buy up foreclosed homes and sell them back to low- and middle-income citizens, reports Doug Irving of the Orange County Register. Four and a half million dollars of federal grant money are being used in a new city program that brings homes and condominiums out of foreclosure, renovates them and sells them back to the public at a reduced rate. The goal is to reinvigorate neighborhoods and get as many people back into affordable houses as possible. Last year Santa Ana had 2,600 houses in foreclosure or default, the most in Orange County.
Senior citizens in Richmond, Va., have gone back to school with the help of the Senior Community Service Employment Program, reports the Richmond Times-Dispatch, to learn job skills, and how to operate in computer-based offices. The 11-week program, which also helps to subsidize jobs at nonprofit agencies for the elderly, has had almost twice as many participants as last year. Times have changed, the participants said, and jobs are harder to come by. "I don't care if you want to wash dishes these days," remarked one woman, "you have got to have more [training] than you've got now."
HuffPost readers: Seen a compelling local story? Have a neighbor going to bizarre lengths to get through the recession? Tell us about it! Email jmhattem@gmail.com.
REAL LIFE. REAL NEWS. REAL VOICES.
Help us tell more of the stories that matter from voices that too often remain unheard.